The Madwoman of Chaillot
November 9 – 25, 2017
By Jean Giraudoux, Adapted by Maurice Valency
Directed by Conrad Alexandrowicz
"One of the most interesting and rewarding plays to have been written within the last twenty years." – NEW YORK DRAMA CRITICS' CIRCLE
Welcome to Chaillot and the whimsical world of Countess Aurelia, a flamboyant holdover from a less cynical time. She whiles away her days sharing her joie de vivre and cryptic wisdom with everyone she encounters – until corrupt businessmen discover oil beneath her Paris neighbourhood! With everything she holds dear suddenly under threat, the Countess unites with a rag-tag group of local artists, vagabonds, and dreamers to take Chaillot back. This poetic and comic fable of good and evil, written in 1943 during the Nazi occupation of Paris, has developed a whole new relevance in our current era of pipelines and protests.
Box Office
Subscriptions for 3-show or 4-show packages now available.
Single ticket sales for this show begin October 3, 2017
Call: 250.721.8000 or see Ticket information and prices
Performed in the Chief Dan George Theatre
Friday Pre-show Lecture: October 13 @ 7pm with Dannette Boucher & James Douglas
NOTE: This presentation will be two one-act solo shows with an intermission in between.
About the Playwright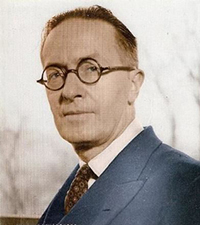 Hippolyte Jean Giraudoux ( October 29, 1882 – January 31, 1944) was a French dramatist who wrote 15 plays, most initially staged by the actor-director Louis Jouvet and later internationally acclaimed. Giraudoux was also a prose writer and served France as a diplomat and government official. Giraudoux was born in the village of Bellac and studied at the Ecole Normale Superieure.
In his youth he traveled extensively – to Germany, Italy, the Balkans, Canada, and the United States, where he spent a year (1906-07) as an instructor at Harvard. Returning to France, he served in World War I, was twice wounded, and became the first writer ever to be awarded the wartime Legion of Honor.
His worldwide importance rests on such plays as Amphitryon 38 (1929; Eng. trans., 1938), Judith (1931), Tiger at the Gates (1935), Ondine (1939), and The Madwoman of Chaillot (1944; Eng. trans., 1947), which was published and produced posthumously. Giraudoux also wrote five novels, the best known being My Friend from Limousin (1922) and Bella (1926), and numerous short stories. He was one of France's outstanding essayists during the interwar years, best known for such literary studies as Racine (1930) and such political studies as Pleins Pouvoirs (Full Powers, 1939). At the start of World War II he served as minister of information under Premier Edouard Daladier.
Giraudoux's dramatic and narrative style is a rich and inimitable blend of allusive prose, allegory, fantasy, and political and psychological perceptions. He tempered tragic themes with rueful comedy, as though he wished to unite the contrasting qualities of Racine, Moliere, Maeterlinck, and Baudelaire.
About the Director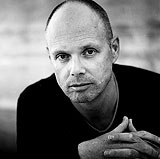 Conrad Alexandrowicz is a director, writer and choreographer, and the artistic director of Wild Excursions Performance. He specializes in the creation of varieties of interdisciplinary performance that address subjects central to the human journey: issues of relationship, gender and power, and the nature of the performance event itself.
Conrad Alexandrowicz holds a BFA. in Dance from York University, and an MFA. in Directing from the University of Alberta. Originally from Toronto, he performed with a number of Canadian dance companies, principally Dancemakers, where he began to produce his own work, much of which featured original text. He left the company in 1987 to choreograph, direct and perform independently. In 1995 he founded the company he still directs, Wild Excursions Performance. To date he has created over forty-five dance and physical-theatre works, some of which have been presented across Canada, in New York City, France and the U.K
Previous to his arrival at the University of Victoria, he taught at Simon Fraser University, University of British Columbia, the Vancouver Film School and Capilano College, and directed at Douglas College, Studio 58 and United Players, as well as for the company he founded, Wild Excursions Performance.
For the Phoenix Theatre, Conrad has directed Lion in the Streets, The Good Person of Setzuan, and La Ronde.
Sign Language
On Saturday, November 18, 2017, Deaf interpreter Nigel Howard and Hearing interpreters Mary Butterfield and Keith Brougham are coming to the Phoenix to provide sign language interpretation for our 2pm matinee performance of The Madwoman of Chaillot.
For the best seating to view our interpreter, please book as early as possible. Call the box office at 250-721-8000, or use this easy ticket order form and mail or fax to:
Sandra Guerreiro, Audience Services Manager
Phoenix Theatre, University of Victoria
P.O. Box 1700 STN CSC Victoria, BC V8W 2Y2
Fax 250-721-8638
Show Dates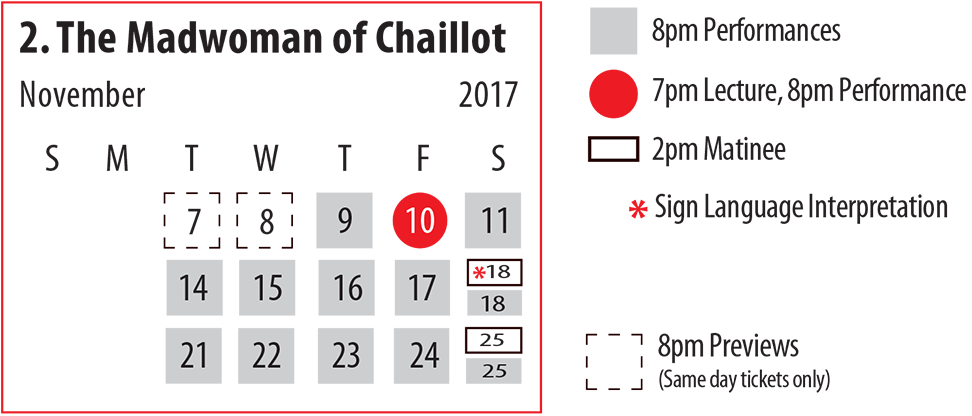 Performed in the Roger Bishop Theatre
Performances: Evenings@8pm: Tuesday through Saturday | Matinees@2pm: Sat.Nov. 18 & 25
Friday Pre-show Lecture: November 10 @ 7pm
Sign Language Interpretation: Saturday November 18 at 2pm
Cast & Creative
Set Design Patrick Du Wors
Costume Design Michelle Ning Lo
Lighting Design Matthew Wilkerson
Sound Design Logan Swain
Stage Management Emily Lindstrom
CAST:
President  Nicholas Guerreiro
Baron  Stephen Dopp
Waiter, 1st Press Agent Nathan Patterson
Flower Girl, 2nd Press Agent Sophie Chappell
Ragpicker Mary Van Den Bossche
Irma Emma Grabinsky
Deaf-Mute, 3rd President Joy Peters
Peddler, Doorman Justin Francis Lee
Broker Evan Coates
Little Man, Dr Jardin Duncan Alexander
Street Singer, 2nd President Ciaran Volke
Prospector Chase Hiebert
Countess Aurelia Sarah Jean Valiquette
Policeman, 2nd Prospector David Cosbey
Pierre Douglas Peerless
Sergeant, 3rd Prospector Ted Angelo Ngkaion
Professor, Sewer Man, 3rd Press Agent Brendan Elwell
Blonde in Café, Constance, 1st Lady Rachel Myers
Gabrielle, 2nd Lady Taryn Yoneda
Josephine, 3rd Lady Lucy Sharples
Lecture
Listen in as Director Conrad Alexandrowicz talks about the background of The Madwoman of Chaillot as Jean Giraudoux's response to the Nazi occupation of France in this lecture recorded last week. He explains some of the incredible, almost prescient themes in the play (presented as written in 1944) as well as his approach to directing the play as a fantastical fable.

Production Resource Partner