Wild Honey
February 11 – 20, 2016
By Michael Frayn
Adapted from an original play by Anton Chekhov
"The world can rejoice in a 'new' play by Chekhov…" – London Sunday Express
Anton Chekhov's first play, reimagined by Michael Frayn, is a comedy full of sensational love triangles. Platonov has a way with women, but it's both a blessing and a curse. When friends and neighbours welcome home the socialite and widow Anna Petrovna with a get-together on her country estate, the festivities get out of hand and everyone starts playing elaborate games of romantic cat and mouse. Declared "Brilliant!" by the London Guardian, Wild Honey swings between melodrama and farce and shakes them into one intoxicating cocktail.
Wild Honey is presented by special arrangement with SAMUEL FRENCH, INC.
Box Office
Single ticket sales for just this show begin February 2, 2016
Box Office is open Monday to Saturday: 12:00pm – 8:30pm
Ticket sales in person, or charge by phone: 250.721.8000
Ticket information, prices and policies
Performed in the Chief Dan George Theatre
Preview Nights: February 9 & 10 ($7.50 tickets only available after 5pm on show night)
About The Playwright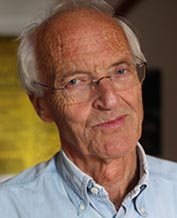 Michael Frayn (1933 – present) is an award-winning British playwright, novelist, reporter and translator. Raised in Ewell, Surrey, he spent two years of his early adulthood in compulsory military service for the United Kingdom, a time during which he learned Russian at the Joint Services School for Linguists. This experience would eventually lead to Frayn becoming one of the world's best-respected translators of Russian playwright Anton Chekhov.
After graduating from Cambridge in 1957, Frayn worked as a reporter and columnist for both The Guardian and The Observer. He developed into a satirist and comic writer, eventually focusing on writing novels during the 1960s and plays in the 1970s. Two of his earliest plays, Alphabetical Order (1977) and Donkeys' Years (1977), were both immediately welcomed with critical success, receiving the London Evening Standing Award for Best Comedy and the Laurence Olivier Award for Best Comedy respectively. Later, Frayn's 1982 comedy Noises Off also received both of these awards, and in 1998 his play Copenhagen earned a Tony Award for Best Play.
Frayn continues to create new works as a novelist and playwright to this day. His latest novel, Skios, was published in 2012, and his most recent theatrical work, Matchbox Theatre: Thirty Short Entertainments,premiered in 2014.
Anton Chekhov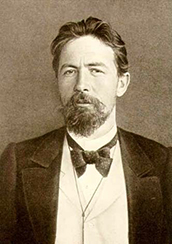 Anton Chekhov (1860 – 1904) was a Russian playwright, author and physician whose plays have been translated, produced, and acclaimed around the globe. Born in Taganrog, Russia, Chekhov moved to Moscow at the age of 19, where he immediately enrolled in the city university's medical faculty. After graduating and becoming a doctor in 1884, Chekhov also began freelance writing as a journalist and writer of comic sketches. In the late 1880s, Chekhov abandoned this work for more serious writing and began experimenting in the world of drama. His first major play, Wood Demon, the four-act play that would eventually be transformed into the classic Uncle Vanya (1897), was first published in 1888 along with a host of one-act farces. Although his 1896 play The Seagull was badly received at its premiere, two years later it would be revived by the newly created Moscow Art Theatre to great success. This made way for Chekhov's last two plays, Three Sisters (1901) and The Cherry Orchard (1904), which were specifically written for the Moscow Art Theatre. Unfortunately, Chekhov died of tuberculosis less than six months after The Cherry Orchard's premiere,
Shortly after his death, translations of Chekhov's plays and short stories would come to earn him high praise from world-class contemporaries including James Joyce, Virginia Woolf, Katherine Mansfield and George Bernard Shaw. His theatrical works continue to be produced over a century later and have inspired countless adaptations across various art forms.
About The Director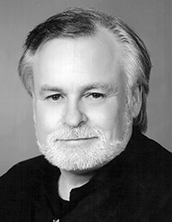 Peter McGuire Director
Beginning at Victoria's McPherson Playhouse, Peter has enjoyed a 30-year career in the professional theatre that has included stage management, production management, talent management, administration and producing. He has worked at several major regional theatres including long-term residencies at the National Arts Centre, the Charlottetown Festival and the Stratford Festival. He has toured regionally, nationally and internationally and worked for the Maybox Group of Theatres in London's West End. Between 2003 and 2005 he was Associate Conservatory Director at the American Conservatory Theatre in San Francisco. Recently, Peter directed Picnic at the Phoenix, where he teaches acting, directing, production, and introductory theatre courses to students from across the campus.
Show Dates
Cast & Creative
Director Peter McGuire
Set Designer Dallas Ashby
Costume Designer Graham McMonagle
Lighting Designer Michael Whitfield
Sound Designer Carolyn Moon
Stage Manager Rebecca Marchand

Assistant Director Kate Loomer
Assistant Lighting Designer Eryn Griffith
CAST:
Evan Coates Vasily / Peasant / Servant          
Colin Doig Colonel Triletzky
Chloe Dufort Sasha
Aidan Dunsmuir Sergey Voynitzev
Sheldon Graham Dr. Triletzky
Nicholas Guerreiro Petrin
Jack Hayes Platanov (Misha)
Jessie Johnston Mimi / Peasant
Grace Le Marya Grekova
Emma Leck Yakov / Peasant
Kristof Melling Glagolyev
Nikola Neral Marko / Peasant
Shea O'Connor Sofya
Arielle Permack Anna Petrovna
M. Van Den Bossche Osip  
Listen To Lecture
Advisory
Recommended for ages 13 and up.