Picnic
By William Inge
February 13 –  22, 2014
On the last day of summer in small town Kansas, unfulfilled dreams and repressed desires come to a head when a charismatic young drifter arrives in town. His combination of rough manners and titillating charm sends everyone reeling, including the Owens sisters (Millie, the smart one, and Madge, the pretty one), their determined mother, Madge's college-bound boyfriend, the watchful neighbour and the spinster schoolteacher who boards at the Owens' house. This 1953 Pulitzer Prize-winning drama is an American classic from the post-war/pre-feminist era which speaks to the timeless themes of lost aspirations and the heart's yearning to leave everything behind for a new adventure.
William Shakespeare
William Shakespeare was a renowned English poet, playwright, and actor born in 1564 in Stratford-upon-Avon. His birthday is most commonly celebrated on April 23rd, which is also believed to be the date he died in 1616.
Shakespeare's vast collection of work includes 38 plays, 2 narrative poems, 154 sonnets, and a variety of other poems. No original manuscripts of Shakespeare's plays are known to exist today. It is actually thanks to a group of actors from Shakespeare's company that we have about half of the plays at all. They collected scripts for publication after Shakespeare died, preserving the plays. These writings were brought together in what is known as the First Folio, which contains 36 of his plays and none of his poetry.
Shakespeare's legacy is as rich and diverse as his work, which has spawned countless adaptations across multiple genres and cultures, as well as an enduring presence in film. His writings have been compiled in various iterations of The Complete Works of William Shakespeare, which include all his plays, sonnets, and other poems. Over 400 years later, William Shakespeare continues to be one of the most important literary figures of the English language.
Show Dates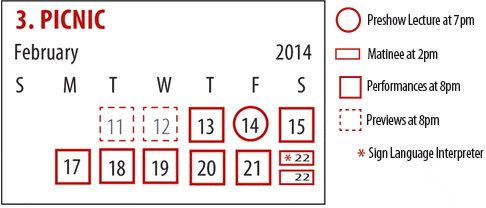 Open for show Feb 11 – 22, 2013
Call: 250.721.8000
We're pleased to offer sign language interpretation for our Deaf and Hard of Hearing community at a performance of Picnic.
Saturday February 22, at 2pm
with interpretation by Nigel Howard and Jen Ferris
Advanced tickets are available before the box office opens to the general public by filling out and submitting this order form or calling the Audience Services Manager at 721-8003.
Cast & Creative
Creative Team:
Directed by Peter J. McGuire
Set Design Jonathan Maxwell
Costume Design Pauline Stynes
Lighting Allan Stichbury
Sound Design Colette Habel
Stage Manager Becca Jorgensen
Assistant Director Joycelyne Lamarche
Assistant Lighting Design Clare Mathison
Assistant Set Design Carl Keys
Featuring (in alphabetical order)
Dallas Ashby Helen Potts
Aidan Correia Bomber Gutzel
Lindsay Curl Millie Owens
Kevin Eade Alan Seymour
Julie Forrest Flo Owens
Bethany Heemskerk Irma Kronkite
Jenson Kerr Hal Carter
Hayley McCurdy Madge Owens
Michelle Morris Rosemary Sydney
Sharmila Miller Christine Schoenwalder
Markus Spodzieja Howard Bevans