Marowitz Hamlet
March 15-24, 2012
By William Shakespeare & Charles Marowitz
What if one were to cut Shakespeare's masterpiece up into individual lines and piece it back together to tell the story anew? This would be a Marowitz play. Using the same poetic language, Charles Marowitz reinvents Shakespeare's classic play, revealing the layers of insanity in a young prince's vengeance. Notorious for his Shakespearean collages, the acclaimed Broadway and West End playwright, director, and critic presents his radical reinterpretation that brings new insight and humour to speeches and characters' motives. Marowitz has worked closely with the Royal Shakespeare Company, co-founded Encore Magazine and was a regular contributor to The New York Times, The London Times, Theater Week, and American Theatre.
Show Dates
March 15 – 24, 2012
Previews @ 8 PM: March 13 & 14
Evenings @ 8 PM: March 15 (opening), 16* (lecture), 17, 19, 20, 21, 22, 23, & 24
Matinee @ 2 PM: March 24
Friday, March 16 @ 7 PM
Michael Best, Professor Emeritus in the Department of English and the Founder and Coordinating Editor of Internet Shakespeare Editions, talks about how playwrights have been recycling and reinventing play material over the ages. He also places Charles Marowitz's reinterpretation of Hamlet into this historical context. Click below to listen now.
Box office: Opens March 6, 2012
Call: 250.721.8000
For ticket prices, click here.
Seating Plan: Roger Bishop Theatre
Tickets
Single Tickets
Charge by phone: 250-721-8000
or in person at the Phoenix Box Office
Friday & Saturday Evenings
All Seats $28
Wednesday, Thursday & Saturday Matinees
All Seats $26
Cheap Tuesdays
All Seats $15
NEW! Student Rush Tickets
30 minutes before every show: $16
UVic Alumni
Saturday Matinees: $21
(with UVic Alumni ONECard)
Performed in the Chief Dan George Theatre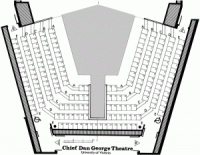 Cast & Creative
Creative Team:
Guest Director Charles Marowitz
Co-Director Fran Gebhard
Set and Lighting Designer Bryan Kenney
Costume Designer Michelle Lo
Stage Manager Denay Amaral
Featuring:
Lucas Hall (Hamlet)
Randi Edmundson (Ophelia)
Mik Byskov (Laertes)
Kale Penny (Fortinbras)
Hayley Feigs (Gertrude)
Luke Pennock (Claudius)
Robin Gadsby (Ghost)
Jonathan Mason (Rosencrantz)
Kieran Wilson (Guildenstern)
Alex Frankson (Polonius/Clown)
Ian Simms (Captain/Company Member)
Carol Adamson (Company Member)
Molison Farmer (Company Member)
Lecture
Advisories
Strong language.
Scenes of violence and domestic abuse.
Suitable for ages 15+