Eurydice
FEBRUARY 16 -25, 2012
By Sarah Ruhl
Jeffrey Pufahl
"…weird and wonderful, devastatingly lovely…" (New York Times)
Immerse yourself in a bold and dreamlike retelling of the classic Orpheus in the Underworld myth. Award-winning New York playwright Sarah Ruhl reimagines this story through eyes of its quirky heroine, Eurydice. Dying too young on her wedding day, she is reunited with her long-lost father in the whimsical, Mad-Hatter realm of the underworld, complete with singing stones and a playfully sinister Underlord. Here, she struggles to recall fading memories of her life as both a bride and a daughter. Eurydice is infused with the melancholy music of Orpheus and takes the audience along on her heartfelt and magical journey.
Sarah Ruhl
Sarah Ruhl was born in Wilmette, Illinois in 1973, where her father instilled in her a love of music and a fascination with language. She initially aspired to specialize in poetry while studying at Brown University. However, her father's untimely death instead inspired her first play, The Dog Play. She earned a BA in 1997 and an MFA in 2001. Eurydice was written in 2003 and saw productions at Circle X Theatre, Georgetown University, Berkeley and Yale before
making it to New York's Second Stage Theatre in 2007. While Eurydice was making this journey, Ruhl found success with shows such as Melancholy Play,Virtual Meditation #1, and Passion Play: a Cycle, which won the Pen American Award and the Fourth Freedom Forum Playwriting Award from The Kennedy Center. The Clean House (2004) won the Susan Smith Blackburn Prize and was a Pulitzer Prize finalist. In 2006 she received a MacArthur Fellowship "genius grant" for "creating vivid and adventurous theatrical works that poignantly juxtapose the mundane aspects of daily life with mythic themes of love and war." More recently, her play Dead Man's Cell Phone (2008) explored the personal disconnection that stems from the progression of modern technology, and In the Next Room (or The Vibrator Play) (2009) examined the early history of the vibrator and its use as a clinical device for the treatment of "hysteria." In the Next Room was Ruhl's Broadway debut and earned three Tony Award nominations, including Best Play. It was also her second play to be named a finalist for the Pulitzer Prize in Drama. Her newest play, Stage Kiss, debuted in Chicago in May of 2011.
Jeffrey Pufahl
Jeffrey is excited to be finishing up his MFA in Directing at UVic with this stunning piece of theatre. Last season at the Phoenix, he was the Assistant Director/Music Director for Yerma and Twelfth Night. His work as a theatre artist has been seen across Canada, the US and Europe. He directed numerous productions for The Souris Valley Theatre and Regina Lyric Light Opera and was the Artistic Director of BSide Productions for five years. He was the Associate Director/Production Manager for the Armonico Consort's highly acclaimed opera production of Purcell's The Fairy Queen, which toured the UK. Jeff has also written and directed three documentary films for the award winning series Landing: Stories from the Cultural Divide. As an actor/singer, Jeff has performed with Chemainus Theatre Festival (Fiddler on the Roof), Persephone Theatre, Shakespeare on the Saskatchewan, Globe Theatre, The Cincinnati Symphony Orchestra, Regina Symphony Orchestra, Infinit Theatre – Montreal, The Charlottetown Festival, and Off Broadway in Caligula – An Ancient Glam Epic – which won the Audience Choice Award at the New York Musical Theatre Festival in 2004. Jeff has written, produced and performed in two International Fringe Festival hits: Prairie Salt and Caberlesque! (Best Musical, Victoria Fringe), and toured Canada with Pau Miro's It's Raining in Barcelona. He holds his Bachelor of Music in voice from McGill University and an MFA in performance from the Cincinnati Conservatory of Music. Jeff is also a certified Hatha Yoga Instructor and a Transformational Breathing Facilitator. www.jeffreypufahl.com
Directors Notes
Playwright Sarah Ruhl lost her father to cancer at the age of twenty and much of her early writing is dedicated to mourning and coming to terms with his death. Eurydice is very much the story of Sarah and her father. Told through the lens of myth and imagination, the play is not a realistic exploration of this story, but rather an expression of the complexity of Ruhl's emotional journey. Entering the world of Sarah Ruhl is like stepping into a
dream where time is suspended and reality melds with the magical and whimsical mind of the dreamer. This is why I find this play so mesmerizing; it challenges us to peer through the veil of death and see the far-reaching consequences of our actions.
When starting on this project, I felt I needed to re-imagine and create a version of the play that was unique to the George theatre. I wanted not only to explore the potential of the space but also the theories of great theatre practitioners of today and yesterday. Designer Mary Kerr was the perfect person with which to embark on the journey of asking "what is it?" rather than saying "this is it". Together we have created a bold, kinetic world that awakens imagination and breathes life into Ruhl's poetic language and odd characters.
I want to extend my sincere gratitude to Linda Hardy and all the artists and technicians who've worked on making this dream a reality at UVic.
Show Dates
February 16-25, 2011
Previews @ 8pm: February 14 (Ooo! Valentine's Day!) & 15
Evenings @ 8pm: February 16 (Opening), 17(*Lecture), 18, 20 (Extra Monday), 21, 22, 23, 24, 25
Matinee @ 2pm: February 25
Listen to the pre-show lecture 
Recorded Friday, February 17 @ 7 pm
Join Professor Linda Hardy for a conversation with the director and designers about their concept and bold designs for this magical underworld.
Box Office: Opens February 7, 2012
Call: 250.721.8000
For ticket prices click here.
Seating Plan: Chief Dan George Theatre
Tickets
Single Tickets
Charge by phone: 250-721-8000
or in person at the Phoenix Box Office
Friday & Saturday Evenings
All Seats $28
Wednesday, Thursday & Saturday Matinees
All Seats $26
Cheap Tuesdays
All Seats $15
NEW! Student Rush Tickets
30 minutes before every show: $16
UVic Alumni
Saturday Matinees: $21
(with UVic Alumni ONECard)
Performed in the Chief Dan George Theatre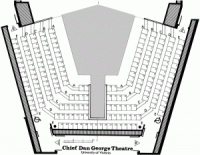 Cast & Creative
Creative Team:
Directed by Jeffrey Pufahl (MFA Candidate)
Production Designer Mary Kerr
Lighting Designer  Bryan Kenney 
Sound Designer  Neil Ferguson
Stage Manager Sarah Watson
Featuring:                                                                          
Alysson Hall   (Eurydice )
Peter McGuire (Father)
Graham Miles (The Interesting Man)
Derek Wallis (Orpheus)
And a Chorus Of Stones:
Andrew Barrett
Jethro Lee Herring
Sarah Johnson
Chelsea Keene
Taryn Lees
Angie Lopez
Hayley McCurdy
Simon Walter
Produced by special arrangement with Samuel French, Inc. New York City
Lecture
Listen to the pre-show lecture 


Recorded Friday, February 17 @ 7 pm
Join Professor Linda Hardy for a conversation with the director and designers about their concept and bold designs for this magical underworld.
Advisories
Strong language.
Scenes of violence and domestic abuse.
Suitable for ages 15+