Inside
MARCH 17-26, 2011
By Daniel Maclvor
The Phoenix Theatre will host the world premiere of Inside, written by acclaimed playwright Daniel MacIvor and directed by the renowned David Ferry. This modern tragicomedy plays host to a cross-section of Canadian experiences. Over the course of one evening, immigrants and orphans, Christians and addicts, entrepreneurs and activists alike will converge in the pulsing world of the nightclub. Between the beats of the music, boundaries will fall, tensions will rise, and lives will change forever.
Advisory: Mature subject matter, nudity and strong language.
Daneil Maclvor
Daniel is originally from Cape Breton, Nova Scotia and currently divides his time between Toronto and Avondale, NS. From 1987 to 2007 with Sherrie Johnson he ran da da kamera, a respected international touring company that brought his work to Australia, Israel, Europe, the UK, and extensively throughout Canada and the United States. Daniel has written and directed numerous award-winning theatre productions including See Bob Run, Wild Abandon, How It Works, The Soldier Dreams, You Are Here,
In On It and his work has been translated into French, Portuguese, Spanish, Czech, German and Japanese. With Daniel Brooks he created the solo shows House, Here Lies Henry, Monster, Cul-de-sac and most recently This Is What Happens Next. Daniel received the Governor General's Literary Award for Drama in 2006 for his collection of plays I Still Love You. In 2007 Daniel won the Jessie Award for Best New Play for His Greatness, produced at the Arts Club in Vancouver and in 2008 he was awarded the Elinore and Lou Siminovitch Prize for Theatre. He is also the recipient of an Obie Award and a GLAAD Award for his play In On It. He is currently playwright-in-residence at Tarragon Theatre and is working on a new play Arigato, Tokyo for the Banff Centre. Also a filmmaker, he is the writer/director of Past Perfect, Wilby Wonderful and the writer of Marion Bridge and Trigger.
David Ferry
David Ferry received his MFA in directing from UVIC in 2004. Since then he has been very successful in his directing career as well as his ongoing acting career (2009 DORA best actor award and Victoria Critic's Choice Spotlight Best performance award for his Willy Loman in Blue Bridge's acclaimed Death of a Salesman in 2008). He most recently directed the hit Shakespeare: If Music Be…, a multidisciplinary performance piece for Art of Time Ensemble in Toronto. He directed Where's My Money? by John Patrick Shanley at the Pia Bauman dance theatre in the spring of 2010. In 2009 he directed Missing by Florence Gibson for Factory Theatre as well as a stunning remount of his 2006 award winning production The Last Days of Judas Iscariot. He also directed and dramaturged six plays by six authors for part one of his own project – Cellular – a site specific series of plays utilizing cellular devices as delivery systems. He also directed the acclaimed production of The Pillowman for CanStage and Birdland. He directed 36 Views for ARC (2006 DORA nomination Best Production) as well as the world premiere of Brendan Gall's Alias Godot at Teatro della Limonaia's Festival Intercity in 2006 (and invited back in 2007 to remount it). He won two 2006 DORA awards (Toronto's theatre awards) for direction and lighting design for his production of The Last Days of Judas Iscariot (a site specific production) for Toronto's Birdland Theatre Company (which also won best production). David is currently also directing the workshop and reading of Fine Arts Writing Department Chair Bill Gaston's adaptation (with Dede Gaston) of Gaston's short story Mount Appetite as part of the Belfry Theatre's Spark Festival.
Director's Notes
Daniel MacIvor's new play is a superb example of his evolving theatrical aesthetic. His ever maturing grasp of the craft of playmaking is evident in the multi-layered structure that his gripping story hangs on… it moves along at a brisk pace and the sense of people hurtling towards a fate that they are powerless to control is accentuated by the alternating choral formality and minimalist two hander scenes that live closer to a naturalistic theatre mode. Every now and then the familiar bell of the patented MacIvor direct address monologue reminds us of his fierce humanity in the face of
a world run amuck. Daniel's themes are almost always related to death and in recent works, more and more address the hereafter (or lack thereof? … you decide).
Having the extreme good fortune to be the first to direct one of Mr. MacIvor's new plays (or at least one he himself does not act in) I have been bowled over by his generosity in letting me take my own path through the process of unveiling his text… it is not a little intimidating to be sitting next to an author of a new work who is in his own right a super director. He knows every intention of the author, of course, and pretty much every inflection of all the characters in the play. I saw him biting his tongue more than once in rehearsals. But we did find the right balance, I think, in the delicate trick of hat wearing, and he was also fantastically helpful in offering insight to me and the other artists when the timing was absolutely perfect. I would be remiss in not thanking the rest of the fine creative team for making this production come to life in such a creative way… I pushed the actors hard, they did not bend; Allan Stichbury brought insight into how Daniel sees the stage; Kendra Terpenning has been a revelation with her costume ideas; Bryan Kenney designed beautiful illumination and the rest of the creative team and stage management could not have been better in support of the vision. Finally Sandi Barrett, my assistant director, was essential in the work you see on stage.
I am equally thankful to the UVic theatre department for providing such a supportive environment and for having the vision and good common sense to grasp this opportunity to premiere Daniel's play. The other "teams" across the country will be green with envy.
I found myself on a daily basis sitting in envy of these students as they wrestled with such sexy, smart and funny material. If only I had had such good fortune as a theatre school student to premiere the work of a fabulous living playwright… an icon to the young theatre artists across the country, and one who sits so modestly in his talent and reputation… my career would have started, as these actors' will, with such a fantastic liftoff.
Show Dates
March 17 – March 26, 2011

Previews @ 8pm: March 15, 16 (all seats $6)
Evenings @ 8pm: March 17, 18, 19, 21, 22, 23, 24, 25, 26
Matinee @ 2pm: March 26 with Sign Language Interpretation
FREE Pre-Show lecture: Daniel MacIvor: Just Do It!
Friday, March 18, 7pm
Dr. Tony Vickery, a professor of Theatre History explores MacIvor 's independent, do-it-yourself initiative as a key component in his philosophies around acting, play writing and producing theatre, and how these have lead to his national and international prominence.
Listen to the pre-show lecture 

Talkback session with Daniel MacIvor
Friday, March 25, aftershow
Questions and feedback with the playwright.
Sign Language Interpretation
Saturday March 26 @ 2pm:
Sign language interpretation of the play featuring international Deaf interpreter, presenter and performer Nigel Howard and Jen Ferris. Click here for sign language performance ticket order form.
Box Office: Opens March 8, 2011
Call: 250.721.8000
For ticket prices click here.
Seating Plan: Roger Bishop
Cast & Creative
Creative Team:
Directed by David Ferry
Set Designer Allan Stichbury
Costume Designer Kendra Terpenning
Lighting Designer Bryan Kenney                                   
Stage Manager Alina Cerminara
Featuring:

Jesse Cowell Jimmy
Alberta Holden Audrey   
Angie Lopez Tia
Jason Mitchell Todd
Luke Pennock Mason
Emily Piggford Kara
Alex Plouffe Brian
Shaan Rahman Armaan
Jenny Taylor Violet
Patricia Trinh Mary
Robb Wiggin Chuck
Tickets
Single Tickets
Charge by phone: 250-721-8000
or in person at the Phoenix Box Office
Friday & Saturday Evenings
All Seats $28
Wednesday, Thursday & Saturday Matinees
All Seats $26
Cheap Tuesdays
All Seats $15
NEW! Student Rush Tickets
30 minutes before every show: $16
UVic Alumni
Saturday Matinees: $21
(with UVic Alumni ONECard)
Performed in the Chief Dan George Theatre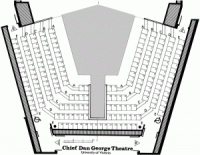 Media Reviews
MEDIA:
"Run — don't walk — fast as you can, to Inside, Daniel MacIvor's new play, performed by actors from the University of Victoria theatre department. David Ferry directs — sparklingly — a story of fate, death, the hereafter and the awful, unmet yearnings of urbanites on the edge. MacIvor outdoes himself to spell-binding effect. The 11 performers are stunningly good, acting as a Greek chorus or in two-hander scenes that build to a surprising, bleakly hilarious finale. Theatre doesn't get better than this."
Susan Walker, Theatre Reviewer
"After seeing the Phoenix's cast and crew fill up Fringe after Fringe with great shows I'm glad to see their talents justly rewarded with a script from a talent as large as Daniel MacIvor's….Trust me. Every decibel of applause was thoroughly earned." Culture Vulture Review
"I really liked it. A great follow up to their Twelfth Night which I told you was so great. This is a raw, gut-punch of a black social comedy with enough dramatic interchange to get you thinking about the big questions of life…"
CBC On the Island Review
Monday Magazine's feature story on this play by Amanda Farrell-Low
Times Colonist interview with director David Ferry by Adrian Chamberlain
Lecture
Advisories
Strong language.
Scenes of violence and domestic abuse.
Suitable for ages 15+