Wreckage
MARCH 18-27,2010
By Sally Stubbs
Director Fran Gebhard
In 1949, one woman's quest for the truth about her family will lead deep into their dark past. Sifting through her mother's diary and lies she has been told, young Violet must come to grips with a violent history, and the horrible train wreck that changed their lives forever. Wreckage was first produced by New West Theatre in 2005 and partially adapted into a short film.
Advisory: Mature subject matter, strong language.
Sally Stubs
Sally Stubbs is an award-winning playwright and theatre director- educator. Raised in Victoria, she is now based in Vancouver. She is a member of the Playwrights Guild of Canada. A born-again student, Sally is happy to be back at UVic completing a graduate degree in Writing with master playwright, Joan MacLeod.
First professionally produced in 2005 by New West Theatre's Wreckage was the recipient of an Honourable Mention in the 2005 Herman Voaden Playwriting Competition. This is now it's third production. It was published in Fall 2009 by Scirocco
Drama. In 2005, it was partially adapted for film into the independent short film, Mother Cutter, which was co-written and directed by Christopher Cinnamon. It was nominated for the Alberta Centennial Award and named one of the 'Best of Alberta Shorts' (Calgary International Film Festival).
Most recently, her script Herr Beckmann's People was selected for the second Flying Start Production, a program of Touchstone Theatre and the Playwrights Theatre Centre and will receive its world premiere this June in Vancouver. Stubbs received the Canadian Peace Play Competition Award 2009 (University of Calgary) for Herr Beckmann's People and the Gordon Armstrong Playwrights Rent Award in 2008. She was honoured to present Herr Beckmann's People at the 8th International Women Playwrights Conference in Mumbai in November 2009.
Her most recent script is Centurions, a full-length play completed in partial fulfilment of her MFA at UVic. Other plays include: Eyes.Two.; She'll to the Wars (Special Merit Award, National Playwriting Competition); Home Movies; and Spinning You Home, also adapted as a novel for young adults.
Fran Gebhard
Fran received her MFA in directing from UBC in 2001. She enjoys directing classic plays as well as those of Canadian playwrights. Favorites include The School For Scandal and Crackpot at UVic, As You Like It for the Canadian College of the Performing Arts, For The Pleasure of Seeing Her Again at the Bluewater Summer Playhouse, A Midsummer Night's Dream at Shakespeare Kelowna and Les Liasions Dangereuses at UBC. Fran has had a long association with the development of new Canadian work having served as the Program Head of the Playrites Colony at the Banff Centre for many years. She also has ties to Vancouver's Playwrights Theatre Centre where she played Momma in a workshop production of Wreckage. Acting is Fran's first love and she has appeared in over fifty plays. Memorable roles include Brutus in Julius Caesar, Lady Wishfort in The Way of the World, Elizabeth in Richard III, Joanne in Norm Foster's Jupiter in July, and Martha in Joan MacLeod's Amigo's Blue Guitar at UVic. She does regular performances of her one woman show Looking For Kitty and hosted her own radio and TV talk shows. Film and television credits include appearances on The Chris Isaak Show, Dead Zone, Friday's Curse and Moment of Truth. She played Bette Davis' daughter-in-law in A Piano For Mrs. Cimino and was nominated for a genie award for her work in Blue City Slammers. Fran also performed in As You Like It and The Fantasticks in the inaugural season of the newly formed Blue Bridge Repertory Theatre. Teaching has become a focus in Fran's life and her work has taken her to the University of Regina, and UBC. Currently she teaches acting at UVic. Fran loves sharing her passion for theatre with the next generation of talented and energetic theatre professionals.
Director's Notes
When asked to direct Wreckage I jumped at the chance. For me the play is an interesting challenge because of its filmic nature. We shift between the 1940s and the 1920s, two of my favourite time periods. The world of the play is dark and gritty; it's a place I like to visit but not take up residence. One of the delicious things about theatre is the capacity to play in worlds we do not want to inhabit.
A young girl, Rose, from Kamloops, full of hope and dreams of
becoming famous in Hollywood, gets trapped in Vancouver. She has an addictive personality and this turns out to be her downfall. These are relevant themes today. Young people still dream big and can run into problems experimenting with drugs.
The protagonist of the play is Rose's daughter, Violet who cannot rest until she unearths the truth about her mother's disappearance after a train wreck in the 1920s. She receives a suitcase from a stranger who may hold the key to her mother's past. Violet steps into her mother's past and learns more than she cares to about her mother and the seedy gangsters of her grandmother's gang aboard the gambling train, the Red Dragon.
It is always a delight for me to work with the talented young actors, designers and the production team at UVic. The students are creative and energetic and they never cease to amaze me with their perfect imaginations. It has been a joy to come to rehearsal to explore this evocative work from Sally Stubbs. I hope you enjoy your theatrical journey aboard the Red Dragon.
Show Dates
March 18 – 27, 2010
Previews @ 8pm: March 16 and 17
Evenings @ 8pm: March 18, 19, 20, 22, 23, 24, 25, 26 and 27
Matinee @ 2pm: March 27
Box Office: Opens March 10, 2010
Call: 250.721.8000
For ticket prices, click here.
Seating Plan: Chief Dan George
Tickets
Single Tickets
Charge by phone: 250-721-8000
or in person at the Phoenix Box Office
Friday & Saturday Evenings
All Seats $28
Wednesday, Thursday & Saturday Matinees
All Seats $26
Cheap Tuesdays
All Seats $15
NEW! Student Rush Tickets
30 minutes before every show: $16
UVic Alumni
Saturday Matinees: $21
(with UVic Alumni ONECard)
Performed in the Chief Dan George Theatre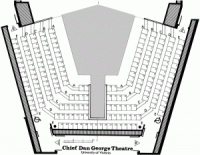 Cast & Creative
Creative Team:
Directed by Fran Gebhard
Set & Lighting Designer Paphavee (Poe) Limkul
Costume Designer Cat Haywood
Sound Designer Katz Dawson
Stage Manager Jessica McLeod
Assistant Director Brian Wrigley
Movement Coach Conrad Alexandrowicz
Vocal Coach Linda Hardy
Dramaturge Bryan Gibbs
Fight Coach Matthew Coulson
Featuring:

Matthew Coulson (Shannon/Big Man)
Jack Heyes (Gang Member)
Jeff Leard (Johnny)
Melanie Leon (Violet)
Jonathan Mason (Gang Member)
Emily Piggford (Lucy/Rose)
Alex Plouffe (Cardinal)
Sean Sager (Gang Member)
Kayla Sankey (Gang Member)
Emily Smith (Momma)
Liam Volke (Gang Member)
Robb Wiggin (Gang Member)
Linsday Woods (Gang Member)
Advisories
Strong language.
Scenes of violence and domestic abuse.
Suitable for ages 15+