Romeo & Juliet
NOVEMBER 5-21, 2009
By William Shakespeare
Director Brian Richmond
Shakespeare's enduring and tragic love story about two "star-crossed lovers" who struggle against the prejudices of their feuding families, the Capulets and Montagues. Peace and unity in Verona ultimately come at the price of the young lovers' lives. Adapted numerous times for stage and film, including its incarnation as West Side Story, this romantic tale continues to offer valuable insights for the political and cultural differences of our world.
Advisory: 3 hours in length.
Brian Richmond
Brian has directed over one hundred productions for leading professional theatres throughout Canada, the US and Mexico. His productions of Fire and Lilies won Toronto's Dora Mavor Moore Awards for Outstanding Production and his 2004 Belfry production of Proof and his 2007 Phoenix production of Wind In The Willows won the Victoria Spotlight Award as Best Production. He is also a winner and four-time nominee for Outstanding Director in the Dora
Awards. He is the Founding Artistic Director of Saskatoon's Persephone Theatre and served as Artistic Director for Montreal's Playwrights Workshop, Thunder Bay's Magnus Theatre and Toronto's Theatre Passe Muraille. He is also the Founder and Producing Artistic Director of Victoria's newest professional theatre, Blue Bridge Repertory Theatre, where he directed the highly acclaimed Death of A Salesman this past summer. For the Phoenix, Brian has directed Frogs, Peer Gynt, The Resistible Rise of Arturo Ui, He Who Gets Slapped, The Fever, Guys and Dolls, Tyrants, Wind In The Willows and Dark of the Moon.
Director's Notes
First things first – it's not likely that Shakespeare ever visited Italy. Everything he knew about the actual Italy was confined to that which he drew from various poets, philosophers and chroniclers. This has led me to believe that possibly what he had in mind in writing Romeo and Juliet had nothing to do with drawing a portrait of the enormously creative, yet politically unstable set of Italian states, but rather an allegory for his own time and equally volatile country.
Maybe … But if this is so, what was the nature of the allegory that he had in mind? Well, we all likely know of the dominant themes that tend to run through all his plays; his insistence on the necessity of harmony and balance in just about every aspect of existence – politics, leadership, astronomy, love, art; his seeming obsession with what happens to states when they are ruled by either strong or weak leaders; and how about time? It's not too surprising that a poet so masterful at finding the most subtle variations in the blank verse form should think that the secret of the universe can be found in the intricate study of this most mysterious ruling principle of all our lives.
As you will, hopefully, see from tonight's production it is this aspect of Shakespeare's writing that has fascinated me and my collaborator's most. Put simply, we have become fascinated with a play that switches from comedy to tragedy through the subtle variations of time and where a simple shift in the timing of any event would have resulted in such different outcomes.
But second things second; I have certainly never visited what we have come to think of in our culture as the 'Holy Land'. Yet, I cannot think of a day in my life that I have not been influenced by the reports of what, for us, in North America appears as incomprehensible division, animosities and, sadly, long accustomed violence. In other words, our view of this part of the modern world is possibly pretty close to what Shakespeare and his contemporaries may have thought of Italy.
My job as a director is to unleash the power of Shakespeare's original allegory. In my view, this allegory clearly paints, first a comic, then a tragic, portrait of a society that suffers from its inability to solve its ancient enmities between man and man and man and women. I would like to report that in my time these types of divisions have disappeared but, sadly, they have not. Perhaps now, more than ever, we need the great plays of Shakespeare to remind us of just how sad and tragic the consequences of this failure is to us and the youth that will inherit the world we have created.
In Memoriam
Katherine Ellen Edwards (1946-2009)
Katherine Edwards was the Department of Theatre's beloved secretary for 32 years. She started in 1966 when the department was a fledgling group of dedicated students and teachers working in Q hut. She was instrumental in helping the department grow into the thriving, vibrant community of artists that you know today. She retired in 1998 but continued her connection with the department through her many friends and colleagues and most recently, through the career of her nephew, Jeff Leard, who is currently a student in Theatre. Katherine and her husband, Murray Edwards, were valued members of the Theatre Department. Their kindness, humour and friendship will be sorely missed by all who knew them.
Contributions to the Katherine E. and Murray D. Edwards Scholarship in Theatre can be directed to Theatre Department, c/o Development Office, University of Victoria, P.O. Box 3060, Victoria, BC V8W 3R4
Presented by
And support from a generous donation by Terry J. Waller
Show Dates
November 5 – 21, 2009
Previews @ 8pm: November 3 & 4 at 8 pm
Evenings @ 8pm: November 5, 6, 7, 10*, 11, 12*, 13, 14*, 17, 18*, 19, 20, 21
Matinee @ 2pm: November 14* & 21*
* denotes alternate cast performance
FREE Pre-Show lecture: November 6 @ 7 pm
Dr. Janelle Jenstad from UVic's department of English speaks on "Shakespeare's Experiment in Comi-Tragedy."
Box Office: Opens October 28, 2009
Call: 250.721.8000
For ticket prices or subscription opportunities, click here.
Seating Plan: Chief Dan George
Tickets
Single Tickets
Charge by phone: 250-721-8000
or in person at the Phoenix Box Office
Friday & Saturday Evenings
All Seats $28
Wednesday, Thursday & Saturday Matinees
All Seats $26
Cheap Tuesdays
All Seats $15
NEW! Student Rush Tickets
30 minutes before every show: $16
UVic Alumni
Saturday Matinees: $21
(with UVic Alumni ONECard)
Performed in the Chief Dan George Theatre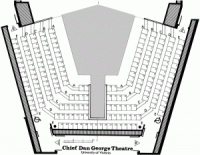 Cast & Creative
Creative Team:
Directed by Brian Richmond
Costume Designer Mary Kerr
Set Designer Kerem Çetinel
Lighting Designer Amanda Gougeon
Sound Designer & Composer John Mills-Cockell
Fight Director Peter Abrahams
Choreographer Anne Wootten
Stage Manager Lydia Comer
Featuring:
Chris Adams (Sampson)
Carolyn Alton (Serving Person)
Ashley Caron (Lady Capulet)
Matthew Coulson (Romeo)
Cam Culham (Friar Laurence)
Geneviève Dale (The Moon, Echo to the Chorus, Old Capulet & Apothecary)
Cobi Dayan (Balthazar)
Kesinee Haney (Capulet's Servant)
Sarah Koury (Serving Person)
Melanie Leon (Watchman, Juliet* (Alternate))
Jeff Leard (Mercutio)
Anne McGladdery (Lady Montague, Nurse* (Alternate))
Jay Mitchell (Lord Capulet)
Graeme Nathan (Romeo's Page, Watchman)
Emily Piggford (The Sun, Chorus, Old Capulet, Apothecary)
Alex Plouffe (Paris)
Shaan Rahman (Watchman, Friar John)
Samantha Richard (Juliet, Watchman* (Alternate))
Graham Roebuck (Lord Montague)
James Roney (Tybalt)
Sean Sager (Prince Escalus)
Natasha Salway (Benvolio)
Kayla Sankey (Paris' Aide de Camp)
Emily Smith (Nurse, Lady Montague* (Alternate))
Patricia Trinh (Serving Person)
Liam Volke (Abraham)
Andrew Wade (Peter)
Robb Wiggin (Gregory)
Advisories
Strong language.
Scenes of violence and domestic abuse.
Suitable for ages 15+