La Ronde
By Arthur Schnitzler
Directed by Conrad Alexandrowicz
Set & Lighting Designer Paphavee Limkul
Costume Designer Cat Haywood
Stage Manager Lydia Comer
A psychological dance of passion, power and seduction through Vienna society in the 1890s. From a soldier and a prostitute, to an actress and a count, the intimate relationships of ten interconnected couples wittily unfold to comment on the sexual mores and class ideology of the day. Advisory: Mature subject matter, sexual content.
Read more about Director Conrad Alexandrowicz's approach to fusing this period play with a contemporary sensibility in an interview in the Times Colonist with writer, Adrian Chamberlain.
Show Dates
$6 PREVIEWS
Previews @ 8pm: February 17 & 18 at 8 pm
February 19 – 28, 2009
Evenings @ 8pm: February 19 (Opening Night), 20, 21, 24, 25, 26, 27, 28
Matinee @ 2pm: February 28*
FREE Pre-Show lecture: February 20 @ 7 pm
Dr. Helga Thorson from UVic's Department of Germanic and Slavic Studies
Sign Language Interpretation: Saturday, February 28 @ 2pm matinee
Join us for a unique and wonderful experiece. Internationally renowned Deaf interpreter Nigel Howard and Victoria hearing interpreter Mary Warner will offer sign language interpretation for the Deaf and Hard of Hearing and everyone's enjoyment.
Box Office: Opens February 11, 2009
Call: 250.721.8000
Seating Plan: Roger Bishop Theatre
Tickets
Single Tickets
Charge by phone: 250-721-8000
or in person at the Phoenix Box Office
Friday & Saturday Evenings
All Seats $28
Wednesday, Thursday & Saturday Matinees
All Seats $26
Cheap Tuesdays
All Seats $15
NEW! Student Rush Tickets
30 minutes before every show: $16
UVic Alumni
Saturday Matinees: $21
(with UVic Alumni ONECard)
Performed in the Chief Dan George Theatre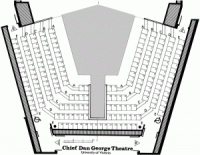 Cast & Creative
Creative Team:
Directed by Conrad Alexandrowicz
Set & Lighting Designer Paphavee Limkul
Costume Designer Cat Haywood
Stage Manager Lydia Comer
Featuring:
Sarah Cody (Young Married Woman)
Andrew Harron (Young Gentleman)
Jeff Leard (Soldier)
Melanie Leon (Chambermaid)
Jay Mitchell (Husband)
David Perry (Poet)
Samantha Richard (Sweet Girl)
Evan Roberts (Count)
Natasha Salway (Prostitute)
Emily Smith (Actress)
Advisories
Strong language.
Scenes of violence and domestic abuse.
Suitable for ages 15+