Dark of the Moon
By Howard Richardson & William Berney,
In cooperation with The Richardson/Yale Property Trust, Elliot S. Blair, Administrator
Venture to the deep South for a dramatic love story set amongst the dark magic and rich music of the Appalachian Mountains. Based on the centuries old European folk song "The Ballad of Barbara Allen," it tells the story of John, a witch boy, and his endeavours to become human after falling in love with a small-town Baptist girl under the dark of the moon.
Advisory: Mature subject matter. Some nudity.
Presented by
Show Dates
Produced by special arrangement with Samuel French (Canada) Ltd.
November 6 – 22, 2008
Previews @ 8pm: November 4 & 5 at 8 pm
Evenings @ 8pm: November 6, 7, 8, 11, 12, 13, 14, 15, 18, 19,20, 21 22
Matinee @ 2pm: November 22
FREE Pre-Show lecture: November 7 @ 7 pm
With Dr. Michael Nowlin entitled "Dark of the Moon: An Allegorical Folk Play about What?"
Box Office: Opens October 29, 2008
Call: 250.721.8000
For ticket prices or subscription opportunities, click here.
Seating Plan: Chief Dan George
Tickets
Single Tickets
Charge by phone: 250-721-8000
or in person at the Phoenix Box Office
Friday & Saturday Evenings
All Seats $28
Wednesday, Thursday & Saturday Matinees
All Seats $26
Cheap Tuesdays
All Seats $15
NEW! Student Rush Tickets
30 minutes before every show: $16
UVic Alumni
Saturday Matinees: $21
(with UVic Alumni ONECard)
Performed in the Chief Dan George Theatre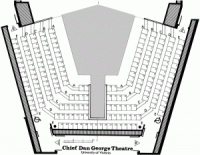 Cast & Creative
Creative Team:
Directed by Brian Richmond
Set & Costume Design by Patrick du Wors
Lighting Design by Kerem Çetinel
Music Direction & Sound Design by John Mills-Cockell
Movement Direction & Choreography by Conrad Alexandrowicz & Ingrid Hansen
Stage Manager Nathan Brown
Featuring:
Chris Adams (Mr. Atkins)
Kathleen Black (Hattie Heffner, Organ)
Rielle Braid (Barbara Allen)
Sarah Cody (Mrs. Allen)
Matt Coulson (Marvin Hudgens)
Brian Culp (John)
Michael Delamont (Conjur Man)
Fran Gebhard (Mrs. Summey)
Hayley Grundy (Leafy, Fiddle)
Joelle Haney (Mrs. Greeny Gorman)
Kesinee Haney (Mrs. Greeny Gorman)
Ingrid Hansen (Fair Witch)
Andrew Harron (Hank Gudger)
Kelly Hudson (Conjur Woman)
Marina Lagace (Miss Metcalf)
Taylor Lewis (Preacher Haggler)
Anne McGladdery (Mrs. Bergen)
Peter McGuire (Mr. Summey)
Jay Mitchell (Mr. Allen, Banjo)
Bryan Nothling (Uncle Smellicue, Piano)
David Perry (Dark Witch 2)
Graham Roebuck (Mr. Jenkins, Mandolin)
Sean Sager (Floyd Allen, Guitar)
Emily Smith (Fair Witch 2)
Katie Takefman (Dark Witch)
Andrew Wade (Mr. Bergen)
Kaitlin Williams (Edna Summey)
Jessica Wilson (Ella Bergen)
Brian Wrigley (Burt Dinwitty, Guitar)
Produced by special arrangement with Samuel French (Canada) Ltd.
Advisories
Strong language.
Scenes of violence and domestic abuse.
Suitable for ages 15+
Media Reviews
"Supernatural tale of doomed love retains its power"
"The University of Victoria's theatre department has mustered one of its strongest outings in years." … "No one sings better than the talented Rielle Braid, who as a convincing Barbara Allen let loose… with a full, throaty voice… and sings her ass off."
****1/2 out of five
Adrian Chamberlain Times Colonist
CBC Review by David Lennam click here.