If this email does not display properly, please see our website phoenixtheatres.ca
Behind the Scenes | 2021 Season | News | Halloween Events | Phoenix Phacts | Kudos
---
Behind the Scenes:




Returning to the stage... and livestreaming to your homes.
It's been an exciting spring at the Department of Theatre as we slowly, carefully, and safely begin the rehearsal process again. While there are many guidelines to follow, our students are very eager to be back doing what they love. Plus, in the process of pivoting to meet the needs of the conditions of this pandemic, opportunities have opened up to give our students advantages in their careers.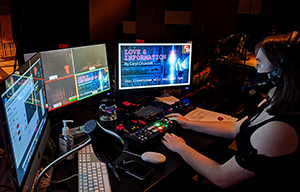 Learning Livestream Technology
During this time when we are not able to have audiences in our theatres, filming and livestreaming the work of our students is one of the only ways we can share our work with you. Thanks to the incredible support from the University of Victoria, a generous Theatre donor, and the Phoenix Theatre's long-time sponsor iA Financial Group, the Department of Theatre has been able to obtain professional quality livestream equipment, such as new cameras, a livestream switcher, a gimbal, and other important gear.
Since the arrival of the equipment late last fall, production staff have been busy instructing students (like Joel Black with camera below) in the art of filming, live camera direction, video editing, and other skills, offering our students advantages that will take them into the future of theatre. While livestreaming is a necessity today, there's no doubt that this technology will continue to be a key part of theatre outreach, even when we are able to return to our seats in the theatre.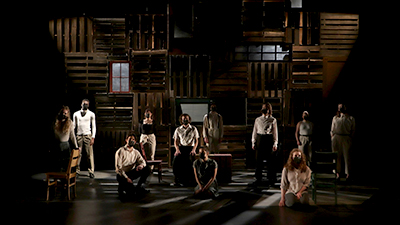 Testing our Skills and our Equipment
This past February, the department rehearsed and performed Caryl Churchill'sLove & Information, a beautiful play which tells a kaleidoscope of stories revolving on the themes of love, knowledge, and human connection. It's a production we had hoped to share with our audiences, however deciding to make it an in-house departmental project gave us the time to hone our essential skills – not only with new technology but also learning and practicing how to manage the rehearsal and production process while keeping everyone distanced, masked and safe. Our thanks also go out to UVic's Classroom Safety Ambassadors for keeping our building sanitized during this process. You can see more photos of the Love & Information departmental project here.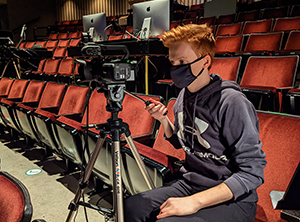 For instructor and Assistant Technical Director Simon Farrow, this process offered an opportunity to relearn how we create theatre. "True livestreaming for theatre – where the performance is filmed live while you are watching – is challenging. We wanted to set the viewer's expectation of the video production to be as polished as every other element of our Phoenix productions," said Farrow.
"A good livestream theatre experience requires all the other elements of the production to contribute as well. The set design needs to offer access for good filming angles. Costumes need to translate over the screen. The lighting needs to be adjusted for camera exposure, the sound design needs to integrate well into the livestream mix and, of course, the actors need to adjust their blocking, already distanced for COVID guidelines, for the camera. All of the students working in these areas are reframing their work to the camera lens, rather than the auditorium."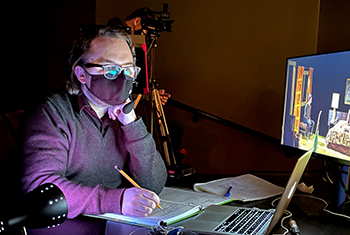 For third-year student Branden Sugden (shown left), directing the team of students involved in livestreaming has been an immense and satisfying challenge.
"I have learned so much in the past few months on this project, it will certainly be the most formative experience of my time at the Phoenix," says Sugden. "I am now able to be more conscious of where my eyes go while watching theatre. It's a skill that any good director needs to have, but unlike in-person theatre, by directing through the camera, I have been given full control over where the audience's eye goes."
"I have also had to hone my leadership skills," says Sugden. "I'm overseeing a team of my peers, and I have learned so much about managing a group, which I know will carry over into my career as a director as well as any other ventures I might pursue."
Problem Child
The results of this time of experimentation and rehearsal were a spectacular and a positive learning experience for everyone in the department – all of which is being applied to Problem Child, our upcoming production of George F. Walker's gritty social comedy.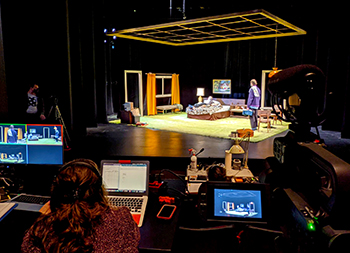 At the centre of Walker's play is the dysfunctional couple Denise and RJ, who are stuck in a motel room, hopeful that they can regain custody of their child – with some questionable help from their offbeat motel desk clerk. However, their disgruntled social worker Helen is the one who holds everyone's fate in her hands.
"I've been a fan of George Walker's work for years," says faculty member and director Fran Gebhard who specifically chose this Canadian contemporary classic for our fourth-year performance focus students so that they could perform in their bubble. With a cast of only four, it allowed our graduating students to be featured in two alternating casts, giving everyone complex roles and allowing for distancing on stage. "We rehearsed in facemasks and practised our social distancing to the letter. Our staging and blocking had to adjust to these protocols accordingly," says Gebhard. "A daunting challenge? Yes! Different? Certainly. But we've loved every minute."
"Having just passed a year since our production of The Children's Hour was cancelled due to the COVID-19 lockdown," reflects Sugden, "I feel really honoured to be helping the department bring work back to the stage. It is endlessly exciting to be making art in the same room as my colleagues again."
Gebhard agrees. "We're natural-born theatre-makers, and neither hell nor high water, nor even a global pandemic, can stop us from carrying out our work with joy."
-----------
Read more in the Times Colonist about how Fran Gebhard brought her years of experience in film and television to guide this livestream production of Problem Child.
Events: Performances, Lectures and more

LIVESTREAM PERFORMANCES
March 24, 25, 26 & 27, 2021
By George F. Walker | Directed by Fran Gebhard

Stuck in a room. Stuck in the system. A desperate mother and her hapless partner are confined to a hotel room while they try to put their delinquent pasts behind them in order to regain custody of their baby. One of Canada's most prolific and popular playwrights, Walker is best known for his fast-paced social comedies that satirize the woes of contemporary culture under the pressures of capitalism.
NOTE: There will be two alternating, four-person casts featuring our fourth-year performance class for their final required credits. Performances maintain physical distancing guidelines. See website for cast schedule.
TICKETS: $15 per link/household
An easy-to-use, one-click link and password will be sent to you the day of your performance. All tickets come with a no-questions-asked, money-back guarantee (within 24 hours of performance date for a full refund).
Charge by phone at 250-721-8000 at the Phoenix Box Office (no in-person or online sales at this time.)
Online Symposium:
Theatre Pedagogy in the Era of Climate Crisis
This weekend! As part of the launch of their new book "Theatre Pedagogy in the Era of Climate Crisis", join Theatre prof Conrad Alexandrowicz and Brock University co-editor David Fancy and contributors—including Phoenix's Sasha Kovacs & PhD candidate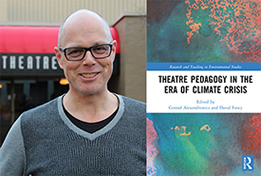 Dennis Gupa—for a free online symposium addressing how to transform theatre pedagogy. Watch live on YouTube. (Presented from Brock, times are in Eastern Standard Time)
Saturday March 20, 2021 (ET)
1-2:15pm – Theatre Pedagogy & the Climate Crisis
3-4:15pm – Eco-Aesthetics in Performance & in Design
Sunday March 21, 2021(ET)
1-2:15pm – Eco-Literacies in Teaching Theatre
3-4:15pm – Intersectionality, Solidarity & the Body
of the Earth
Established through the generous gift of an anonymous donor, the Orion Fund in Fine Arts is designed to bring distinguished visitors from other parts of Canada—and the world—to the University of Victoria's Faculty of Fine Arts, and to make their talents and achievements available to faculty, students, staff and the wider Greater Victoria community who might otherwise not be able to experience their work. This year these free lectures are taking place on Zoom. Please join us in the upcoming weeks to hear fascinating lectures by our acclaimed guests. (Recordings of these and previous lectures are available online a week after the lecture.)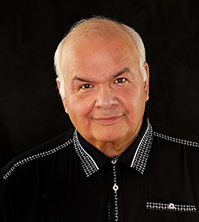 Tuesday, March 23 at 12:30pm
My Life as a Baby Clown
Gary Farmer, Actor, Filmmaker, Musician, Publisher, Activist
Farmer will discuss his freedom to explore his cultural identity, in conversation with Prof. Brian Richmond. Known for his roles in films like Powwow Highway, Dead Man (opposite Johnny Depp) and Smoke Signals, he has received lifetime achievement awards from the Taos Talking Picture Festival and the Native American Music Awards. He launched the magazine Aboriginal Voices and founded the urban Indian radio network Aboriginal Voices Radio Network. Farmer is currently in Syfy Network's TV show Resident Alien. Read more about Gary Farmer or register for this lecture here.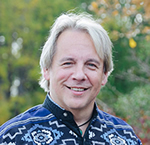 Thursday, April 1 at 12:30pm
Canoeing Down the River of Contemporary Storytelling…
with Drew Hayden Taylor, Playwright, Novelist, Filmmaker, Journalist
Join Drew Hayden Taylor, in conversation with Prof. Brian Richmond, as he talks about the changing face of Indigenous literature, its origins, its trajectory, and his unexpected journey through it. Born on the Curve Lake First Nation, Drew has written 20 plays with over a 100 productions, has performed stand-up comedy at the Kennedy Center and served as Artistic Director for Native Earth Performing Arts. He is currently working on the second season of his APTN documentary series, GOING NATIVE. Read more about Drew HaydenTaylor or register for this lecture here.
Student Alternative Theatre Company
In the same spirit of innovation this year, SATCo, the student-driven theatre company inside our department, has also developed a season of online shows this semester. SATCo works to reinforce the teachings department to support the development of new work, and provide quality opportunities to emerging artists while upholding a strong artistic vision. Follow them on Facebook to learn more.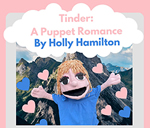 March 18, 19, 20 at 12:45pm
Tinder: A Puppet Romance
by Holly Hamilton
April 1, 2, 3 at 12:45pm
What it Means to be Nothing (and Everything at the Same Time)
by Sydney Hunt
Thank you for your support this year.
We are so thankful for those of you who have supported us this. While ticket sales often cover 2/3 of the costs of making theatre, this year our costs, while different, will not be any less than previous years. Please consider supporting the Phoenix so the quality of our students' education can be maintained.
---
Phoenix Phacts: Community and Alumni Connections
The Belfry Theatre launched into their 2021 season with filmed productions of their new verbatim play Being Here: The Refugee Project, on now and running until March 21, 2021. Created by Joel Bernbaum based on interviews he conducted with refugees from around the world about their remarkable escapes and reasons for coming to Canada. The show includes three Phoenix alumni including actor Celine Stubel, and Stage Manager and ASM Jennifer Swan and Becca Jorgensen.



Congrats to all our alumni at Theatre SKAM who CBC Arts called "Canadian heroes" for how they used the arts and culture for helping us all get through the pandemic. Theatre SKAM's initiative is called "Pop-Up Theatre Home Delivery," where folks in the Greater Victoria Region could book 15-minute socially-distanced outdoor performances delivered to them from the back of a flatbed truck. Phoenix students performing in last year's summer pop-up theatre included Sarah Hunsberger, Lynnéa Chan, and Hannah Allin. Thanks for being our heroes and hope this initiative is repeated again this summer!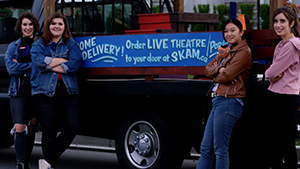 Theatre SKAM is also behind a proposal for an exciting new arts hub proposal that went before Victoria City Council this past week. SKAM's Artistic Producer and alumnus Matthew Payne is working to lease the building at 851 Johnson St. and convert 7,200 square feet into a shared space for independent artists and small-to-medium performance companies. This could create a mini arts district between this initiative, Intrepid Theatre's Metro Theatre (1/2 block away) and the Conservatory of Music. Their proposal for funding was successful and they are working to pull other funding partners together to help make this happen.
Exciting news! Read more about their plans.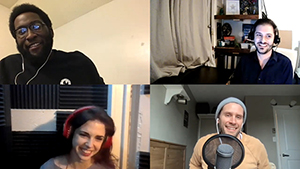 Alumnus Mack Gordon and his theatre company Theatre In The Dark have been developing radio-style audio dramas since before the pandemic started. The most recent offering is Herman Melville's Moby Dick, running now until April 10. Although the company is based out of Chicago, actors perform and broadcast live across 5,500 miles to audiences anywhere. The audio drama is adapted from the beloved story of young Ishmael's three-year voyage across the earth's oceans in pursuit of Captain Ahab's fiery revenge for an elusive and vengeful whale named Moby Dick.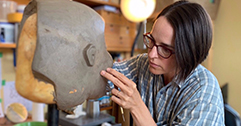 Alumna Kate Braidwood of the Wonderheads is working with alumnus Peter Balkwill of The Old Trout Puppet Workshop to offer a behind the scenes virtual tour of their "place-of-tinkering" studios and a chat about their process. Balkwill will be interviewing and pick their brains about the world of Wonderheads. Wonderheads are the first in a new series of artist interviews and studio tours as part of the 2021 Festival of Animated Objects and produced by CAMP (Canadian Academy of Mask and Puppetry). Join them Thursday, March 25, 2021 at 5pm (PDT).
---
Don't forgot to join, like and follow us on Facebook, Twitter or Instagram – for more Phoenix, alumni and theatre-based stories.
---
Supporting our Students Kudos:
An amazingly huge THANK YOU to the Phoenix Theatre's many individual donors and corporate sponsors for their support of our programs and talented students! Find out how your company can reach our 10,000 audience members and UVic community of over 25,000. Contact us to discuss a customized sponsorship package to meet your goals.
---
Phoenix eNews is a regular email magazine for those interested in the Phoenix Theatre, the not-for-profit productions at the University of Victoria's Department of Theatre, PO Box 1700, STN CSC, Victoria, BC, V8W 2Y2 Canada. The University of Victoria is a Registered Charity. Charitable Registration No. 10816 2470 RR0001
If you no longer wish to receive this newsletter, click here and enter your address and click Un-Subscribe. A confirmation message will be emailed to you. You can reply to this message to confirm that you want to be removed from this mailing list. This message also has a link that you can click on to complete the removal process.