If this email does not display properly, please see our website phoenixtheatres.ca
---
>Update

The Madwoman of Chaillot serves up "visual delights and thought-provoking observations!"

The show is creating some wonderful dialogue and interesting feedback. See reviews below. It continues this week and next, so if you loved Madwoman, please help us by spreading the word or sharing our Facebook event.
Listen up!
Last week's Friday lecture now online
Listen in as Director Conrad Alexandrowicz talks about the background of The Madwoman of Chaillot as Jean Giraudoux's response to the Nazi occupation of France in this lecture recorded last week.
In the Press: Highlights & Media Round-Up
Review Highlights
Janis La Couvée.com
Janis La Couvée
Posted Nov. 13, 2017
"...The Madwoman of Chaillot...is grandiose – huge in scale and extremely physical... the dialogue sends shivers down the spine with its prescience and modernity.
Director Conrad Alexandrowicz and his design team have chosen a very stylized and fanciful interpretation... of [one of] French theatre's masterpieces of the 20th century. It's a choice that tempts an audience to question every costume, movement interlude, lighting change and set design in an attempt to glean any additional hidden meaning.
...the nefarious workings of stock manipulation ...ring true today... [the Broker]'s hyperbolic description of a stock issue took on a ballet-like quality... while in the background the assembled citizens frantically juggled balls.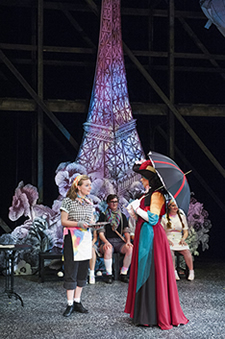 ... the Madwoman seems... lovingly enmeshed in the lives of people in the neighbourhood of her café. Valiquette plays the Madwoman with an all-knowing, kind and imperious manner.
The second act reveals the depth of the artistic vision... The Madwoman's grand entrance will remain fixed in memory as one of the significant visual moments of this year's theatre season.
While the English translation has the Madwoman proclaiming "Nothing is ever so wrong in this world that a sensible woman can't set it right in the course of an afternoon", the original French is more emphatic —"All that's needed is a sensible woman for the world's folly to fail".
The Madwoman of Chaillot is a meta-theatrical spectacle of tremendous proportions, serving up visual delights and thought-provoking observations that will leave the audience questioning their role in the scheme of things.
Once again, Victoria is fortunate to have a theatre department where foundational work of this scale can be staged."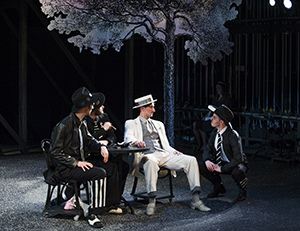 Times Colonist
by Sarah Petrescu
3 STARS
Posted Nov. 12, 2017
The Madwoman of Chaillot, Jean Giraudoux's satirical fantasy written in Nazi-occupied France in the 1940s, is a tempting play. The large cast of colourful characters and absurd plot are a rare malleable clay for interesting staging and direction.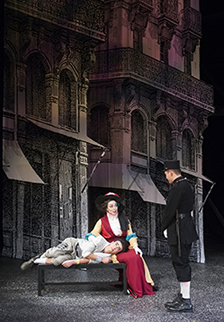 Alexandrowicz specializes in physical theatre and makes excellent use of movement... a table of bad men plots to destroy the city out of greed, rolling on chairs as they choreograph their scheme...
One is a so-called prospector who comically sniffs out oil in the Paris water. ... Chase Hiebert, a Phoenix graduate and current writing student, ... is convincing and fun as the maniacal cowboy.
The set [by Patrick Du Wors] is a fantastic version of a café in Paris, built with massive black and white illustrated backdrops..."
Monday Magazine
Sheila Martindale
Posted November 13, 2017
"The scenery is gorgeous and evocative – take a bow Patrick du Wors; Michelle Ning Lo's costumes are quirky and actually make sense...
...Sarah Jean Valiquette is quite brilliant as Countess Aurelia ... Nicholas Guerreiro is suitably uncaring as the President – he and his buddies have very dramatic huddles, using the wheeled chairs of the outdoor patio to great advantage... all the actions are spot-on and well-timed on this busy stage.
... productions at UVic are ... extremely professional and well-executed. One always has to admire the skill with which the drama department manages the challenging plays they choose."
The Martlet
by Jakelene Plan
Posted November 15, 2017
"... the theatrical design to come out of the Phoenix Theatre is often the most innovative and engaging work I've seen. It continually pushes the boundaries of what I expect and what I think is achievable, and the work done by Patrick Du Wors on set, Michelle Ning Lo on costumes, and Matthew Wilkerson on lighting design exceeds all my expectations.
Alongside Alexandrowicz, their unified vision of a colourful, cheerful Paris becoming infected by greed (represented by grey scale) is cohesive and complementary. ...colour is an easy and striking way to draw attention to themes, but it's the creative application that raises the technique from commonplace to spectacular."
Camosun Nexus Newspaper
by Leslie Do
Posted November 10, 2017
The Madwoman of Chaillot a great performance... The play was smooth and colourful ...the outfits, and the humor the play brings ... and the action was perfect. ... [it] registers on a deeply human level... and the actors fulfilled their roles perfectly...
I was especially impressed by the outstanding performance by Nicholas Guerreiro in his role as the company President—his voice, his attitude, and his acting were absolutely incredible.

The supporting cast ...were the soul—and the sounds—of the play...the way they worked together, played ...and moved on the stage made for plenty of enjoyable and interesting moments.
Director Conrad Alexandrowicz brings a great performance to the audience with this play... definitely worth two hours of your attention.
Media Round-up

See for yourself:
The photos from this show are fantastic, thanks to our photographer David Lowes. We've posted a larger selection of images of The Madwoman of Chaillot on our Phoenix Theatre Facebook site. (And while you're there, SHARE an event or LIKE our page and never miss out on new Phoenix posts!)
Our video for The Madwoman of Chaillot has been getting lots of attention! If you haven't seen it yet, click below. (We recommend turning up your volume!)


---
Phoenix eNews is a regular email magazine for those interested in the Phoenix Theatre, the not-for-profit productions at the University of Victoria's Department of Theatre, PO Box 1700, STN CSC, Victoria, BC, V8W 2Y2 Canada. The University of Victoria is a Registered Charity. Charitable Registration No. 10816 2470 RR0001
If you no longer wish to receive this newsletter, click here and enter your address and click Un-Subscribe. A confirmation message will be emailed to you. You can reply to this message to confirm that you want to be removed from this mailing list. This message also has a link that you can click on to complete the removal process.