If this email does not display properly, please see our website phoenixtheatres.ca
---
BackstagePASS >Update

It's the final week for The Inspector and we wanted to share some great media interviews and reviews with you, as well as our lecture podcast, more photos and our new Inspector video!
March 14: Tuesday (tonight!) is the best night for best seating
March 16: Thursday is sold out!
Other nights this week are very full. Call soon!
March 18: Saturday matinee at 2pm with sign language interpretation.
Listen Up: Lecture Podcast
Missed the preshow lecture last Friday? Listen to director Linda Hardy and the team of designers for The Inspector discuss their process of creating this unique Victoria show. Listen to the preshow lecture here: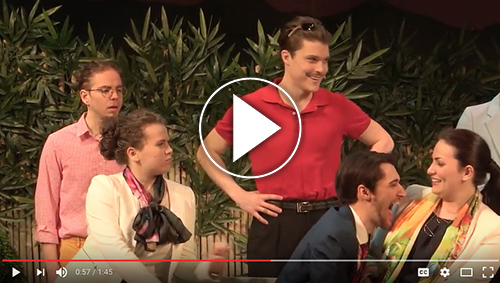 In the press:
Interviews and Stories about The Inspector
Linda Hardy was interviewed by several newspapers this past week. Read more about her inspiration for adapting the 19th century Russian satire.
Media Reviews of The Inspector

Monday Magazine: The Phoenix Knows How to Poke Fun
Highlights from the review by Sheila Martindale
Posted March 10, 2017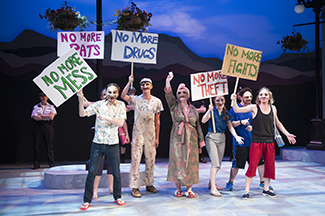 "Tent City; the sewage saga; the Senator scandal; bridge replacement late and over-budget; the proliferation of pot shops – does any of this sound familiar?
Welcome to Linda Hardy's clever adaptation of Gogol's nineteenth century play The Inspector....
We instantly recognize Victoria by the lamp standards and flower baskets, with a few homeless people sleeping on the stage.
When the action gets going it is fast and loud. The stage is busy as the 19 cast members crowd it with their protest signs, their exaggerated clothing and their bicycles. ... this is a high-octane performance which leaves us a little breathless.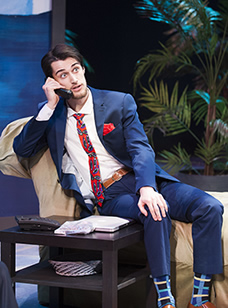 Enter Sidney Riley Best, a politician's son sent west for a while to avoid embarrassing his father in Ottawa ... and the fun really begins.
Nicholas Guerreiro (shown left) is outstanding as this charming layabout, who unwittingly bamboozles everyone... Everyone on stage plays excellent parts, all in charge of their interesting and well-defined characters.
A note of praise for the stage management: the sets are changed with precision, all in time with catchy music, and miraculously without anyone tripping over or bumping into anyone else.
Janis La Couvée.com
Highlights of the review by Theatre blogger Janis La Couvée
Posted March 10, 2017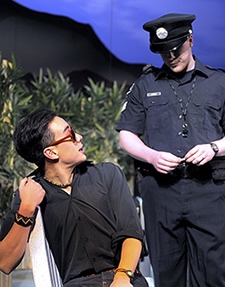 "Politics is politics, whether Russia in 1836 or Victoria in 2017...
Anyone even vaguely connected to current issues will chuckle, and those with more of a bent for community activism are sure to guffaw from beginning to end.
Hardy admits to freely plundering the local "letters to the editor" section of the newspaper for material... The foibles and follies of Paradise are laid out for all to see. Bike lanes, parking, sewage treatment, marijuana dispensaries, tent city and bylaw enforcement figure prominently.

Set designer Delaney Tesch utilizes the Roger Bishop Theatre to maximum effect—featuring large interspersed panels bedecked in ivy; bamboo greenery flies down from above to create the lush gardens ... the panels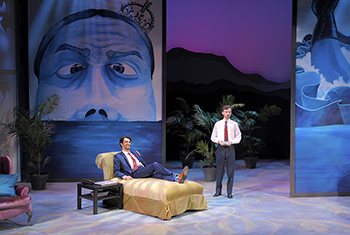 reverse to reveal a luxurious suite at the Impress Hotel where the out-of-town duo have been sponging. And what would a play about "paradise" be without lamp standards—a modern lightweight aluminium version on-loan from the very city being lampooned.
Rather than rely solely on costumes ... masks are employed extensively—a decision that definitely changes the mood of certain scenes. ... when observing the homeless boys, rousted, by bylaw enforcement and cops, from the square in the early morning hours, or the protestors... Garbed in masks they are at once faceless and universal across both time and place.
When viewed from afar and set onstage, are the causes and issues so dear to one's heart as ridiculous as they appear? By exposing them for all the world to see and laugh at, can we then truly reflect on what needs to change? The Inspector needles and pokes at sore spots—provoking many "aha" moments.
The ensemble deftly navigates the demands of farce that must, by its very nature, provoke and entertain. Hardy has a gift for comedy; re-worked for modern times, The Inspector is as relevant today as it was 180 years ago.
Showbill Victoria
Highlights of the review by Kelly J Clark
Posted March 14, 2017
"The Inspector ... is a very enjoyable time, largely due to the hard work of an exceptionally well chosen cast....
Every performance in The Inspector is good. With a cast of 19, this in itself is a laudable act, but the performance of Aiden Dunsmuir (shown left) as the mayor was particularly noteworthy. ... The rest of the cast is incredibly charismatic as well... there are a few small musical numbers where the ... singing and performances are good, but they'd have been fantastic had they just let go and belted out the lyrics instead."
The Phoenix's productions always look fantastic and this is no exception. Set designer Delaney Tesch fantastically recreates Victoria's posh smugness in cringeworthy relief. The set changes are frequent, but well coordinated and entertaining on their own. The effect is completed by the Barbara Clerihue and Hana Ruzesky-Bashford's costumes, which are the icing on this soggy rain-coast cake.
...the show's comic timing is, for the most part, on point... directed beautifully by Linda Hardy."
More Production Photos!
The photos from this show are amazing, thanks to our photographer David Lowes. We've posted a larger selection of images from The Inspector on our Phoenix Theatre Facebook site. Click by and see some more! (And while you're there, LIKE our page to see when new information is posted!)
---
Phoenix eNews is a regular email magazine for those interested in the Phoenix Theatre, the not-for-profit productions at the University of Victoria's Department of Theatre, PO Box 1700, STN CSC, Victoria, BC, V8W 2Y2 Canada. The University of Victoria is a Registered Charity. Charitable Registration No. 10816 2470 RR0001
If you no longer wish to receive this newsletter, click here and enter your address and click Un-Subscribe. A confirmation message will be emailed to you. You can reply to this message to confirm that you want to be removed from this mailing list. This message also has a link that you can click on to complete the removal process.