If this email does not display properly, please see our website phoenixtheatres.ca
---


BackstagePASS >Update
The Threepenny Opera continues at the Phoenix Theatre until November 21. With the incredible reviews pouring in from the media, tickets are going fast! Here are some tips for the best nights for the best seats.
The best nights for the best seats are on Tuesdays and Wednesdays: TONIGHT & TOMORROW! Nov. 10 and Nov. 11 as well as next week Nov. 17 and Nov. 18.
Thursday Nov. 19 has good seating available still.
Weekends are pretty full with only a few seats available each night. Call soon or they will be gone!
Saturday matinee, Nov. 21 is SOLD OUT!
Ask the box office about standby tickets for the possibility of last minute admission to shows that are sold out.
Listen Up: Director's talk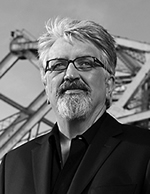 Click below to listen online to faculty member and director Brian Richmond talk about the seven steps in the process of developing his vision for this production.
Also check out these other media interviews with Brian Richmond:
In the press: REVIEWS:
The Thereepenny Opera is "stellar," "an extravagant spectacle" and "a visual feast"


Times Colonist:
4 out of 5 stars!
Highlights from the review by Adrian Chamberlain
(Posted Nov. 7, 2015)
"The Threepenny Opera, a famously influential "play with music," is now a grandfatherly 87 years old. Yet Bertolt Brecht and Kurt Weill's subversive romp remains as potent and topical as ever — as a visually striking new production at the University of Victoria reminds us.
... it's a real testament to the design crew (especially costumer Jacqueline Gilchrist) that this show looks so terrific. The beggars, bandits and whores wear wonderful outfits of red, black and white. Cost-cutting plastic and cardboard loom large in these costumes — and they look stunning."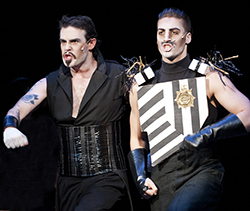 ... a highlight is the Cannon Song for MacHeath and the police chief, an exaggerated, high-stepping affair that eventually pulls in the entire cast... There's plenty of worthwhile singing throughout. Dressed in a shiny black corset, Lindsay Robinson — a tall, handsome actor with a commanding stage presence — impressed as MacHeath.
Another vocal standout... was Pascal Lamothe-Kipnes as Polly, sporting a series of spectacular chiffon-style skirts... As the police chief, Aidan Correia is a fine foil to MacHeath. And Estee Klue is a powerful, unrepentant Jenny.
Director Brian Richmond keeps the cast hopping...There's good attention to detail; even bit-role performers create distinct personas through movement and gesture."


Janis La Couvée.com
Highlights of the review by Theatre blogger Janis La Couvée
(Posted Nov. 9, 2015)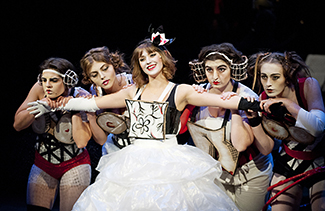 "The Threepenny Opera ... is an extravagant spectacle, with minute attention to detail where every design choice is in service to advance the aesthetic of the show.
Set by Richmond in the year 2028... the overall ethos is one where Mad Max meets steam punk, and over-blown is a means to an end. Channeling the zeitgeist of Weimar Germany, and time-shifting it to the future, at a time of total economic and governmental collapse, does nothing to lessen the urgency of Brecht's message...
... one cannot help but be captivated by the wacky enthusiasm of the costumes (Jacqueline Gilchrist performs wonders with cardboard) and the robust nature of the choreography (Jacques Lemay), particularly in the ensemble scenes with henchmen who cavort and gambol in exaggerated fashion, and ladies of the night who simper with overt advances.
The splendid band comprised of seven of Victoria's finest musical artists, led by the inimitable Hank Pine... True to the composer's original vision, this group is extremely versatile, playing at least a dozen instruments among them...
Robinson is a large man who moves with the lithe grace of a dancer or courtier ... it's easy to imagine a rather sheltered Polly Peachum (Pascal Lamothe-Kipnes) falling head over heels for his charm and sophistication mixed with a disarming measure of danger.
Vocally, the cast is strong; singing styles vary widely—from Robinson's commanding tones, to Polly's intimidating threats in Pirate Jenny, and the growls of Mrs Peachum (Arielle Permack) and Jenny (Estee Klue) in The Ballad of the Sexual Imperative. Haley Garnett is outstanding as Lucy Brown—her notes high and distinct in The Jealousy Duet with Polly...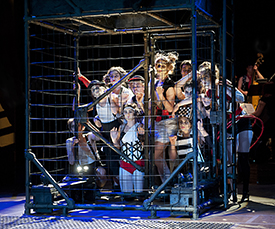 "What keeps a man alive?"... is definitely a show-stopper with its energetic movement and brilliantly mordant and perpetually pertinent lyrics. The ensemble... inject humour and fear throughout in equal measure—a most destabilizing effect guaranteed to elicit sympathy and provoke revulsion simultaneously.
This Threepenny Opera, under Richmond's careful guidance, is a startlingly artistic cautionary tale—one guaranteed to send theatre-goers away with as many questions as answers, thankful for theatre departments that allow for large casts capable of telling epic stories."


Marble Theatre Review
Highlights of the review by Ian McLaren
(Posted November 9, 2015)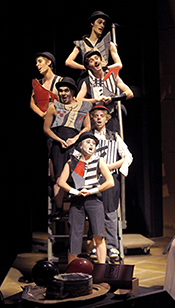 Beyond stellar performances, staging and movement, Phoenix Theatre's The Threepenny Opera has a bite as sharp as the steely edge of MacHeath's flick- knife...
Richmond has set the production in a collapsed, "dystopian future," where all that remains of our consumer culture is empty cardboard packaging. As thin as this sounds, it works; the dun coloured cardboard enhancing the bleakness of the minimal set while providing creative props and costuming throughout....
From the Droog-like appearance of Macheath's thieves to the raunchy plastic wrap, cardboard and duct tape covering the prostitutes, costuming and make-up are extremely effective, highlighted by a wildly funny Queen Charlotte in the finale.
Lindsay Robinson offers up a wonderful MacHeath, exuding menace and a slithering charm belied by the range and tone of his vocals. Both Haley Garnett as Lucy and Pascal Lamothe-Kipnes as Polly deliver their vocals with an innocence that does nothing to diminish the power of their beautiful bell-like tones...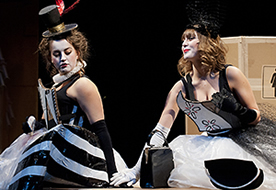 The production also benefits greatly from Jacques Lemay's choreography; by turns acrobatic, sensual and lewd, there is no wasted movement and the large cast flows seamlessly, incorporating the entire performance space...
Brian Richmond, cast and crew have delivered up a wonderful opportunity to experience Brecht and Weill at their very best; accessible, entertaining and strikingly relevant."
Due to scheduling conflict, Monica Prendergast was not able to review The Threepeny Opera on opening night. Her review will be part of the Monday November 16 program of On the Island. Be sure to listen in!
More Production Photos!
The photos from this show are amazing, thanks to our photographer David Lowes. We've posted a larger selection of images on our Phoenix Theatre Facebook site. Click and see some more! (And while you're there, LIKE our page to see when new information is posted!)
---
Phoenix eNews is a regular email magazine for those interested in the Phoenix Theatre, the not-for-profit productions at the University of Victoria's Department of Theatre, PO Box 1700, STN CSC, Victoria, BC, V8W2Y2 Canada. The University of Victoria is a Registered Charity. Charitable Registration No. 10816 2470 RR0001
If you no longer wish to receive this newsletter, click here and enter your address and click Un-Subscribe. A confirmation message will be emailed to you. You can reply to this message to confirm that you want to be removed from this mailing list. This message also has a link that you can click on to complete the removal process.