If this email does not display properly, please see our website phoenixtheatres.ca
---
BackstagePASS >Update

Lion in the Streets continues at the Phoenix Theatre this week. With the incredible reviews pouring in from the media, tickets are going fast!
TICKET TIPS:
Wednesday February 18 is currently the best night to get the best seats. Everything else is looking pretty full, but...
Ask about standby tickets for the possibility of last minute admission to shows on any night.
Listen Up:
Director's talk
Click below to listen online to faculty member and director Conrad Alexandrowicz talk about the history of Judith Thompson's award-winning play and his process of collaborating with the actors to develop this production.
In the press: "Brilliant" reviews for Lion in the Streets!
It's another strong batch of reviews for our latest production, Lion in the Streets. "Brilliant," "brave and intrepid" and "tremendously successful" are just a few of the accolades that have been rolling in from local theatre reviewers. Professor Conrad Alexandrowicz uses his extensive background in physical theatre to fuel his compelling direction of Canadian playwright Judith Thompson's award-winning play.
CBC Victoria - On the Island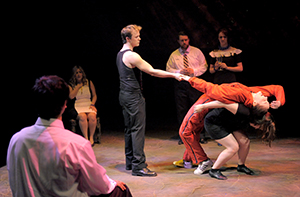 CBC Radio's On The Island theatre reviewer David Lennam was utterly effusive in his praise for the production, the cast and the direction, noting he could describe it in "one word: BRILLIANT". It's simply one of the best productions of the year." Lennam praised the "really professional ensemble acting" and director Alexandrowicz's "lively, emotionaly gripping direction." You can listen to the full review here.
Times Colonist Review: 4 out of 5 stars!
Times Colonist theatre critic Adrian Chamberlain gave the show four out of five stars in this review, noting "the production, skilfully directed . . . offers a variant on magic realism. Scenes begin in a naturalistic manner, then shift to a nightmarish realm as Thompson plunges into unconscious worlds. This is where the playwright is at her best—her subterranean visions are unrelentingly honest, brave and highly imaginative . . ."
Chamberlain also praised Alexandrowicz's direction. "The directorial approach, here and elsewhere, is tremendously successful . . . . Alexandrowicz has a thorough understanding of the play—the extra physicality adds much."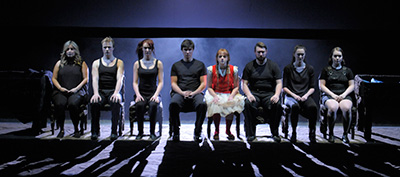 Summing up, Chamberlain felt "this is one of the most consistently strong student casts in recent memory . . . . this show will be enjoyed by open-minded, intelligent audiences. It's not easily forgettable . . . . the excellence of the production makes it all worthwhile."
Janis La Couvée
Local theatre blogger Janis LaCouvee also felt the entire production was top drawer in this review, noting "cast and crew have succeeded beyond measure.
Lion in the Streets is dark, disturbing, revelatory and illuminating—it demands an audience equally as brave and intrepid."
LaCouvee also praised thedesign elements of the show, singling out Colette Habel's "brooding sound design [which] immediately sets a mood of disquiet and unease, a portent of the tales to come" and Allan Stichbury's set "[which] oozes muck and mire with sculpted floors and chairs."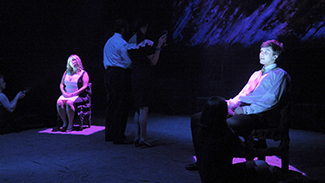 She also noted Bryan Kenney's lighting was "dark, with narrow slivers of illumination, focusing attention" and his projections were "reminiscent of a child's drawings, pulling the audience into a world seen through Isabelle's eyes." Costume designs by Emma Welsh which "bring in elements of the period to punctuate the often-monochromatic colour scheme."
Also check out these other media iterviews:
More Production Photos!
The photos from this show are amazing, thanks to our photographer David Lowes. We've posted a larger selection of images on our Phoenix Theatre Facebook site. Click by and see some more! (And while you're there, LIKE our page to see when new information is posted!)
---
Phoenix eNews is a regular email magazine for those interested in the Phoenix Theatre, the not-for-profit productions at the University of Victoria's Department of Theatre, PO Box 1700, STN CSC, Victoria, BC, V8W2Y2 Canada. The University of Victoria is a Registered Charity. Charitable Registration No. 10816 2470 RR0001
If you no longer wish to receive this newsletter, click here and enter your address and click Un-Subscribe. A confirmation message will be emailed to you. You can reply to this message to confirm that you want to be removed from this mailing list. This message also has a link that you can click on to complete the removal process.