If this email does not display properly, please see our website phoenixtheatres.ca
---
The BackstagePASS Update

Listen Up: Director's Series: The Art of Bertolt Brecht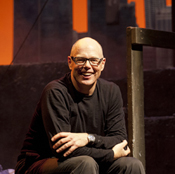 Learn more about the history and philosophies of Bertolt Brecht, from his marxist beliefs to his ideas of Epic theatre. Click below and listen now to the Director of Good Person of Setzuan, Professor Conrad Alexandrowicz and his lecture from last Friday. It's a great primer before coming to the show!
Listen to the pre-show lecture now:

In the press: "Phoenix Theatre finds good in the world."
After you learned a little more about Brecht, read on to hear what some of Victoria's critics are saying about our production of Good Person of Setzuan (continues this week until November 24).
Monday Magazine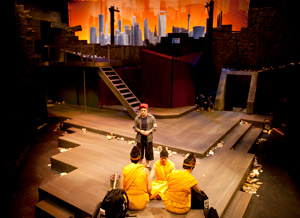 "Director Conrad Alexandrowicz brings modern touches to the production by removing it from 1940s' Setzuan and bringing it into the 21st century..."
Original music by third-year student Francis Melling adds a blues-rock edge to the production, and also a sense of whimsy...
The set, designed by fourth-year student Simon Farrow, is immense, successfully portraying the vastness of a metropolis ... The set doesn't necessarily resemble China, though, but more of a modern international any-city, which makes a lot of sense considering the issues in the play are universal."
"Costume designer Kat Jeffery's use of armbands emblazoned with the names of mega-corporations really brought home the theme of humans being slaves to unchecked corporate greed."
Read more of Mary Ellen Green's review in Monday Magazine.
Janis La Couvée Theatre Blogger
"Piercy toggles effortlessly between the two roles ... The chemistry between Shen Te, and her lover, the unemployed pilot Yang Sun (Alex Frankson) is persuasive. It's easy to see why Shen Te falls for his advances and promises, time and time again, despite her best intentions. [shown left] ...I particularly enjoyed the annoying antics of Mrs. Shin (Christie Stewart), Shen Te's nosy and know-it-all neighbour."
"... chorus of citizens moves with ballet-like precision across the stage and creates playful moments to lessen tension. The ensemble work during musical numbers is strong...
"The massive scale of the set (designed by Simon Farrow) serves to underline the overbearing inevitability of the industrialized complex, and the desperate poverty of the city's citizens while offsetting it through the creation of more intimate spaces like the magnificently retractable tobacco shop."
Read more of Janis La Couvée's review on her blog.
Times Colonist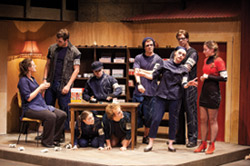 "The Good Person of Setzuan is as relevant today as it was 70 years ago...[it] investigates the corrupting influences of commerce and poverty. And that stuff never goes out of vogue."
"Piercy plays Shen Te as a believably forthright person, while her Shui Ta musters the requisite backbone for a hard-nosed business type. Kale Penny plays Wang the water-seller with flair and the right balance of humour and pathos."
Alexandrowicz has added contemporary dance/movement flourishes to the play that work very well... a gang of street people trudges onstage single file - arms on each other's shoulders - to seek charity, then exits in the same manner when denied. Bouts of fisticuffs are enacted in exaggerated comic-book style. There's wit and humour to this approach.
Read more of Adrian Chamberlain's review in the Times Colonist.
Movement professor, Conrad Alexandrowicz, does quite a nice job directing it. He has a nice ensemble. The stage is littered with young people, which is always great, and they move nicely together as you would expect from a movement professor ... The play takes a lighter approach to the story...
Listen to CBC's On the Island review with Monica Prendergast.
Good Person of
Sketch-uan?
Many thanks to one of our audience members who sent us some of his drawings he made during one of performances of Setzuan this week. To see more of his work, "Like" on Facebook or follow us on Twitter.
Show Announcement & Susbscriber Discount!
Just announced this week! We're pleased to host Atomic Vaudeville's hit musical Ride the Cyclone here at the Phoenix Theatre in December. This award-winnning show features numerous UVic Theatre grads. Atomic Vaudeville is offering Phoenix Theatre subscribers a 10% discount off regular ticket prices (excludes senior/student prices and preview night) for the following performances:
Evenings December 12, 13, 14, & 15 @ 8pm
Matinee: December 15 @ 2pm
Call the Phoenix Box office for tickets (250-721-8000) and mention that you are a Phoenix Theatre subscriber to receive your 10% discount. Click here for more ticket information.
---
Phoenix eNews is a regular email magazine (5-6 times per year) for those interested in the Phoenix Theatre and the not-for-profit productions with the students at the University of Victoria's Department of Theatre.