If this email does not display properly, please see our website phoenixtheatres.ca
---
The BackstagePASS Update

Listen Up: Director's Series:

Hang out with director Fran Gebhard and renowned movement coach Jacques Lemay and hear about their process for developing the overwhelmingly successful production of You're a Good Man, Charlie Brown.
Recorded from the lecture last Friday. Listen to the pre-show lecture now:
In the press:
"...fun right from the rousing opening number."
Charlie Brown shows are selling out so it's obvious to our audiences how much fun they've had at You're a Good Man, Charlie Brown! Read on to see what the media are saying about our current play. (Closes Saturday March 23 at 8pm).
CVV Magazine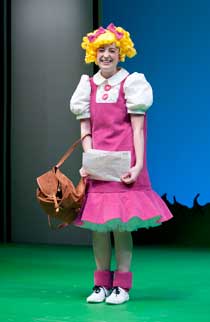 Reviewing for CVV Magazine, Anna Kemp describes the production as "all good, no grief" and "fun right from the rousing opening number." Noting her five-year-old son "loved it, and it was just the right length for him," Kemp says "the performance by UVic's Phoenix Theatre makes it easy to see why the show has enjoyed such popularity over the years."
Kemp also enjoyed the cast overall. "Tea Siskin (Lucy) and Christie Stewart (Sally)[shown right] really steal the show, both with powerful voices and strong dramatic presences," she writes. "Kale Penny as Charlie is well-cast as the kind-hearted, somewhat gormless guy who never quite gets things right. Better still, all the actors seem to be enjoying themselves on stage, which really infuses the performance with a sense of joyfulness."
She also credited director and Department of Theatre instructor Fran Gebhard for putting together "a great creative team"—including pianist Adrian Bronson, percussionist Katelyn Clark, choreographer Jacques Lemay, musical director Jim Hill and the design team of professor Allan Stichbury (set) plus Simon Farrow (lights), Allyson Leet and Shayna Ward (costumes), noting "the cast really look like the comic strip characters, right down to their amazing stiff wigs and rolled-down socks."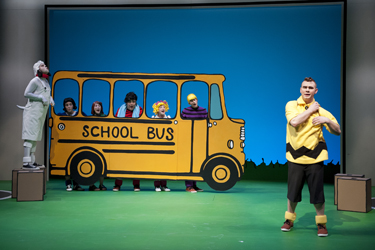 In his review for CBC Radio's On The Island, critic David Lennam says, "This version at the university is really good, particularly in that way that long after you've left the theatre you're thinking about it again . . . . When you slip it on, it feels like a favourite sweater, that pure nostalgia that you're bathed in. And it has something to say to today's audiences because deft social commentary is what made Schulz's comic strips so endearing."
Noting the production is rich in sentimentality and familiarity, with vibrant choreography by busy local veteran Jacques Lemay, Lennam says "the acting and art direction are where it really succeeds: everything pops with colour . . . like a Roger Rabbit universe. The ensemble cast play well off each other."
Theatre Blogger Janis La Couvée
Local theatre-phile and blogger Janis La Couvée saw where this show's appeal wasn't just for kids coming that it was"Full of high energy from the opening number to the close, this show has heart and cross-generational appeal." Indeed there were lots of chuckles from across all ages. She continues to outline her favourite songs: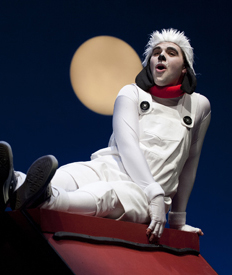 "There's plenty of variety in the songs and each cast member gets a turn at the spotlight. Highlights are many – the audience applauded with great appreciation throughout – of note were Snoopy (Kevin Eade) [shown right] hoofin' it with style through Suppertime, the zany rabbit chase in Book Report (Véronique Piercy (Patty), Christie Stewart (Sally) and Kevin Eade (Snoopy), Linus' (Francis Melling) heart-felt My Blanket and Me, Beethoven Day (Derek Wallis as Schroeder) and The Kite (Kale Penny as Charlie Brown)."
She concludes by saying that "Gebhardt's exuberant treatment of this iconic and beloved classic is sure to be popular."
Under the headline "Phoenix Theatre's Charlie Brown Sure to Please Fans," the local Times Colonist says, "the University of Victoria's theatre department has done a superior job with this 1967 musical."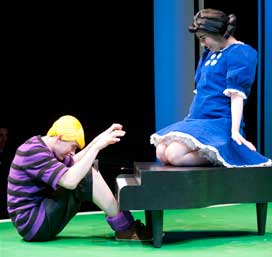 True, reviewer Adrian Chamberlain admits he's not a fan of musical creator Clark Gesner's material, but he praises this production nonetheless: "The cartoon-ish set and costumes are great. Jacques Lemay's choreography is just dandy—the dance is simple, yet sufficiently complex to engage and entertain. Fran Gebhard's sure-handed direction is bold and brisk."
He also points out that the "well-rehearsed student cast did well overall. And Adrian Bronson, accompanying on grand piano, was excellent." As for favourites, Chamberlain says, "Tea Siskin, playing Lucy, emerges as the show's standout. Her performance was theatrical without being over the top; she somehow manages to create a strong, warm character who's simultaneously irritating and endearing."
Other Media
Extras:
Voting has begun for Monday Magazine's annual "M Awards". Last year's production of Eurydice [shown right] is on the short list for Favourite Overall Production. Get out there and vote for your favourite play, visual art, public event and music.... and support local artists!
Also remember that the Phoenix Theatre's 2013-14 "award-winning" season will be posted online April 1. Be sure to check our website to see this amazing line up!
Picture perfect:
Check out more photos of the play, taken by David Lowes of ArtsStudio 21, on University of Victoria Phoenix Theatre's website. "Like" us on Facebook or follow us on Twitter and stay connected with Phoenix plays, background articles and more.
---
Phoenix eNews is a regular email magazine (5-6 times per year) for those interested in the Phoenix Theatre and the not-for-profit productions with the students at the University of Victoria's Department of Theatre.