If this email does not display properly, please see our website phoenixtheatres.ca
---
The BackstagePASS Update

Listen Up: Director's Series:
Inside Reasons to Be Pretty
Learn more about director Christine Willes's approach to the directing process in her presentation of Neil LaBute's Reasons to Be Pretty. She also speaks about the provocative themes in the play, her goals for the audience's experience and her work with the playwright in the past. A prominent theatre, film and TV actor, Christine has been working towards her Masters in Fine Arts in Directing at UVic. Recorded from the lecture last Friday. Listen to the pre-show lecture now:
In the press: " ... bound to be one of the season's highlights."
It seems unanimous - the critics LOVE Reasons to Be Pretty! Read on to hear what some of Victoria's media is saying about the play.
Times Colonist: ****1/2 out of 5 stars!
"...Reasons to be Pretty is bound to be one of the season's highlights.
...All the actors are strong — all obviously have careers ahead of them if they so choose. Nielsen, as Steph (shown right), is a standout, capturing her complex, contradictory character with great heart and verve. On Friday night, she earned applause after her splendid monologue in a food court, in which (in a retaliatory move) she loudly itemizes all of Greg's physical shortcomings, including his habit of biting his toenails."
Willes's decision to screen videos of the warehouse onto the stage and sides of the theatre space is a good one — it immerses us further in the action.
Clever sets designed by Breanna Wise, (shown below) including a lunchroom that pulls forward to the audience, depict a myriad of scenes with pleasing economy."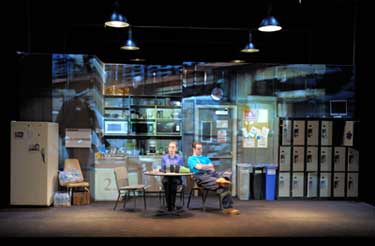 "...Nielsen gives an affecting, sharp performance as Steph, balancing intense emotion with intelligent convictions....Holden does great work in her monologue on the unnerving, alienating nature of beauty and brings a light playfulness to the role even when Carly is on the warpath (shown below).
...Under the direction of Christine Willes (see our interview with her HERE) each actor delivers an honest and lifelike portrayal of average people who manage to capture something very profound. The realism and honesty in the script is incorporated on stage through a natural conversational style...
...All of the elements of theatre come together exceptionally well in this production, so much so that it's a shame it has such a short run. A strong show – the best I've seen from Phoenix yet – and a thought-provoking, empowering one at that."
Janis LaCouvee Blog
"Filled with all the passions and dreams of these twenty-somethings on the cusp of adult-hood, this naturalistic, sprawling juggernaut of a tale moves rapidly from scene to scene...
...I was intrigued with the use of large mirrors, displayed in such as way as to reflect the audience back at itself just before the play opened, and at the intermission, and wonder how many others checked their hair, or were otherwise discomfited by a moment of meta-theatre.
...Congratulations to director, cast and team for committing totally to this project and going "balls to the wall" to deliver a slice-of-life for the 21st century that speaks to the heart of many young people today, and confronts us all with our own attitudes.
In the end, no matter how flawed these characters are, we can relate to their reasons and are left wanting to know more about the next chapter in their lives."
...Reasons is graced with a talented cast. Robin Gadsby's portrayal of Greg starts off a bit rough, but he has a creeping, innate charisma that refuses to let you dislike his romantically challenged underdog.
That sentiment is polarized by Alex Frankson as Kent, Greg's brutish fairweather friend. Frankson's performance is full of a casual contempt that leaves a hot coal of loathing burning in your stomach long after he reaps his karma. The man is fun to hate (shown below).
Reasons marks Reese Nielsen's arrival in the first of what will be many, many productions. She is explosive, psychotic, vulnerable, passionate, funny, and lovely — often simultaneously...
Finally, Alberta Holden's performance as Carly (shown above) is one of slow and measured evolution. Her choices are so subtly nuanced and careful that we haven't realized that she's stolen the show until it's long been hers.
...At each scene change, the new sets are hauled onstage by a barking foreman and his crew of coverall-clad warehouse workers. It's a fantastic device and I applaud the warehouse setting being incorporated in such a novel way.
Other Reading
Picture perfect:
Check out more photos of the play, taken by David Lowes of ArtsStudio 21, on University of Victoria Phoenix Theatre's website or Facebook site. "Like" us on Facebook or follow us on Twitter and stay connected with Phoenix plays, background articles and more.
---
Phoenix eNews is a regular email magazine (5-6 times per year) for those interested in the Phoenix Theatre and the not-for-profit productions with the students at the University of Victoria's Department of Theatre.