If this email does not display properly, please see our website phoenixtheatres.ca
---
The BackstagePASS Update

Listen Up:
Director and designers talk about Eurydice
Missed the preshow lecture with director Jeffrey Pufahl and designers Mary Kerr and Bryan Kenney? No worries. Tune in and listen now! Friday's lecture was recorded and the audio file is now posted on our website.
Photos:
In Living Colour
See some of the great photos from Eurydice posted bigger-than-ever on our newly renovated Phoenix Theatre website. Our photographer David Lowes has captured the play in all it's many moods and vibrant colours. Click here to see more!
While you're visiting our new site, check out our play archive to see more photos of past shows. We're adding more photos all the time so if your favourite show doesn't have photos yet, check back soon!
In the press: "...damn, what a show!"
The magical world of Eurydice is impressing the local critics. Here's what some of them have to say:
Culture Vulture:
"...damn, what a show! ...The look and feel of Eurydice makes quite the po-mo feather in the caps of the already very accomplished Mary Kerr and UVic masters student Bryan Kenney.... marvellously theatrical ...The vulnerability and consequent naivete of Eurydice is ultimately what this play is about. Hall's portrayal harmonizes with the sincerity and warmth of McGuire and Wallis as clearly as it accents Mile's scene-stealing alpha-male confidence. ... Another Phoenix show that I can't recommend highly enough, plain and simple." Read more of Chris Felling's review of Eurydice in Culture Vulture Victoria.
Monday Magazine:
"The cast as a whole works, with Graham Miles the standout as the elegant and intriguing Interesting Man. Alysson Hall does a great job showing the playfulness and vulnerability of Eurydice as a young bride... Orpheus' tormented longing is front and centre in Derek Wallis' performance, while Peter McGuire displays a sense of maturity and strength as Eurydice's Father....Overall, Phoenix Theatre's production of Eurydice is a playful and artistic look at love, life, loss and separation." Read more of the review posted by Monday Magazine or check out their interview with director Jeffrey Pufahl.
And from Victoria's newest theatre blog,
The Marble:
"...though this play is certainly inspired by the Greek heroine, the Eurydice of this play is a modern woman caught in an age-old story of love and loss. ...Everything about this play is great, and the performances are no exception... But it is the set design, lighting, costuming and direction that bring this play to life... Pufahl takes chances with everything from the stage design to the choice of script and it pays off. The production is flawless.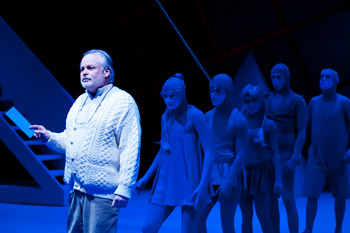 It looks, sounds, and feels as good as we have any right to expect live theatre to be ... there is only one thing to say: go see this play. And hurry! It only runs until the 25th. The Marble also spoke with Jeffrey Pufahl about his vision of the play.
Times Colonist:
"...this play is hip, irreverent and educational. In this production, Mary Kerr's deeply artistic design is an absolute tour de force - she's created a strange, circus-like world (beautifully lit by Bryan Kenney) bursting with powerful primary colours and bold visual effects....It is Eurydice we care most about. Alysson Hall has success in finding the warm human heart of the character, making Eurydice the fully fleshed-out gal that the playwright intends. Hall conveys Eurydice's whimsy and plucky intelligence. Read more of Adrian Chamberlain's review in the Times Colonist or read his interview with the director and Mary Kerr.
CBC On the Island
Monica Prendergast reviewed Eurydice on CBC On the Island on Monday morning. Here's the audio posting the discussion with her and host Gregor Craigie. (Interview starts at 3:50 minutes into the file.)
Photos by David Lowes.
Top: The Very Interesting Man (Graham Miles) makes Eurydice (Alysson Hall) an interesting proposal | Middle: Eurydice (Alysson Hall) tries to understand what a book is for? | Bottom: Her father (Peter McGuire) reads a letter to Eurydice on her wedding day while the underworld stones mock him.

---
Phoenix eNews is a regular email magazine (5-6 times per year) for those interested in the Phoenix Theatre and the not-for-profit productions with the students at the University of Victoria's Department of Theatre.