For the third year in a row, Fine Arts honoured the winners of our annual Student Community Impact Awards as part of the Greater Victoria Regional Arts Awards. Held on November 24 at Victoria City Hall, Fine Arts Dean Allana Lindgren presented three separate awards of $1,000 each to Heidi Goetz and Nathan Malzon (both School of Music students), and recent Visual Arts grad Laveen Gammie.
Including our 2023 winners, Fine Arts has now given over $10,000 to eight different students over the last three years — all thanks to the generosity of our donors.
Created in 2021 by the Dean's External Advisory Committee, the Student Community Impact Awards recognize individual achievements or outstanding efforts made by full-time Fine Arts undergraduate students for a local arts organization.
Next-generation learning
Heidi Goetz (seen here with Fine Arts alum Matthew Payne) won her work as the coordinator of Music Discoveries, the School of Music's annual weekend music camp — which, in January 2023, welcomed over 100 SD61 middle-school students and involved more than 40 volunteers in the two-day event.
As Music professor Steven J. Capaldo pointed out in his support letter, "Heidi demonstrated genuine dedication and commitment to providing strong service to the music education community, as well as her desire to improve the lives of the students with whom she connects."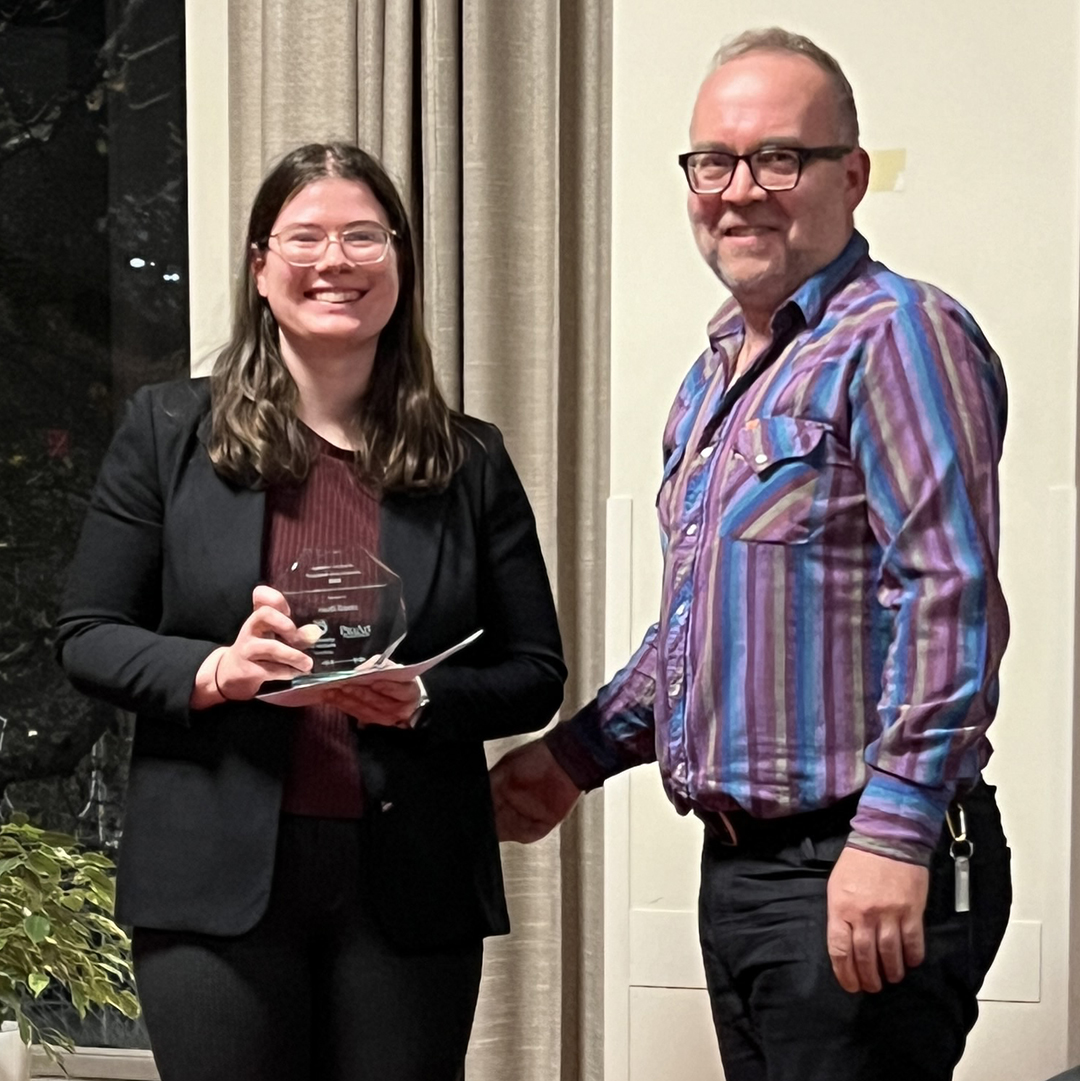 Music technology in action
Nathan Malzon won for being an enthusiastic part of creating the permanent live-streaming system for downtown's Christ Church Cathedral; this has become an essential method for broadcasting both their regular worship services and substantial music performances.
As Christ Church's Reverend Canon Jeannine Friesen says, "Nathan has devoted hundreds of hours to this work . . . thanks to him, we can bring sacred and secular music to thousands of people, not only in Victoria, but around the world."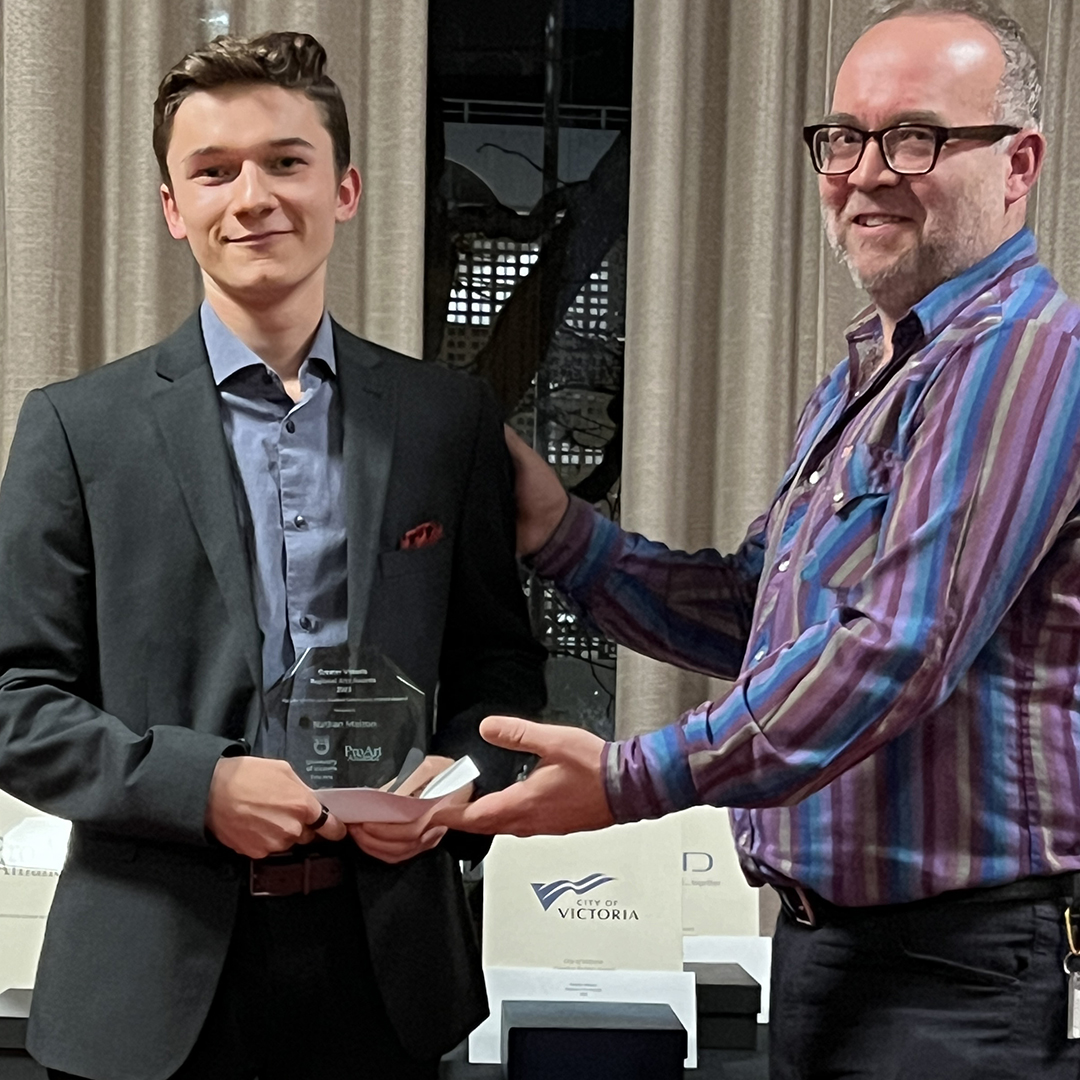 Engaging the public
Laveen Gammie picked up her award for her unflagging work in taking an unwanted room in downtown's vibrant Rockslide Studio and turning it into the vibrant Vault Gallery. Currently pursuing her MFA at the University of Chicag, Laveen wasn't able to attend the ceremony.
As Rockslide's chair Logan Ford says, "Laveen worked tirelessly — and fully voluntarily — to develop and lead this innovative space for over a year. The Vault has made a remarkable impact on the local creative scene and has shown that Laveen has a genuine passion for the arts and dedication to her community."
A legacy of achievement
While the GVRAAs recognize a variety of early- and mid-career achievements, we consider our own Student Community Impact Awards as more of a pre-career category, as all our recipients are definitely talents to watch.
For over 50 years, Fine Arts has been the city's incubator for artists, technicians, curators, scholars, volunteers, arts administrators, board members, and appreciative audience members.
Indeed, a great many of our alumni can be found on the list of previous GVRAA winners: Matthew Payne, Lindsay Delaronde, Mercedes Batiz Benet, Andrew Barrett, Rebekkah Johnson, Colton Hash, Sarah Jim, Chelsea Kutyn
. . . all have emerged from Fine Arts to become key players in Victoria's arts scene.
Finally, we were excited to see Theatre alum Andrew Barrett's performance company Impulse Theatre win the $15,000 JAYMAC Outstanding Production Award this year for their recent performance, The Soft Spaces.
Congratulations to all!