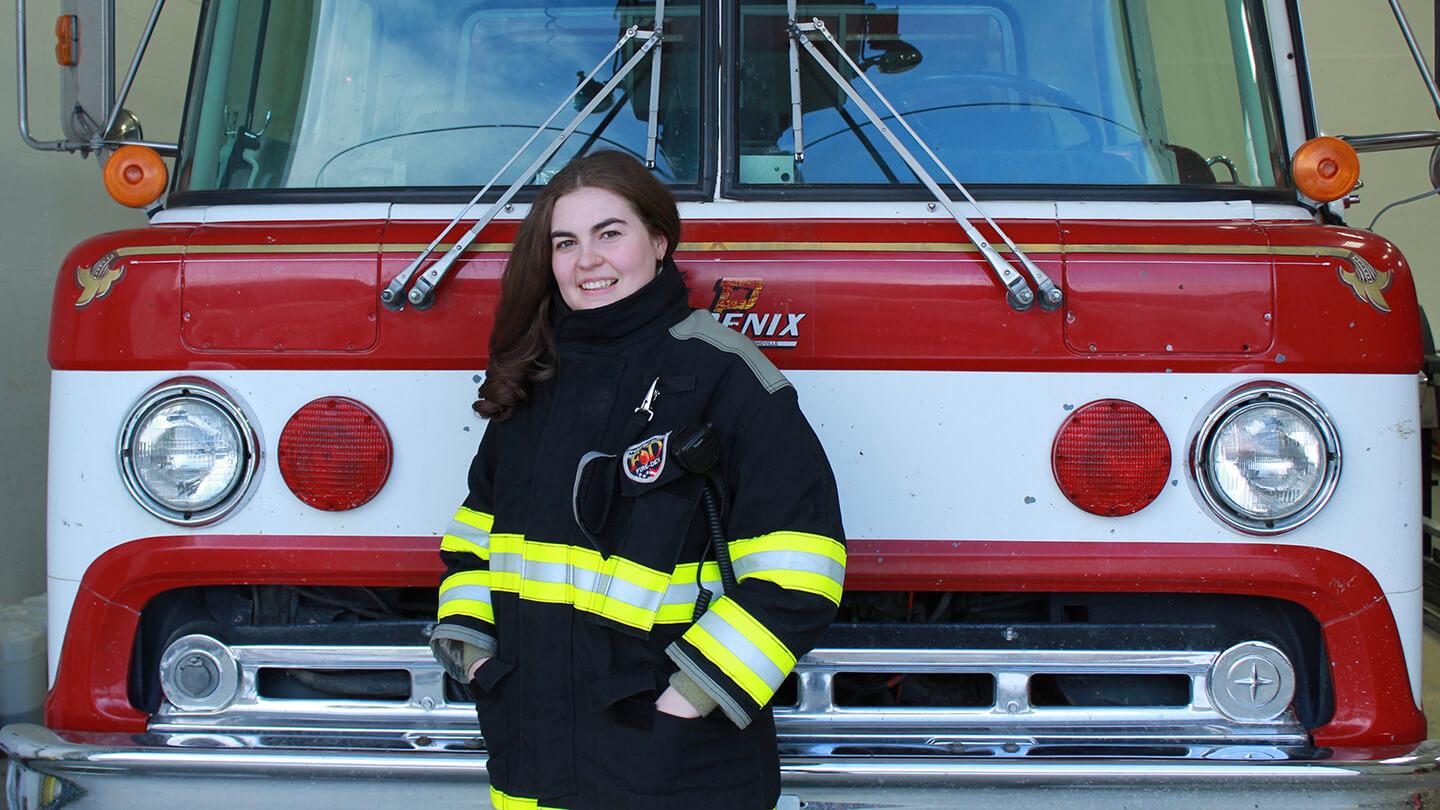 As anyone who has suffered the slings and arrows of a theatrical life knows, working on stage can be a risky business. But Theatre grad Emily Bailey (née Lindstrom, BFA '19) has taken her production-management experience in a new direction by putting herself into situations more perilous than a bad review.
Not only is she the co-chief of her local volunteer fire department, but she's also a certified mine rescuer and member of the Diamonds in the Rough, Canada's all-female, internationally competitive, mine-rescue team.
"One of my professors once told me that a degree in theatre is a degree in team organization and creative problem-solving," says Bailey. "I think that's the best way to describe how I've adapted my fine-arts skills into the industrial world."
Striking gold
Growing up in the small BC industry town of Fraser Lake, Bailey worked in a sawmill for three summers before enrolling in theatre at UVic—a surprise to many, as she recalls. "I was a jock in high school, but what I loved most about sports was the organization of teams and tournaments and events," she says. "I wanted a career doing that."
Bailey found her niche behind the scenes in production management at UVic's Phoenix Theatre. "I realized this was totally where I was supposed to be and knew I'd made the right choice." And it was those very organizational and problem-solving skills that got her hired as a stage manager in Barkerville Historic Town, BC's legendary 1860s gold-rush heritage site.
Today, Bailey lives just 10 minutes down the road in Wells—the site of its own 1930s gold rush. But it's also the centre of the current Cariboo mining renaissance thanks to her employer—Osisko Development, Cariboo Gold Project—where she was hired as health and safety coordinator at the end of 2019. "They saw value in my background, which was surprising but also kind of cool," she says.
If the idea of gold mining conjures up images of Bugs Bunny-style mine shafts with rail tracks and ore carts, you're about a hundred years out of date.
"Mining today is very different… it's a lot bigger than you'd expect for being underground. A pick-up truck fits really comfortably into a mine drift, with room above and beside you. Our mine entrance is basically a road with a small incline—you can walk out of it at any point if you need to, which is a big comfort to my parents."
Raising the profile of women in mining
The outbreak of the pandemic in early 2020 meant she could put her skills to good use. "COVID-19 hit about four months after I was hired and, with my organizational and first-aid skills, I began to head the screening and management section of our health and safety department," she recalls. As well as monitoring potential exposures, Bailey focused on workplace injuries ("equipment failure, sore backs, broken legs, an amputated toe") more than the widely known mining risks such as gas exposure or cave-ins.
"We're an hour away from the nearest hospital, so critical-injury care is really important if something does happen," she says. "But mine rescue is also a huge component of what we do. I took my entry-level mine rescue course in 2020, which covers the basics of rescue gear and techniques—but it doesn't stop there: we continue training monthly with our company."
It was during one of those training sessions that Bailey first learned about the Diamonds in the Rough (DITR) Emergency Rescue Organization. "During the course, I found myself getting increasingly sassy with the instructor, because all of his material had photos of men, he used all-male pronouns and I was the only woman in the class." Sensing her frustration, the instructor mentioned that his company sponsored an all-female competitive team, Diamonds in the Rough. She researched to learn more.
Founded in 2016, DITR started as an effort to both raise the profile of women in the mining industry and in non-traditional roles through underground mine rescue. DITR challenges the traditionally male-dominated environment by competing at an international level.
"We compete in a variety of areas, including mine simulation, high-angle rescue, first aid, firefighting and BG4 [breathing apparatus] technician and theory. Our team is made up of women from across Canada… which means that the rescue regulations for each jurisdiction may be slightly different."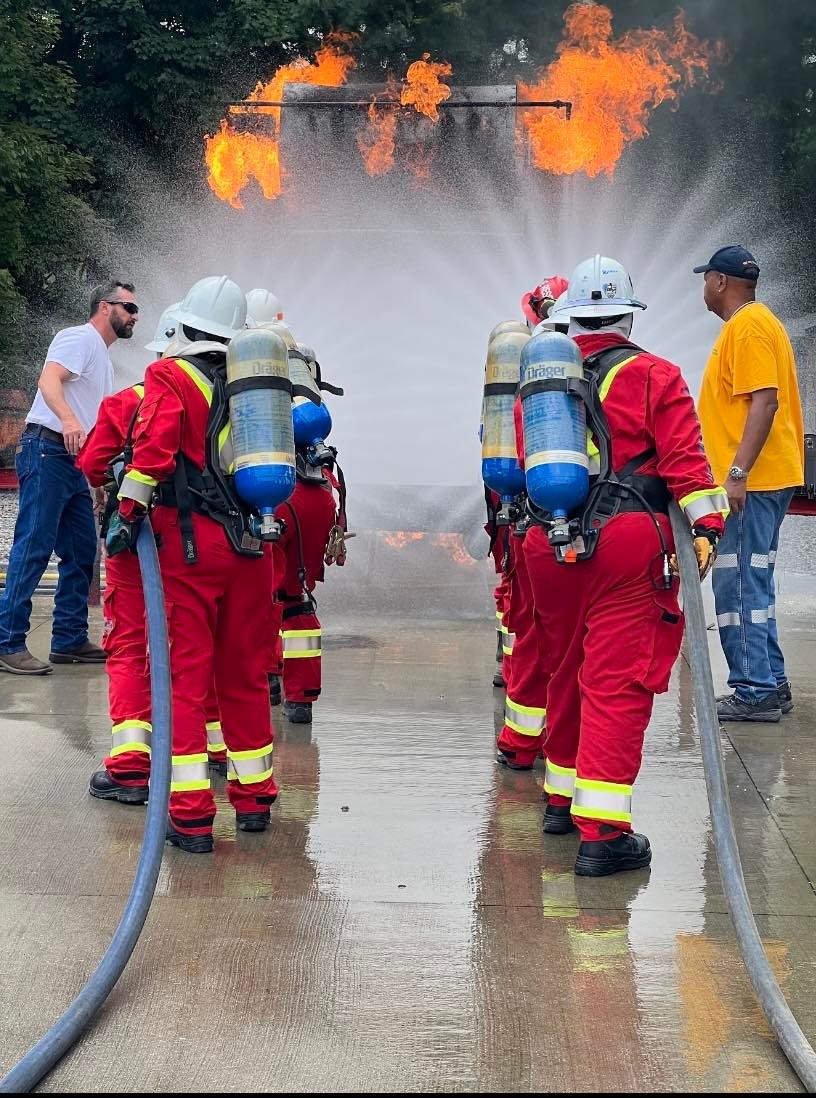 Stage manager in the mining world
While some international mine-rescue teams train together for years, Bailey had never met her other DITR team members and had just four days to train before her first competition in West Virginia in 2022. "It was quite the learning curve," she recalls. "We all work in different types of mines—gold, hard rock, pot ash—and all have different professions—engineers, technicians, health and safety—yet we had to learn the same mining language and match up our training strength and weaknesses."
The pressure resulted in a dazzling performance: Bailey's team came in sixth out of 22 teams, earning a second place in high-angle rescue and third in technician and theory. "The [hosts] said we were one of the best training experiences they'd ever had," she says. "It was an amazing experience!"
Challenging gender expectations
Winning competitions is all well and good, but the Diamonds in the Rough also have a role to play when it comes to challenging gender expectations. "When you're a female in mining and mine rescue, it's always about more than just doing your job," she points out. "It's also about proving you deserve to be there. Miners need to have trust and confidence in you: they need to have no doubt in their minds that you're there to help." Fortunately, she feels those attitudes are changing, albeit slowly.
"In Canada, it was illegal for women to work underground until the 1970s and, for some of the international teams we compete against, it's still illegal for women to work in the mines or even be on the mine site," she says. "Just like sailors have superstitions about women on boats, miners have the same kind of superstitions… we had groups who were so excited that we were there and others who wanted nothing to do with us."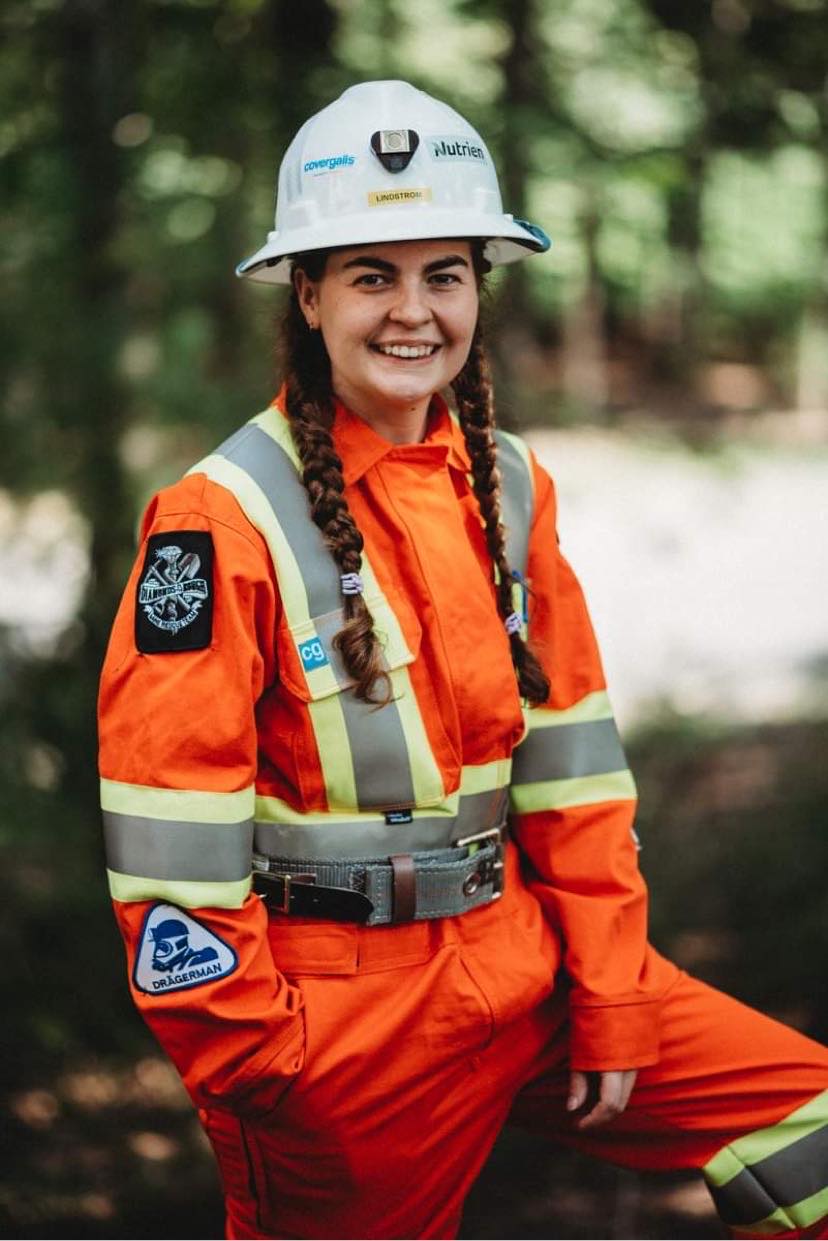 For Bailey, mining is more than just her day job and competitive pastime: it's also quite literally the world in which she lives. The house she shares with her actor husband Brendan Bailey—who portrays a historic miner in nearby Barkerville—was originally built for a mine superintendent in the 1930s, and she's working for the company that's on the precipice of another potential Cariboo mining boom.
"When you live in Wells, you're not just living in any town—you're part of a town that was built by mining," she says. Together with her husband, she shares the role of co-chief of the Wells Volunteer Fire Brigade, with emergency calls mostly involving vehicle incidents and house fires.
"Given where we live, it's more about having a helping spirit, being ready and willing to help out," she concludes. "I'd rather be competent and be able to help than be caught in an emergency situation and be helpless."