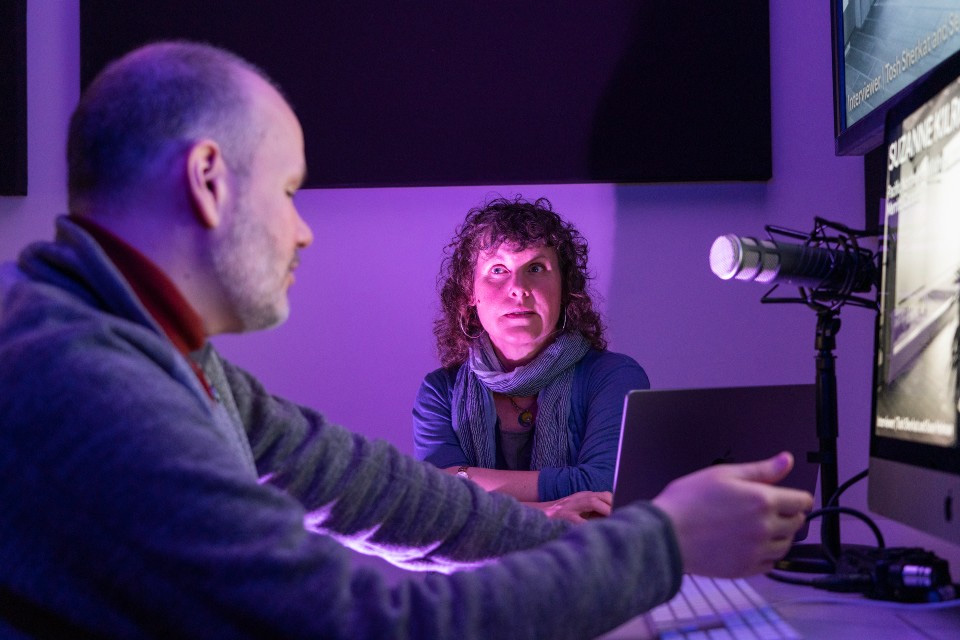 CDP founder Sean Holman with student Sandra Ibrahim (UVic Photo Services)
We're thrilled that the Climate Disaster Project (CDP) has been announced as a finalist in the global Covering Climate Now 2023 Journalism Awards, which honour the best coverage of the climate emergency and its solutions.
The CDP has been selected for bringing "the compelling and authentic stories of people in climate disaster–affected communities to the foreground."
As one of four finalists in the "engagement journalism" category, the CDP's trauma-informed work with climate disaster-affected communities has been recognized for their recent media partnerships with APTN Investigates, Megaphone and Asparagus magazines, and the Fraser Valley Current newspaper, which include climate survivor stories taken by UVic students Tosh Sherkat, Aldyn Chwelos, Paul Voll and Gage Smith.
Tosh and Aldyn were recently profiled in this article following their appearance on CBC Radio's What On Earth.
"There are so many people that contributed to this honour," says Sean Holman, CDP creator and the Wayne Crookes Professor of Environmental and Climate Journalism with the Department of Writing. "Our newsroom is supported by leading journalists, psychologists, social workers, climate scientists and public policy scholars who are working humanize climate coverage . . . . But none of this be possible without the hundreds of students and climate disaster survivors we collaborate with to share and investigate stories of climate disaster. More than anything, this honour from belongs to them."
Even being named a finalist is a significant honour for the CDP, as other 2023 CCNJA nominees include the likes of the BBC, the Guardian, PBS, Le Monde, Al Jazeera, the Narwhal, CBS, ABC, AP, NY Times Magazine (etc).
Winners will be announced in September at Climate Week NYC (Sept 17-24).
An international teaching newsroom
Working with partner institutions across Canada and around the world, the Climate Disaster Project (CDP) uses the model of an international teaching newsroom in order to train students in trauma-informed journalism techniques to collect, compile and share survivor stories.
The CDP has already had a significant impact since launching in September 2021. To date, Holman and his CDP team of students and recent grads have produced more than 120 stories in collaboration with disaster survivors worldwide.
In the past academic year alone, 136 students were enrolled in CDP-related classes in nine different institutions (including UVic, First Nations University, Mount Royal University and Toronto Metropolitan University), learning about the human impacts of climate change, working to share those experiences with the news media, and investigating common problems and solutions identified by climate disaster survivors.
New partnerships have recently been secured that will soon see the project expanded to Brazil, Hong Kong, Norway, Nepal, Pakistan, and South Africa and the United States.