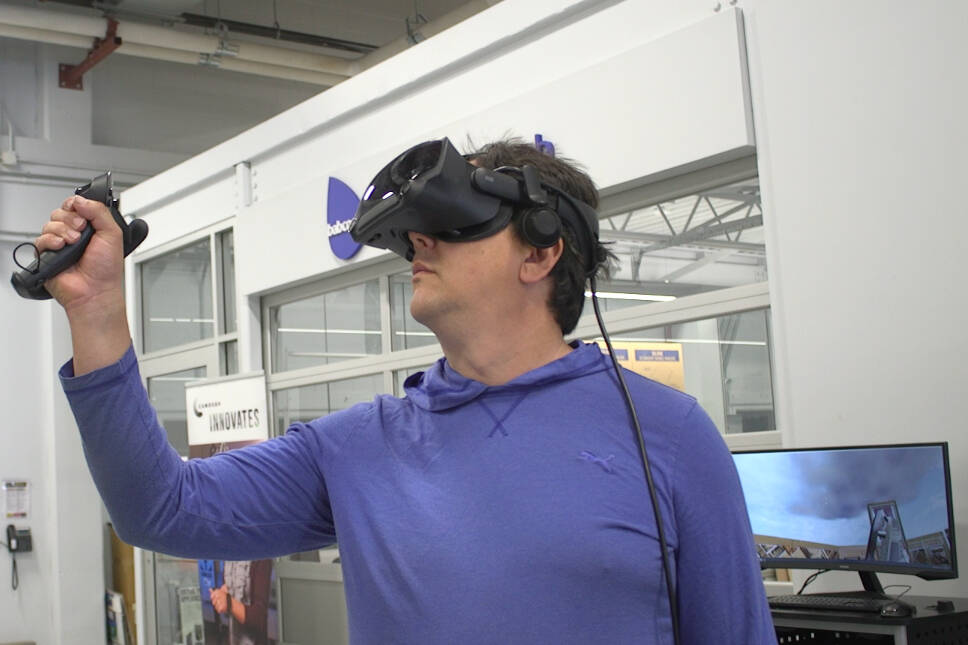 Carey Newman demonstrating his VR Witness Blanket project (photo: Ella Matte/Saanich News)
Already widely acclaimed for his powerful art installation the Witness Blanket, Kwakwaka'wakw and Coast Salish multi-disciplinary artist and Fine Arts professor Carey Newman is now planning to weave in a digital layer by collecting sounds to contribute to an interactive virtual reality version into his much-loved art project.
Newman, UVic's Impact Chair in Indigenous Art Practices, is working with School of Music professor Kirk McNally to collect sound recordings from residential school survivors to create a "soundtrack of resilience" for a digital version of the installation—the original of which is now permanently installed at the Canadian Museum for Human Rights in Winnipeg. Together with partners from the CMHR, UVic and Camosun College's Camosun Innovates, Newman is developing a VR version of the Witness Blanket and he'll be working with a team of Indigenous musicians to create a living soundtrack for the project.
The original Witness Blanket is a large-scale series of panels containing hundreds of items reclaimed from residential schools, churches, government buildings and traditional and cultural structures from across Canada. Just as Newman gathered the original objects, he and McNally are now looking to collect sounds for the digital version.
"In virtual reality, sound is part of the experience and audio allows people to explore the blanket in a new way," Newman explains in this CHEK News story. "If each of the objects on the Witness Blanket had a voice, what would they sound like? What language would they speak? What songs would they sing?"
Participants are invited to record and provide a sound that can include music of traditional instruments, sounds of cultural activities like paddling or carving, the ambient tones of the natural world, spoken languages, songs, or any other sound associated with a person's Indigenous identity or community.
As a sculptor and master carver, Newman himself is planning to contribute a recording of the sound of knives carving wood. "It was something that was taught to me by my father. To me, that's something that I closely associated with culture," he told the Times Colonist in this article.
Local and national media outlets are helping to spread the word about Newman's latest project, with additional stories appearing in this Saanich News video story and this separate Saanich News story, Capital Daily newsletter, plus live interviews on CFAX Radio and CBC's On The Island.
While the call for sound contributions is specifically for Indigenous peoples, there are opportunities for non-Indigenous allies to help with things like equipment and studio space. You can connect with the team by e-mail at witnessblanket@gmail.com.
Click here to watch a video about the new interactive project, including links to learn more about the original Witness Blanket.
You can also make an audio contribution to the project through this online form.