Rachel (left) and Sarah Lachmansignh
When it comes to the academic arts experience, it's easy for undergraduates to lose track of their initial passion as they get caught up in the drive for grades and goals. Yet despite Rachel and Sarah Lachmansingh's many laudable achievements—including both being named winners of the Victoria Medal, the first time this annual award for the highest GPA in the Faculty of Fine Arts has been presented to two people—these graduating Department of Writing students have never lost sight of the reason why they started writing in the first place.
"At the core of it, writing is love," says Rachel. "Whether people want to do it as a profession or a hobby, the centre of that creativity is the heart." Sarah agrees: "Whatever I'm working on, it's got to be something that I love."
More than just courses
It's perhaps not surprising that the Lachmansingh sisters would agree: as identical Guyanese-Canadian twins from Toronto, both decided to move to Victoria together specifically to enroll in UVic's acclaimed Writing program. Both were double-scholarship winners (Rachel for the Lorna Crozier Scholarship and the WP Kinsella Award in Fiction, Sarah for the Rosalind Hulet Petch Memorial Scholarship in Writing and the Millen Undergraduate Scholarship), both saw their work published off-campus, both were editorially involved with UVic's long-running undergraduate literary journal This Side of West (TSOW) and both were mentees for the Writers Union of Canada BIPOC Writers Connect program. Ironically, both also won first prize in different categories with the annual UVic Libraries/EQHR on the Verge writing contest during their first year on campus.
"We were walking to a class together when Sarah got an email saying, 'Congratulations! You won!' and I thought, 'Hmm, I wonder if I won too?' . . . then five seconds later I got an email saying I had won," laughs Rachel. "That was a fun twin thing for people, because it was a real coincidence we had both won for the same contest."
A very storied academic journey
In addition to on the Verge, the Lachmansinghs kept more than busy during their studies. Sarah saw her work published in both EVENT and other literary magazines, worked as the fiction intern for The Malahat Review and served as both fiction editor and social media director for TSOW. As well as serving as editor-in-chief and reviews editor for TSOW, Rachel earned national attention as a finalist for the 2022 CBC Poetry Prize, was longlisted for the 2022 CBC Short Story Prize and has been nominated for the Pushcart Prize, Best of the Net and the National Magazine Awards; her writing has been similarly published in the literary likes of Grain, The Malahat Review, The Fiddlehead and others.
"I've published a lot—it's been really fun trying to balance it all with my studies!" Rachel says with a characteristically quick laugh. "But a bigger goal for me now is just to find a sustainable writing practice that also makes me very happy: being in a writing program, there's a lot of emphasis on polishing work for publication, but it's also fun to focus on yourself as a writer, try out things you haven't done before."
While Sarah feels her work with TSOW was foundational ("I've wanted to be an editor since I was a kid"), she also feels it was significant in helping to build the sense of community for which the Writing program is well known. "It was such a highlight to be able to celebrate students in the early stages of their writing," she says. "It was a great experience and a big honour for me." That said, she is looking forward to getting more of her own work out there. "I'm hoping to get the ball rolling a bit more when it comes to publishing . . . I'd like to see about creating a poetry practice for myself."
An enviable skill set
Both feel their combination of academic work, peer mentorship and professional practice have helped build an enviable skill set that will serve them well going forward. "Funnily enough, one of the basic skills that will help me no matter where I end up is email writing," laughs Rachel. "As EIC, I learned how to nail that: when you lead a team and run a magazine, there's a certain level of organizational skills you have to develop, which I'll carry with me as I continue on in the professional world."
Now back in Toronto, both feel UVic's Writing program provided an essential foundation for their future professional growth. "Having the writerly culture in the program and Victoria in general, we felt like we were part of a community, part of a place where we all celebrated reading and writing and being thoughtful," concludes Sarah. "It was really important in validating us as writers."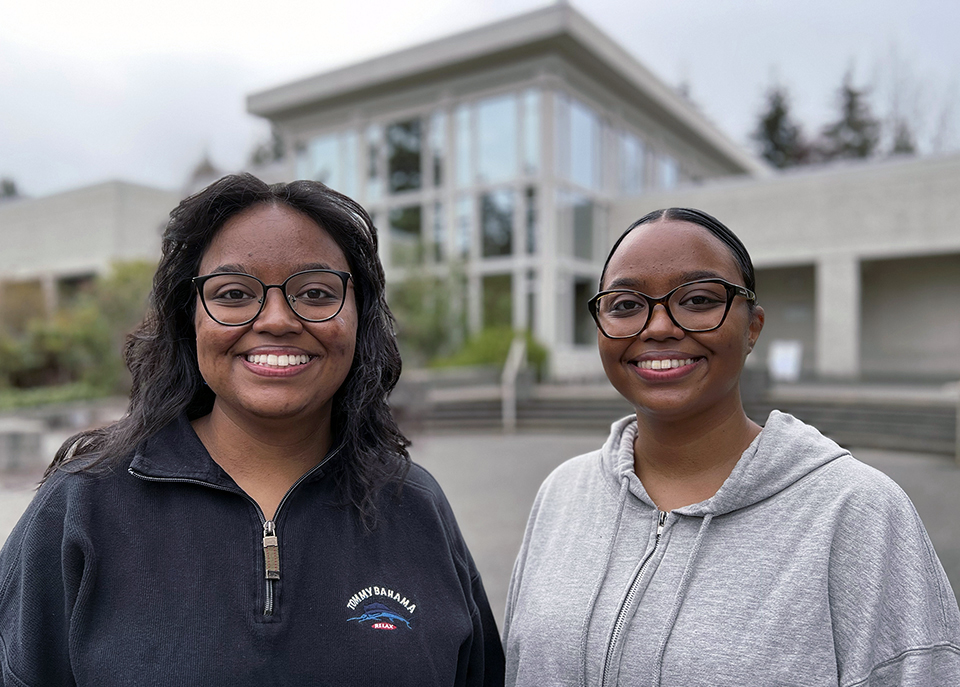 Rachel & Sarah outside UVic's Writing department in spring 2023