Kelly Richardson's original pieces and how they appear in the Metallica video
What happens when "suitably apocalyptic" art by an internationally acclaimed, environmentally focused digital artist appears in the official video for the new Metallica album title track, "72 Seasons"?
If you're UVic visual arts professor Kelly Richardson, you hope it's an opportunity to use this format as another way to spread your environmental message.
"I love it when contemporary art breaches popular culture in this way: it's really important to get my work out to as many people as possible . . . not that Metallica is taking to the stage and talking about my concepts," Richardson laughs.
But with over 3 million views on the official video in the 7 days since it dropped on March 30, Richardson says she's been watching some of the "72 Seasons" reaction videos online and has noted that people seem to be remarking on what she describes as her "suitably apocalyptic" visuals.
"For me, it's about engaging the public in bigger conversations about where we're all heading," she says. "There is potential for people to look up the work, see what it's really about and possibly influence the wider public that way."
Visual Arts professor Kelly Richardson
Art that reflects our impact on the landscape
One of the world's leading digital artists specializing in creating video installations of rich and complex landscapes using manipulated CGI, animation and sound, Richardson takes her cues from 19th century painting, 20th century cinema and 21st century scientific inquiries. Her practice offers imaginative views and constructions of the future that are plausible enough to prompt careful consideration of the present.
A passionate environmental artist whose work often reflects the human impact on the natural landscape, Richardson firmly believes that artists are equally equipped as scientists to motivate the need for change in our thinking of — and relationship with — the environment.
The use of cutting-edge imaging and video technologies is an appropriate means to do this, bridging fiction/real and present/future. Underpinning her research is a critical and often collaborative engagement with scientists (including NASA), philosophers and writers whose work engages with issues related to climate change.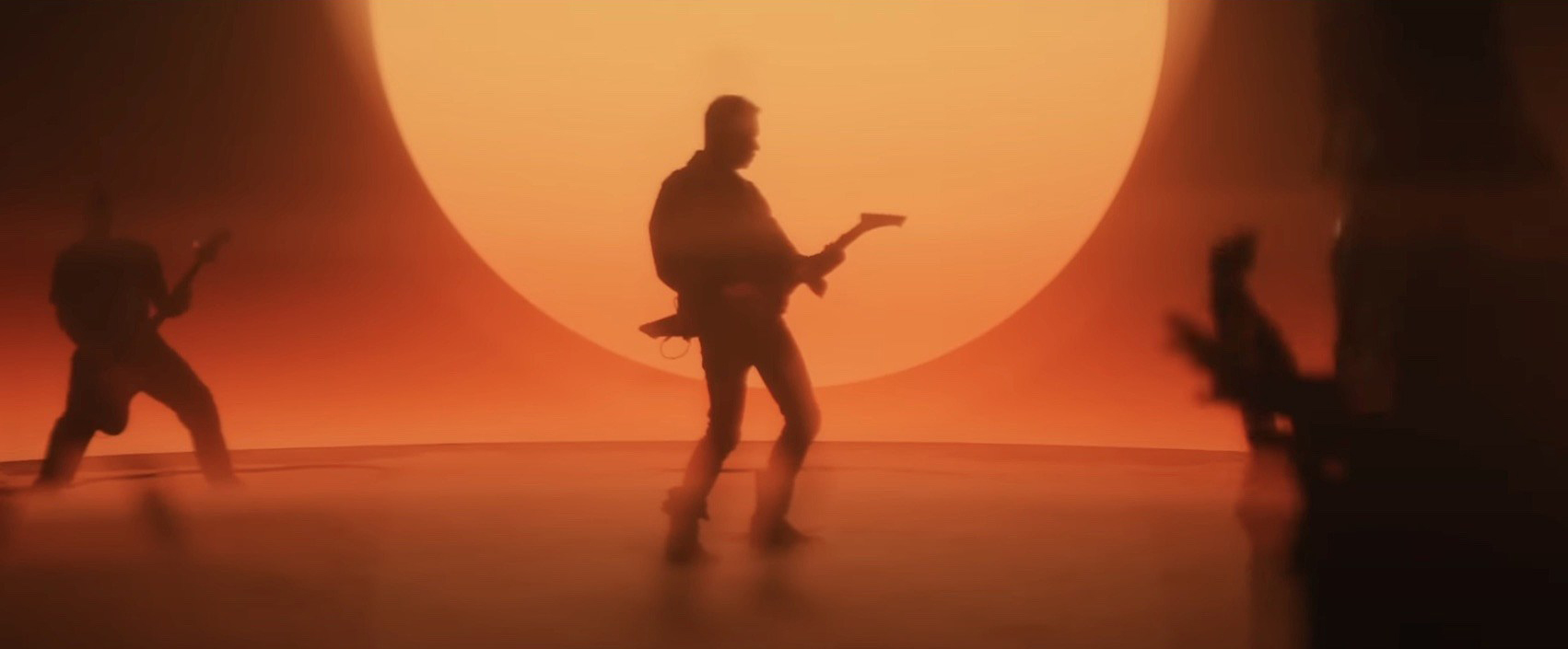 Metallica is a good match for Richardson's "suitably apocalyptic" imagery
"A sense of awe that mirrored the sonically heavy sound of Metallica"
Explaining that her work wasn't actually made for specifically Metallica, Richardson says the piece "Halo"  would normally be seen in large-scale gallery installations but in this case was projected behind the band during filming. "There's an eclipse In 'Halo' and at one point you actually see [guitarist] James Hetfield inside the eclipse," Richardson says in this April 7 interview with CBC Radio's As It Happens."That's my favourite moment in the video."
As noted in the CBC story, "72 Seasons" director Tim Saccenti and visual art curator Dina Chang thought Richardson's art resonated with what they were trying to accomplish. "Aside from being longtime fans of her work, we both felt Kelly's pieces had a particular kind of monumental grandeur, a sense of awe, that mirrored the sonically heavy sound of Metallica," Saccenti said in an email to CBC. "There's a primal unease to her pieces that cuts to your core."
See the As It Happens story to read more about the filming of the Metallica video and how the video's 100-person creative and technical team went "silent in respect" when Richardson's work was projected. "It was a perfect mix of spectacle and emotion, creating a near mythological environment to capture the band in," says Saccenti.
Following the As It Happens piece, Richardson's story was subsequently reported on both CBC News and CBC Music sites, as well as individual interviews with the Times Colonist, CTV (local and national) and iHeart Radio; it was also picked up by The Zone radio station, Capital Daily, Galleries West, UVic's Campus Checklist, Canadian Art Junkie and it appeared on a number of reposting sites like Flipboard, IG News, Newstral, Spoutible, PiPa News, News-24.fr, CanadianNewsMedia.ca, OneNewsPage, Her-News.com, TOPNews.media and the West Observer, among others.           
A worldwide platform
With current exhibits on now in the UK & Montreal, and shows just recently closed in Belgium & LA, Richardson's work is designed to be digitally exhibited at galleries on screens — but when the April 13 72 Seasons worldwide listening party hits theatres for one night only, it will be the first time her imagery will appear simultaneously across the globe.
Richardson happily admits she was "a huge Metallica fan" in her early 20s, and says she's pretty blown away by the whole thing. "The young version of me can't quite get my head around my work being in their music video!"
Both Metallica video director Tim Saccenti and visual art curator Dina Chang had used digital versions of work by other artists in previous videos and have been following (and collecting) Richardson's work for some time, so they approached her about exclusively using three of her pieces — "Halo" (2021) + "Origin Stories" & "Origin Stories (AR) (2023)" — in this particular video.
Not that it's the first time her work has meshed with rock music: she appeared on stage at 2022's Rifflandia music festival in Victoria as part of the team behind Visual Arts MFA Rande Cook's Awinakola: Tree of Life research group.
Richardson's work projected onto the Metallica set (Image: Setta Studio)
Inspired by Awi'nakola
As seen here on the set of the Metallica video, each floating "diamond" in Richardson's "Origin Stories" represents an extinct species. "These are complex life forms which took 4 billion years to evolve & which we are losing at a terrifying rate," she says.
As well being beautiful to look at, Richardson's art is intended to foster conversations about the continuing loss of complex life. "In my practice, I've explored many ideas which illustrate anxieties about where we're heading as a species in relation to climate change," she says. 
This piece in particular is inspired by her work with Awi'nakola Foundation, a collective of artists, scientists and Indigenous knowledge keepers who are working towards the preservation and restoration of BC's old-growth forests, which are some of the last primary forests on the planet. 
Together with Visual Arts professor Paul Walde, Audain professor Lindsay Delaronde, MFA alum Rande Cook and more than 35 others, Richardson is working collectively to build a better future for generations to come. Through galleries, museums and unexpected projects like the Metallica video, the Awi'nakola Project is making a difference by securing exhibitions in locations where the government is known to purchase by-products of old growth trees.