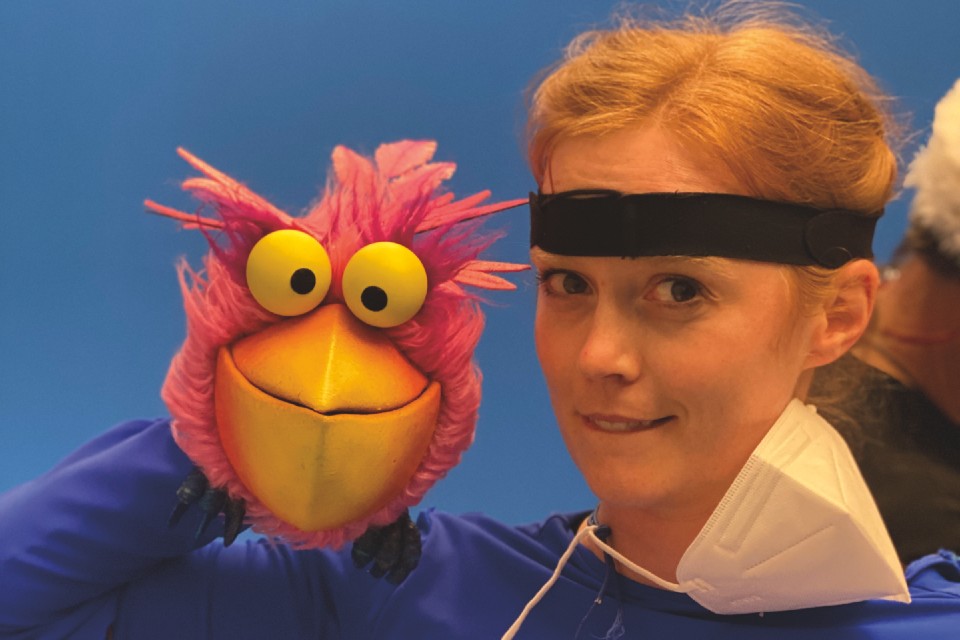 UVic Theatre grad Ingrid Hansen puppeteering Num Num Bird on Fraggle Rock: Back to the Rock
If you made a list of the most fun careers, "professional puppeteer" would surely be somewhere near the top. And for any fan of fuzzy fur and funky foam, it doesn't get much bigger than Jim Henson and Sesame—which is exactly where one stellar alumna is making a name for herself—even though she rarely shows her face.
Ingrid Hansen (BFA '09) has lead roles in the Jim Henson Company's Fraggle Rock: Back to the Rock and Sesame Workshop's Helpsters, and is quickly becoming one of Canada's top puppeteers. A self-described "theatre creator, puppeteer, voice actor and prison-theatre artist," Hansen's resume is filled with shows on leading networks, including Apple TV+, Amazon Prime, Treehouse, Teletoon, Peacock, APTN and YouTube.
"You have to be a little bit insane to want to do this, but I absolutely love it," Hansen says with a hearty laugh. "On Helpsters, for instance, I got to create an original character: I play a big, loveable, goofy orange monster named Heart, who's the size of a refrigerator." But this means more than just putting on a costume: in fact, it takes three people to bring Heart to life. (Hansen handles the voice, mouth and left arm.) "I have a great support team.… If I get too hot, they shove an electric leaf-blower down the collar and give me a shot of fresh air."
The Kelowna-raised Hansen has three seasons of the Emmy-winning Helpsters behind her, performing alongside celebrity guests like Hollywood star Danny Trejo, Broadway legend Alan Cummings and Grammy-winning singer Norah Jones, as well as a team of top-tier LA comedy writers. "Working on that show is a dream! It's so full of personality."
Behind the scenes
Given the candy-coloured nature of most kids' shows, it's easy to think that a puppeteer simply has fun professionally—but, as with any specialized art form, there's a lot more to it than that.
"Every day is pretty fun, but I have incredibly long hours and it's technically, mentally and physically challenging," says Hansen. "Puppeteers call ourselves 'professional problem solvers' because everything a puppet does is kind of a stunt: pup-pets don't have opposable thumbs, can't do basic things like pick up a pencil and they break all the time. We constantly have to find tricks and create solutions to make them look alive."
Hansen is also thrilled with her four-month gig on the Calgary-filmed Fraggle Rock reboot—a show she loved as a child. "Any time it was on we all freaked out and ran to the TV," she recalls. "I remember being fascinated by all the creatures—the humans, the Fraggles, the little green Doozers and the big monstrous Gorgs."
Bringing the walkaround character Ma Gorg back to life meant Hansen had to both study the original character work and add her own distinctive flair, while wearing a rebuild of the original costume. "I was wearing a puppet that was older than I was… and it didn't even smell."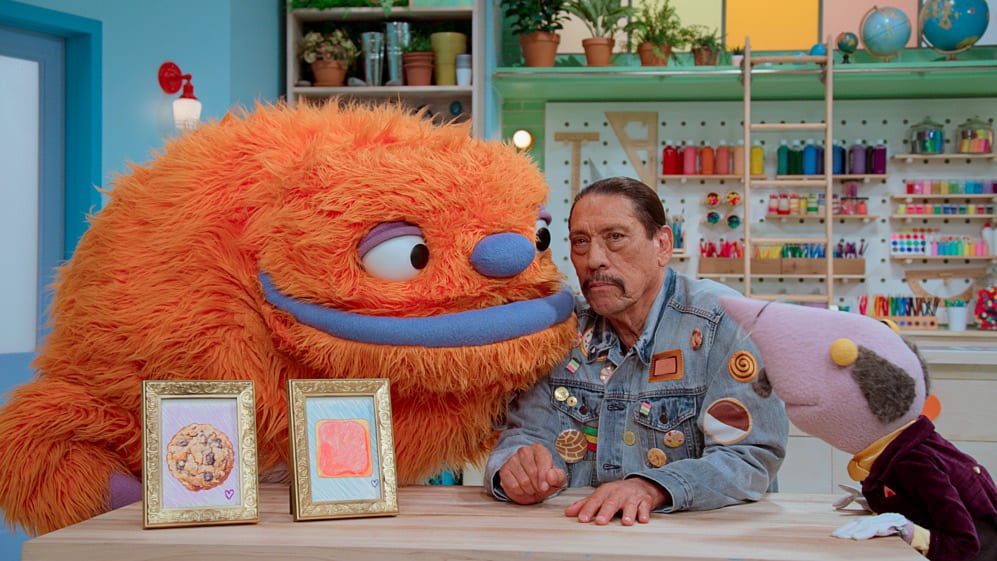 Hollywood legend Danny Trejo with Ingrid Hansen as the furry orange Heart on Helpsters (above) and having fun out of costume (below)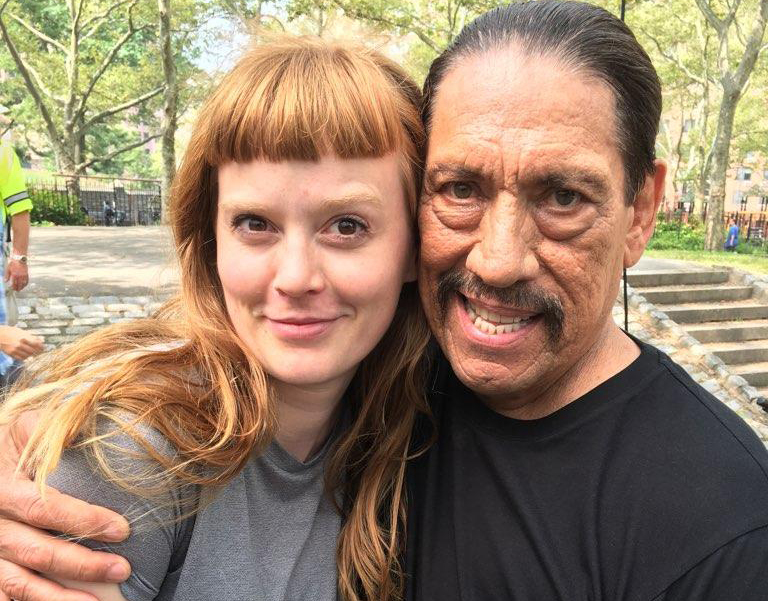 An art that's both ancient & modern
Fraggle Rock is a great example of how puppetry—a performance tradition spanning cultures and continents that dates back at least 2,500 years—embodies more than just cute characters.
"Fraggle Rock was created by Jim Henson as an international children's series with the goal of ending war," she explains. "All these creatures are interconnected in ways they don't always understand… it's a really complex universe for a children's show, where they dive into deep topics like division, exclusion and water shortages—but still with that over-arching theme of interconnectivity between all living things."
Hansen is no stranger to big topics herself. She was co-artistic director (alongside fellow theatre grad Kathleen Greenfield) of the SNAFU Society of Unexpected Spectacles. Hansen also worked with Victoria's acclaimed prison theatre company, William Head on Stage (WHoS), since 2008.
"I feel honoured to work out there," she says. "The incarcerated artists are the most hard-working, ingenious people I have ever known: it really challenges them to work on a creative project that requires intense teamwork and trust. And it continually grounds me in the power of the performing arts as something relevant that can be life-changing on both sides of the curtain."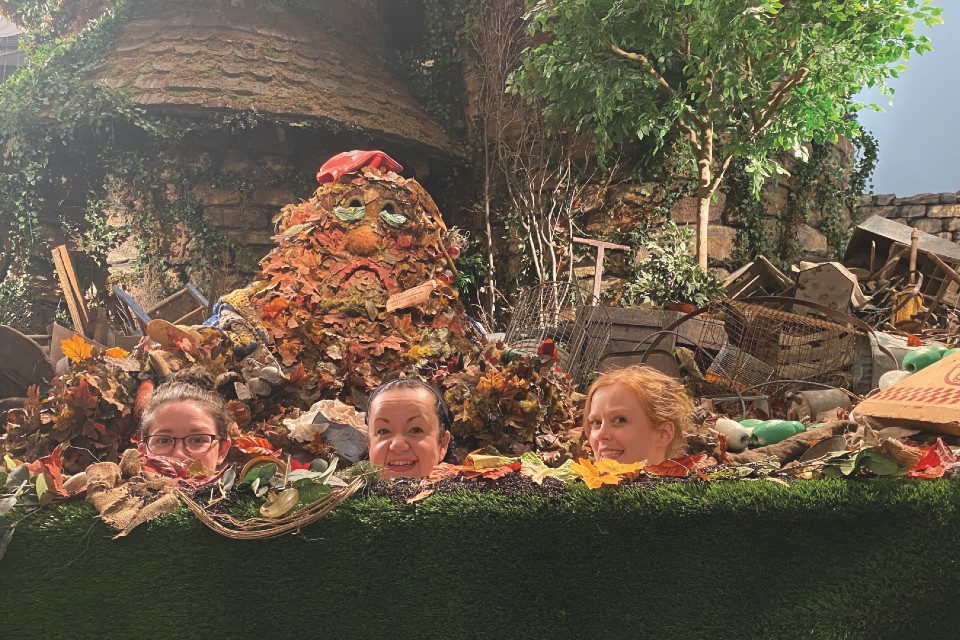 From left: Kira Hall, Aymee Garcia & Ingrid Hansen puppeteering Marjory the Trash Heap on Fraggle Rock
Other projects on the go
Having co-authored and performed in 21 live SNAFU shows—including the award-winning productions Little Orange Man, Kitt & Jane and Interstellar Elder—Hansen also managed to stay busy during COVID. "I've been very fortunate to be able to keep creating," she says. "SNAFU did Epidermis Circus, which was a livestream for the National Arts Centre performance series as well as a live drive-in show in Victoria and Vancouver, created a podcast show with WHoS, performed in Victoria's outdoor SKAMpede festival and developed a series of short films that will be released soon."
She has also maintained her campus connection over the years, whether by showcasing a solo show at the Phoenix Theatre or working with alumni at WHoS and Theatre SKAM's SKAMpede festival. Indeed, just the day before this inter-view, she gave a talk to current students in the Fine Arts 101 "Creative Being" class. (Her advice to these future creatives? "Don't wait for somebody else to give you a job. Make what you want.")
Finally, given the current renaissance of puppetry and animation, does she still have any dream gigs to check off? "If they make any more of the new Dark Crystal show, that would for sure be on my bucket list—they used every puppeteer in the UK to make it. But really, I'm working on my dream project now," Hansen concludes with a bright chuckle.
"I'm so grateful—I feel like the luckiest little fart-face in the world. And I'm having a lot of fun doing it."
This story originally ran in the spring 2022 issue of UVic's Torch alumni magazine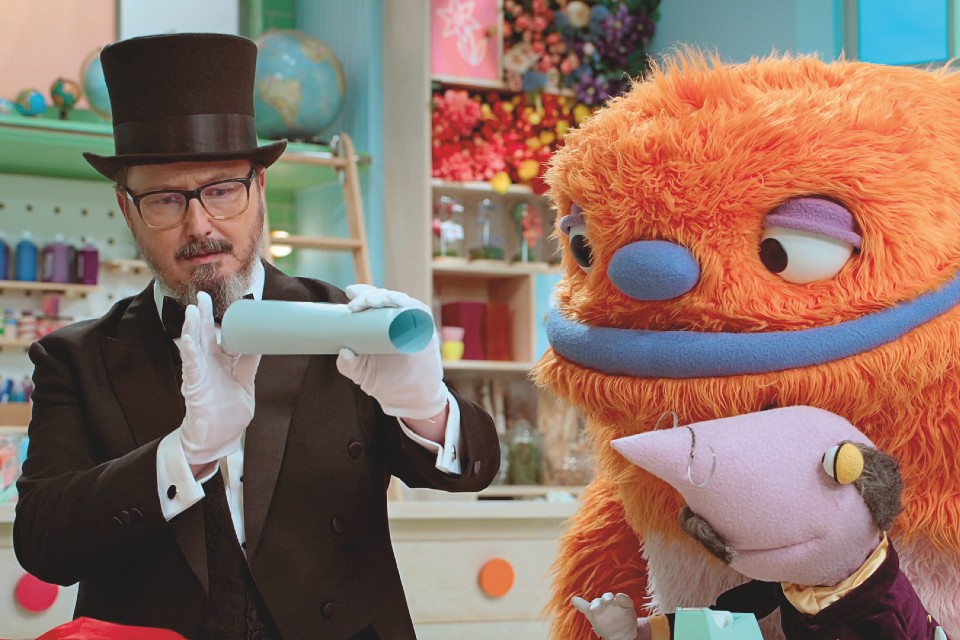 Ingrid Hansen works her magic as Heart on Helpsters