Dr Marcus Milwright, chair of the Department of Art History & Visual Studies, has been named a recipient of the British Academy's 2022 Global Professorships.
This four-year research professorship — valued at £898,000 (about $1.48 million CDN) — will begin in February 2023 and will see Milwright working at the Department of History of Art at England's University of York through to 2027.
"It's an honour to receive this position," says Milwright. One of only eight professors selected for this prestigious international professorship — and the only scholar in Canada to be chosen — his research project is titled, Making Meaning: Craft Practices and the Process of Change in Islamic Art.
"It's based on the idea that we understand objects when we understand the processes of making them, and the people responsible for doing that — how they develop their skills, the environments they work in," he explains. "It's not simply a question of how something gets made: it's through the process of making we understand the meanings those objects have in their societies."
Studying Islamic art and archaeology
Milwright has already spent more than 20 years studying Islamic art and archaeology, and traditional craft practices in the Middle East. The author of seven books on the subject, his most recent publication is Made for the Eye of One Who Sees: Canadian Contributions to the Study of Islamic Art and Archaeology (McGill/Queens University Press & Royal Ontario Museum), co-edited with fellow AHVS professor Eva Baboula.
You can find out more about his work on the AHVS Gateway to Art website, as well as his own Crafts of Syria and Crafts of Iraq research websites.
For Making Meaning, he'll still be working with archaeology, excavated artifacts and museum objects but he will also broaden the focus to include textual and photographic sources.
"It's about how we can extract aspects of the lives of people who are often not well documented," he says. "It's the elites of society who tend to write — and be written about — so this is a way of finding out more about the lives of people who actually created the objects and made those societies work."
More than just producing research, however, Milwright sees this Global Professorship as an opportunity to share his findings in different ways through articles, books, websites, podcasts and public engagement — as well as more open-source methods of information dissemination.
"There's an urgent need to try and record craft practices across the Islamic world — as well as across the world itself," he says. "As we see crafts dying out, we see how war, instability and displacement often lead to a severing of craft traditions that have been handed down over generations in families. I want to collect as much of that information as possible and then share it so other people can use it."
Originally trained as a painter, Milwright has always been interested in the relationship between an object and its making. But it was on an early archaeological excavation in Jordan that his relationship with the past first came alive.
"I remember one of the objects we found was a little cup used for drinking tea or coffee," he recalls. "It was just a disc of clay which had been turned up at the edges then fired in an open bonfire, but you could see the finger marks in it. That was my first connection with someone I'd never know anything else about . . . a human being making decisions, using their expertise to make a cup. Even if we can never give people their names, we can still start to reconstruct their lives by knowing how they made things."
All too often, our knowledge of the past is based on objects and structures — coins, ceramics, mosaics, temples — celebrating the rich and powerful. But, as Milwright reminds us, "even the great objects made for kings, sultans and emperors were dependent on the craft sector to make things."
"Even when these people seem infinitely powerful, there are logistical concerns which come down to the aspect of crafts and resources," he says. "It's these things I keep coming back to, because they have an impact on meaning: if you don't take practical concerns into consideration, you can be persuaded by the rhetoric of rulers that they have infinite power — but they really don't."
Making Meaning
Milwright's four-year research focus is best explained through an excerpt from his Global Professorship proposal:
"Despite growing attention to the contexts of Islamic art, the intentions of patrons and the reception of artworks have dominated the interpretation of change from the seventh to the early twentieth centuries. This model has underestimated the role of materiality in production networks and individual products," he writes.
Making Meaning: Craft Practices and the Process of Change in Islamic Art "acknowledges that meaning was shaped in decisive ways through the action of external political, economic and cultural challenges on groups of craftspeople, their knowledge and practices. The guiding hypothesis will be that the choices made through manufacturing processes are crucial to the generation of style (technical and visual) and meaning."
Milwright will concentrate on the "context of making" through four thematic case studies, which will "address the diversity of media covered under the label of Islamic art and examine meaningfully the connections across craft traditions, craftspeople and materials while re-considering where the art stands between its patrons, makers and consumers."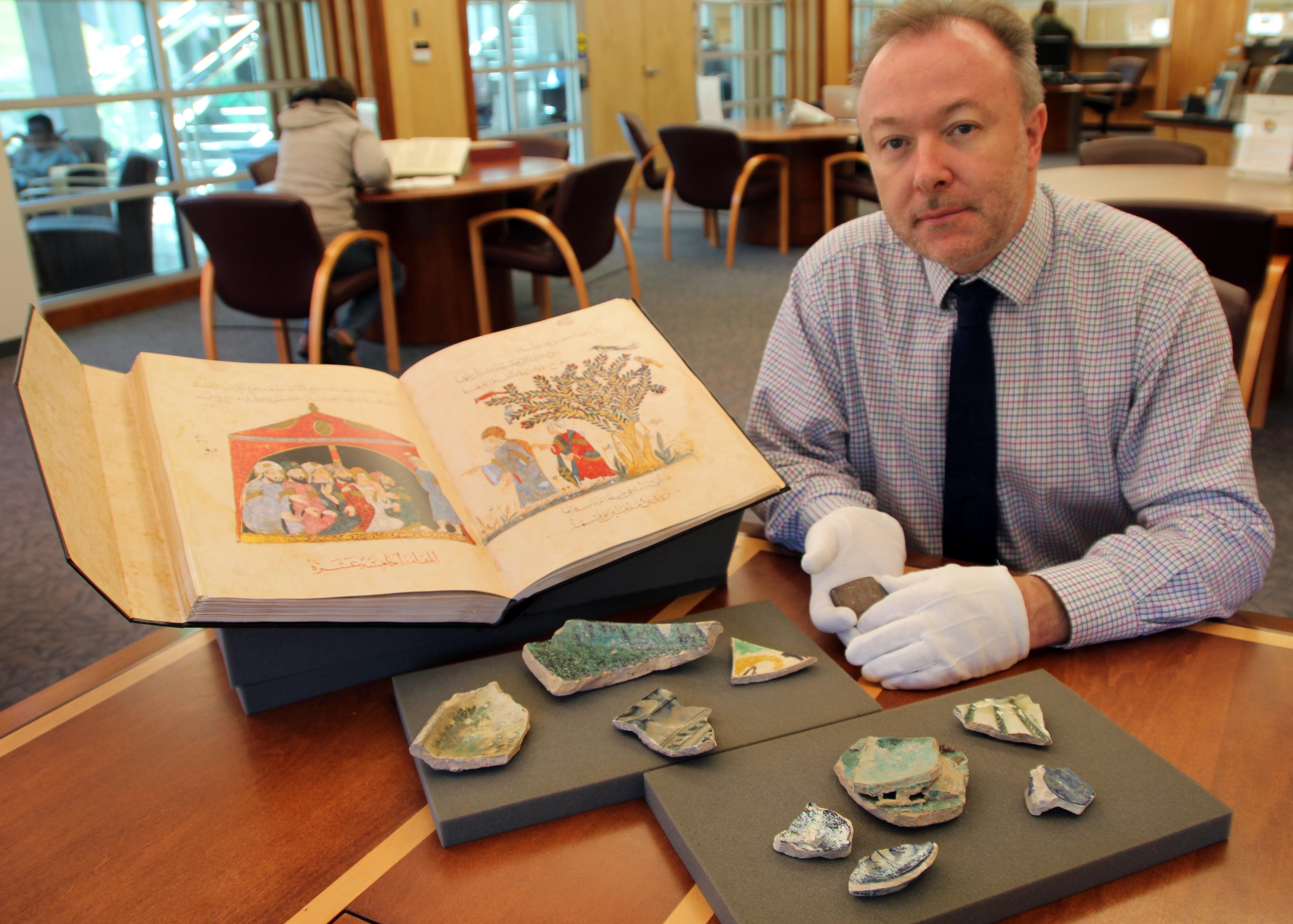 Milwright with some of the important Middle Eastern artifacts held in UVic's Special Collections