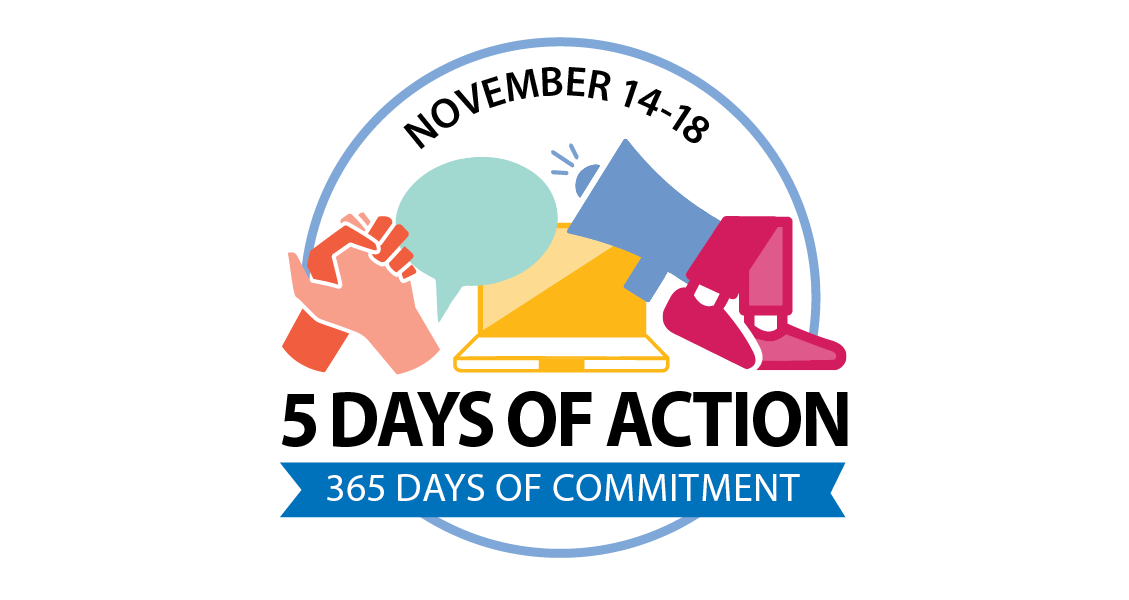 UVic's 5 Days of Action is back! Running Nov 14-18, Five Days of Action: 365 Days of Commitment is UVic's annual free, week-long event aimed at amplifying the work groups, units and organizations are doing to create a more diverse, inclusive and equitable campus and community throughout the year—both on- and off-campus. Fine Arts is once again organizing a number of events as part of this week of significant interactions.
Each day of the week represents a different call to action: Monday asks us to listen, Tuesday to reflect, Wednesday to dialogue, Thursday to engage, and Friday to take action. There will be many opportunities to reflect on what we can do as individuals and as part of a team to improve the sense of inclusion and belonging in our greater community. We're all encouraged to take part throughout the week by visiting an events, attending a workshop or seminar, or engaging with the curated list of things to read, watch and do. 
Here's a quick roundup of what Fine Arts has coming up:
KILLJOYS art exhibition: Mon-Fri, Nov 14-18, Audain Gallery, Visual Arts Building
Explore how art can use various mediums to confront forms of systemic violence and oppression in this annual exhibition by Visual Arts students, staff and faculty.
Walk with Me: 10 & 11:30am Mon-Tues Nov 14-15, SUB Pujol Room
Join Fine Arts Indigenous Resurgence Coordinator Karla Point, Theatre PhD alum & sessional Will Weigler plus Lydia Toorenburgh (Anthropology) for this one-hour, in-person experiential and creatively rewarding activity designed to deepen Settler Canadians' felt-understanding of the lived experiences of Indigenous peoples.
Arts for Action: 12:30-1:30pm Tues, Nov 15, Visual Arts Room A111
Poets will be performing up to three poems while collaborating with visual arts students to live capture the themes and experiences during the performances. With poetry ranging from free-verse and Haiku to rhymed poetry, the themes will  address different topics of anti-racism, equity, diversity, inclusion and/or sexualized violence prevention. 
Featuring poets & Writing alumni Yvonne Blomer and Arleen Paré, plus Alexa Taylor-McCallum, ALHS and Visual Arts students Tori Jones and Satya Underhill.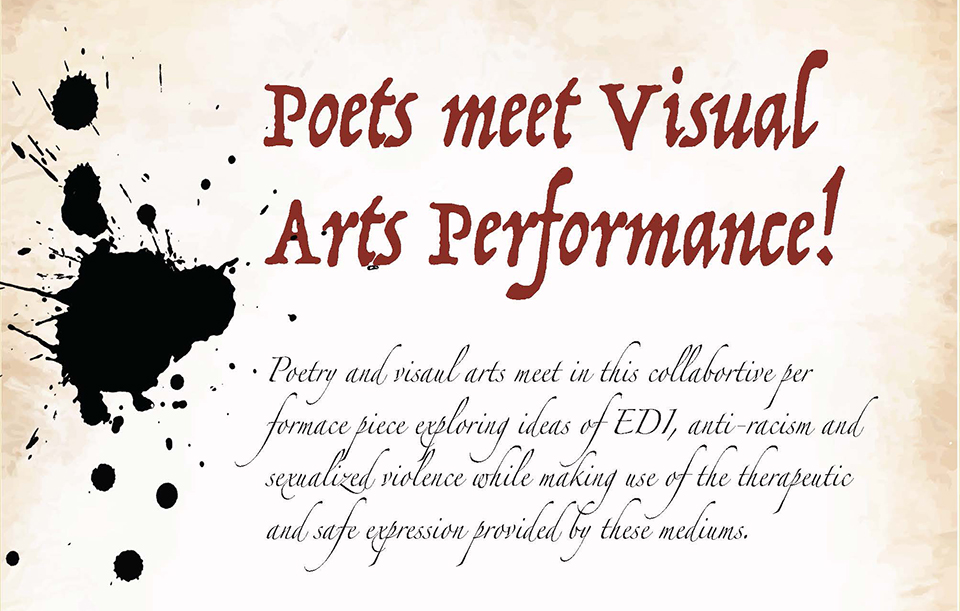 Amplifying Voices: 12:30pm Tues, Nov 15, Phillip T. Young Recital Hall, MacLaurin B-wing
The first of two School of Music events being presented, Amplifying Voices sees UVic's Music Student Association present a lecture-recital featuring underrepresented identities in music. Student performers and composers will present and discuss works that highlight marginalized voices, bringing awareness to EDI-related challenges that musicians and musical institutions are facing.
Equal Measure: 8pm Tues, Nov 15, Phillip T. Young Recital Hall
That same evening sees the recital Equal Measure featuring pianist Rachel Kiyo Iwaasa (BMus '93) and violinst Sarah Westwick performing a concert of works for violin and piano by historical and contemporary women composers including lsabella Leonarda, Amanda Maier, Florence Price, Elizabeth Raum, and Jessie Montgomery. A short post-concert Q&A and reception will follow. This concert is made possible in part by funding from the University of Victoria Alumni Association.
Rachel Iwaasa (photo:SD Holman)
"It's Just Black Hair" 12:45-1:45pm Thurs, Nov 17, McIntyre Studio, Phoenix Building • Register here
Join Fine Arts playwright-in-residence Thembelihle Moyo for this artist talk, which will feature a Q&A plus premiere excerpts of her new play, It's Just Black Hair. She'll be joined on-stage by Theatre professors Sasha Kovacs & Yasmine Kandil.
Born and raised in Zimbabwe, Moyo's previous plays include Colour Blue, Let it Out, Who Said I Don't Want to Dance and I Want To Fly. "Black hair is more than just strands that unite in kinky solidarity, demanding to be seen and heard," says Moyo. 
Spring Awakening: Nov 10-26, Bishop Theatre, Phoenix Building (Tickets $18-$33)
While not directly associated with this overall event, the themes behind the mainstage Phoenix production Spring Awakening definitely match the goals of 5 Days of Action. As high-school teenagers in an 1890s provincial German town struggle to reconcile their budding sexual feelings, the moral code of their society leads them to tragedy. An electrifying fusion of morality, sexuality and rock music, Spring Awakening forever changed the definition of what a Broadway musical could be when it debuted in 2006, breaking boundaries by exploring the journey from adolescence to adulthood with poignancy and passion.