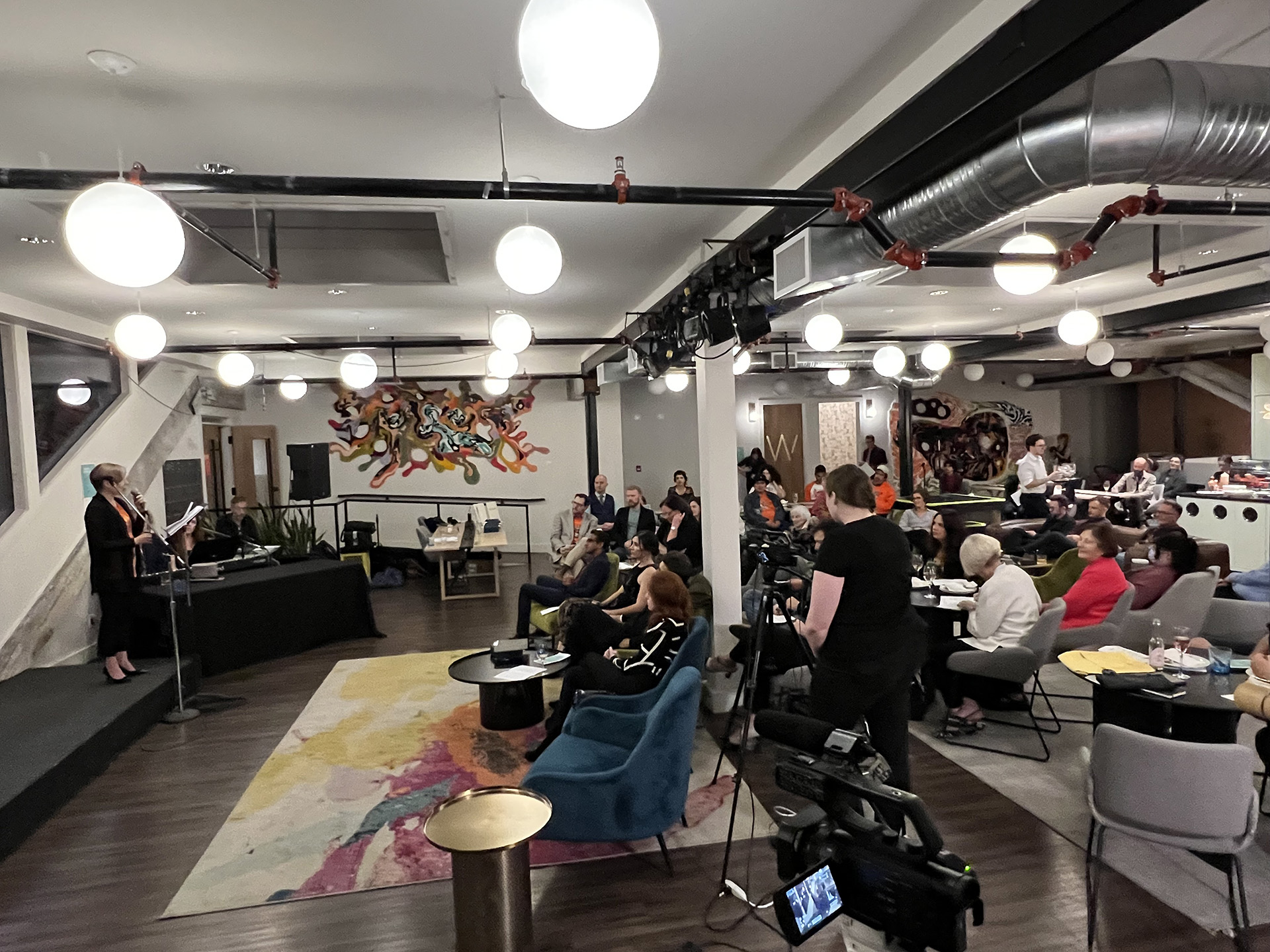 For over 50 years, Fine Arts has been an incubator for young artists, technicians, arts administrators, volunteers and audience members. And while our alumni and faculty members continue to make a vital impact on Victoria's arts community, it's also important to recognize the ongoing contributions made by our students.
With that in mind, Fine Arts is more than pleased to present the annual Faculty of Fine Arts Student Community Impact Award as part of the annual Greater Victoria Regional Arts Awards, presented on September 29 at a public downtown event at Club KWENCH.
Created in 2021 by the Dean's External Advisory Committee, the $1,000 Student Community Impact Award recognizes individual achievements or outstanding efforts made by one or more full-time undergraduate students for a local arts organization. And thanks to Fine Arts donors—especially the Saanich Peninsula chapter of the Canadian Federation of University Women, who donated an additional $1,000 to this award in memory of one of their members, local artist Margaret Little—we were able to present awards to two students this year.
Our first award went to Visual Arts student Tori Jones for her work organizing (Un)Expected, an undergraduate exhibit held at Sidney's ArtSea Community Arts Council Gallery in May 2022. With less than two-month's notice, Tori was able to coordinate 13 Visual Arts students to curate, hang and run what was, for most of them, their first off-campus exhibit; this not only offered these students an opportunity to connect with the community at large, but also provided invaluable "real world" experience in working with a community art gallery.
Our second award went to School of Music voice student Isolde Roberts-Welby for her continued work with the Victoria Children's Choir. Isolde began singing with the VCC when she was just 10 years old; now, a decade later, she continues to perform with them and has also taken on leadership roles by conducting, teaching and leading sectional rehearsals. Indeed, her work with the Victoria Children's Choir has directly led to her current position as a choral scholar at Christ Church Cathedral and a soloist with the likes of CappriCCio Ensemble, Victoria Philharmonic Choir and the international Pacific Baroque Festival.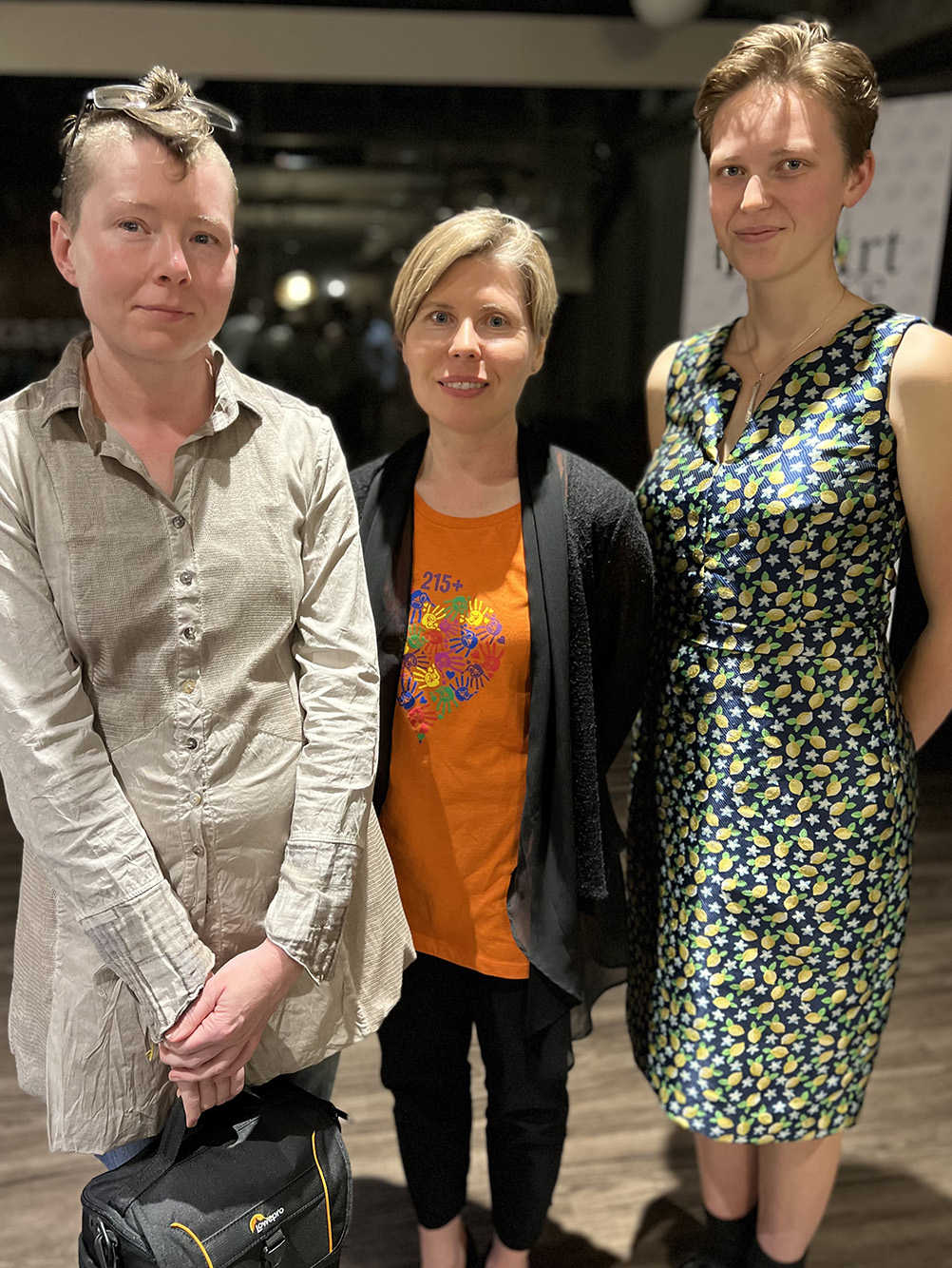 Dean Allana Lindgren with Tori Jones (left) & Isolde Roberts-Welby
Alumni recipients
In addition to these awards, three Fine Arts alumni received recognition at the GVRAAs as well: a great reminder about the role Fine Arts continues to play in Victoria's creative community. Congratulations go out to:
Andrew Barrett (Impulse Theatre) on winning the $3,000 City of Victoria Creative Builder Award
Mercedes Bátiz-Benét (Puente Theatre) on winning the $2,000 PARC Retirement Living Mid-Career Artist Award
Chelsea Kutyn (School of Music, not present) on winning the $2,000 John Mears Achievement in Music Award

Blue Bridge Repertory Theatre

—represented by

Rebekah Johnson

(Theatre) & Department of Theatre professor

Brian Richmond

—on winning the $15,000 JAYMAC Outstanding Production Award for their production of

Betrayal

by Harold Pinter.
Read more
about our 2021 winners:
Kyla Fradette
 (Music), 
Alison Roberts
 (Theatre) and 
Dani Neira
(AHVS).