The Lafayette String Quartet (from left): Joanna Hood, Ann Elliott-Goldschmid, Sharon Stanis, Pamela Highbaugh Aloni
While they've long been considered stars in the world of classical music, UVic's Lafayette String Quartet are now officially astronomical, thanks to the newly named asteroid (613419) Lafayettequartet.
Longtime LSQ follower Dr. James Hessler—director emeritus of Victoria's Dominion Astrophysical Observatory—wanted to mark the recent announcement of the quartet's forthcoming retirement in 2023, so he approached Western University professor Paul Wiegert, discoverer of an as-yet-unnamed asteroid orbiting between Mars and Jupiter, who then proposed 613419's new name to the International Astronomical Union.
"We got an email about it from someone at the Vatican Observatory just before a concert and thought it was a hoax . . . but it was, in fact, true," says LSQ violist and School of Music professor Joanna Hood. "After we told the audience about it, we got a very long round of applause!"
Hessler says it was his admiration for the LSQ that inspired this unusual honour. "Throughout their decades of wondrous music-making at the University of Victoria, my wife and I have marveled at the Lafayette String Quartet," he says. "Largely through their concerts—and those of their students—our knowledge of the richness of string quartet literature has developed into a real passion . . .  when I learned last year of their decision to retire after their 35th year, I imagined and hoped that their brilliant careers would be recognized widely."
Western University's Wiegert—a world expert on small bodies in our solar system—then "generously and enthusiastically agreed" with the idea of naming one of the asteroids he'd discovered in the Quartet's honour and proposing that to the IAU, says Hessler.
While undoubtedly their most out-of-this-world achievement, the LSQ has other, more earth-bound events planned to celebrate their final year as the world's only all-female string quartet with all-original members.
Up first is the 17th (and last) Lafayette Health Awareness Forum on October 6—appropriately enough, titled "Our Planet, Our Health"—followed closely by a faculty concert with guest clarinetist James Campbell on October 20. ("They are never less than amazing," says Campbell, who has known the LSQ since he first performed with them in 1988.)
Another legacy project is their commissioning and premiering of six new works by women composers—five Canadian and one British—including this month's performance of "For Fragile Personalities in Anxious Times" by Ottawa-based Kelly-Marie Murphy, which the LSQ will debut on October 20 with Campbell. Add in three further on-campus concerts (November, February, March) and more than a dozen out-of-town dates, plus their final Quartet Fest West student intensive in June, and the quartet is looking at an extremely busy and productive creative year before their gala retirement performance in August 2023.
"We could never have dreamed of the adventure we've had over the past 35 years," says LSQ cellist Pamela Highbaugh Aloni. "We've really had a great run."
Given all the activity in the LSQ's final year, the International Astronomical Union citation for their asteroid now seems entirely appropriate: "The Lafayette String Quartet have mentored countless students to musical excellence, while championing contemporary music in concerts worldwide alongside mastery of the most demanding classical repertoire."
Next time you're looking at the night sky, cast a glance just beyond the orbit of Mars, where (613419) Lafayettequartet can be found nearby its asteroid belt neighbour (150145) UVic—two of the most stellar accolades for both the university and the internationally acclaimed School of Music faculty members.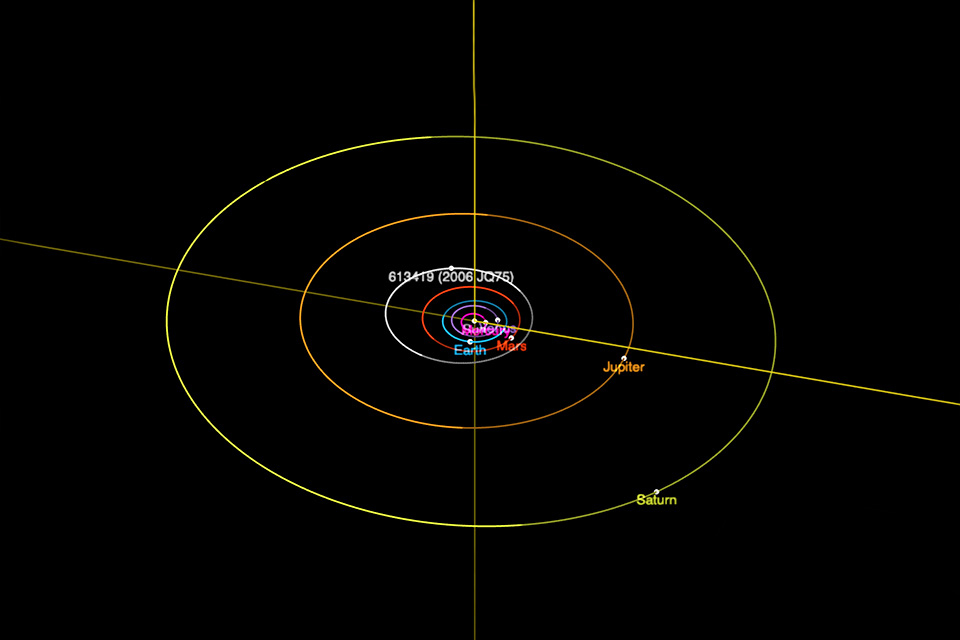 The location of asteroid (613419) Lafayettequartet