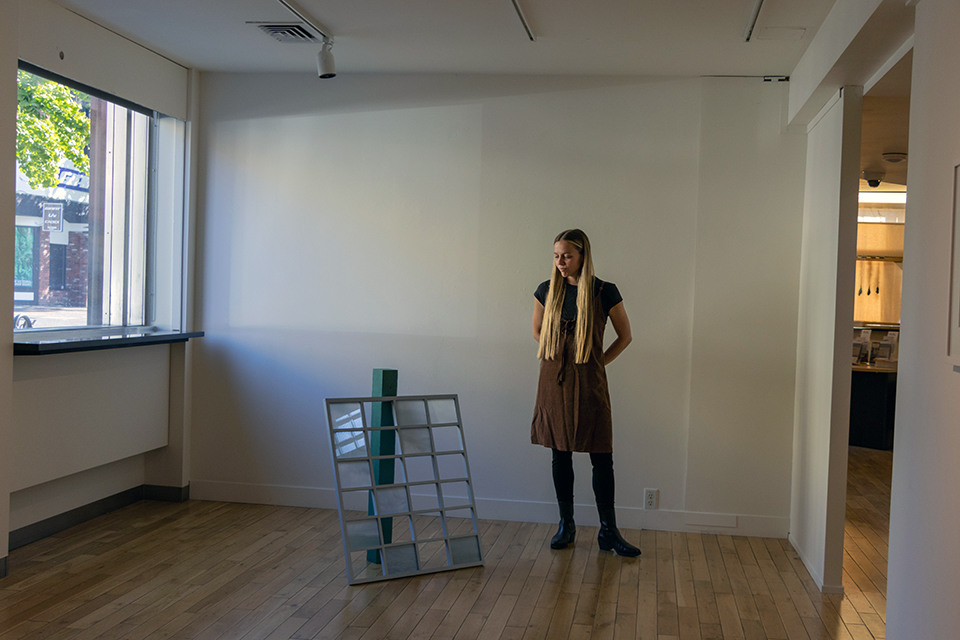 Alum & instructor Danielle Proteau with her piece in the exhibit (photo: Tori Jones)
Walk onto any pier and you'll find yourself supported over a fluid environment. Work alongside a peer in visual arts and you'll find yourself similarly supported in a creative environment. Such is the central metaphor behind Piers, the new Department of Visual Arts faculty exhibit running until December 22 at UVic's downtown Legacy Gallery. 
A group exhibition by 18 artists spanning generations, nationalities and backgrounds, Piers showcases contemporary artwork ranging across media that explores how artists' practices change through teaching, learning and mentorship. But it also explores how the practices of artists working within the visual arts department extends beyond campus in relation to teaching and learning.
"Artists who work in the visual arts department—whether as faculty, sessional instructors or staff—were invited to place their practice in dialogue with that of a past student or mentor," explains exhibit curator Kim Dhillon, a former instructor in the department. "Nine artists selected an artist to show alongside, someone whose work influenced their own through the course of teaching and learning."
The exhibit features contemporary painting, sculpture, video and photography by visual arts professors Cedric Bomford, Megan Dickie, Laura Dutton, Daniel Laskarin, Jennifer Stillwell, Beth Stuart and Paul Walde; instructor Danielle Proteau, staff member Hollis Roberts, and alumni Katie Bethune-Leamen, Christopher Lindsay, Evan Locke and Lauren Brinson. Other participating artists include Yan Wen Chang, Annika Eriksson, James Legaspi, Arlene Stamp and Grace Tsurumaru.
The selection was left up to the individual: professors Paul Walde and Cedric Bomford, for example, chose to showcase their own former teachers (Arlene Stamp and Annika Erikson), while professors Megan Dickie and Daniel Laskarin are paired with alumni who now work for the department: facility & production manager Hollis Roberts and sessional instructor Danielle Proteau, respectively.
In Piers, a dialogue occurs between the artworks by Laskarin and Proteau to connect ideas about art as "ghosts"—something that is both there and not there—as well as the process of removal as a way of discovering. As Proteau notes, while there is a material connection in their practices—both work in sculpture and photography—there is also a philosophical similarity in how they explore presence and absence through a process of reconstruction. "Both of our practices crack open ways of knowing, broadly speaking," she says.
Of Proteau's practice, Laskarin says, "I feel a shared affinity for what is not quite there, that is just out of sight or beyond the grasp of accountability—that which exceeds us."
Dickie was nominated for this exhibition by Roberts, her former student. Both have created tactile pieces and both share a sense of loss with the work they've chosen to display.
"The two sculptures we submitted deal with the intimacy of relationships, with both people and materials," explains Dickie. "Both Hollis and I produced these works as a way to work through our grief: Hollis created her weaving while her Dad was sick and I created my button sculpture soon after my partner passed away. I can't speak for Hollis, but I feel like both of us needed the repetitive work as a purpose to keep going, keep moving and feel like there was something in our control."
Roberts agrees. "I found that the repetition of weaving was a way to make the chaos I was experiencing surrounding my dad's illness tangible," she says. "It was cathartic, rhythmic and it made space for my thoughts to ruminate both before and after my dad's passing."
It's also no coincidence that the genesis for Piers came out of the COVID era, when campuses and shared spaces like studios and classrooms were temporarily closed. As curator Dhillon notes, while some benefits arose from the shift to online learning—specifically in the areas of accessibility and flexibility—many artists and students also felt a loss of connection.
"Making this exhibition has been a process of exchange and dialogue for artists to connect again with students or teachers who have influenced their own practices over the course of their careers," she says.