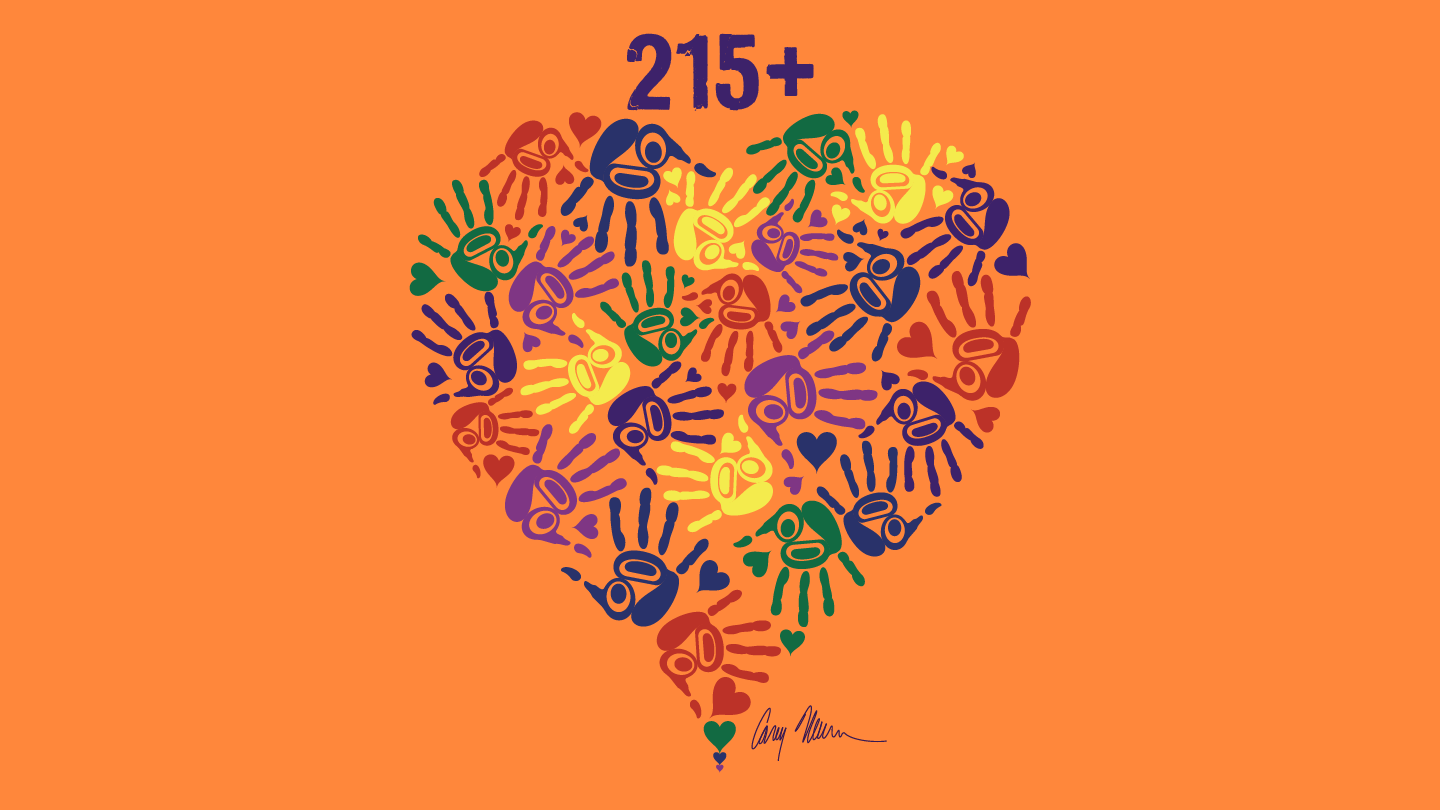 Artist Carey Newman Hayalthkin'geme (Kwakwaka'wakw/Coast Salish) on "Hearts and Hands"
UVic is committed to reconciliation. We're working to foster truth, respect and mutual understanding with all Indigenous peoples and communities. You can partner in the work of reconciliation by listening, learning and sharing on
Orange Shirt Day
.
The theme of this year's Orange Shirt Day event is resurgence. Resurgence means to reclaim, regenerate and reconnect one's relationship with Indigenous homelands, culture and community.
Faculty, staff, students, alumni and community members are invited to attend campus Orange Shirt Day events on Thursday, September 29 in the quad. You are welcome to drop in and stay for as long as you are able.
The university will be closed and the university flags lowered on September 30 to mark the National Day for Truth and Reconciliation, a federal statutory holiday to honour the lost children and survivors of residential schools, their families and communities.
Schedule of events
Emcees: Dr. Jacquie Green, executive director, Office of Indigenous Academic and Community Engagement, and Mercedes Neasloss
9 a.m. Lighting of the Sacred Fire
9:30 a.m. Opening remarks
With Eugene Sam and Christine Sam, Songhees Nation
opening blessing
welcome to the Territory
singing and drumming
calling of the Witnesses
9:50 a.m. Significance of the Sacred Fire with Ry Moran, associate university librarian, Reconciliation and co-chair, Orange Shirt Day committee
10:05 a.m. Survivors share their reflections
Speakers: Eddie Charlie, Karla Point, Mark Atleo and Laura Manson
11:45 – 12 p.m. Witness reflections
1 – 2 p.m. Open dialogue on resurgence
moderator: Dr. Heidi Stark, associate professor, Indigenous Governance and director, Centre for Indigenous Research and Community-Led Engagement at UVic
panelists: Dr. Sarah Hunt, assistant professor in Environmental Studies & Canada Research Chair; Dr. Sarah Morales, associate professor, Faculty of Law; Dr. Gina Starblanket, associate professor in School of Indigenous Governance; and Andrew Ambers, 4th year Political Science and Indigenous Studies student
2 – 2:30 p.m. Closing remarks and closing prayer
About the design
The design for the t-shirt was created by Fine Arts Impact Chair in Indigenous Art Practices Carey Newman Hayalthkin'geme (Kwakwaka'wakw/Coast Salish).
"This design was made to honour the children who died in residential school. The hearts express love for all those in unmarked graves and compassion for the families and communities who waited for them to be found. The small and colourful hands remind us of the uniqueness and beauty of every child. Taken together, they represent our commitment to listen to our hearts and use our hands, to do the work that needs to be done," says Newman.
"The visceral confirmation of Survivor accounts that has come from locating these graves has affected many of us on an emotional level. It has changed the way that many people think and feel about our histories and current realities in Canada."
If you would like to support Orange Shirt Day initiatives, please consider making a $25 donation directly to the Elders Engagement Fund, Witness Blanket Project or Orange Shirt Society.