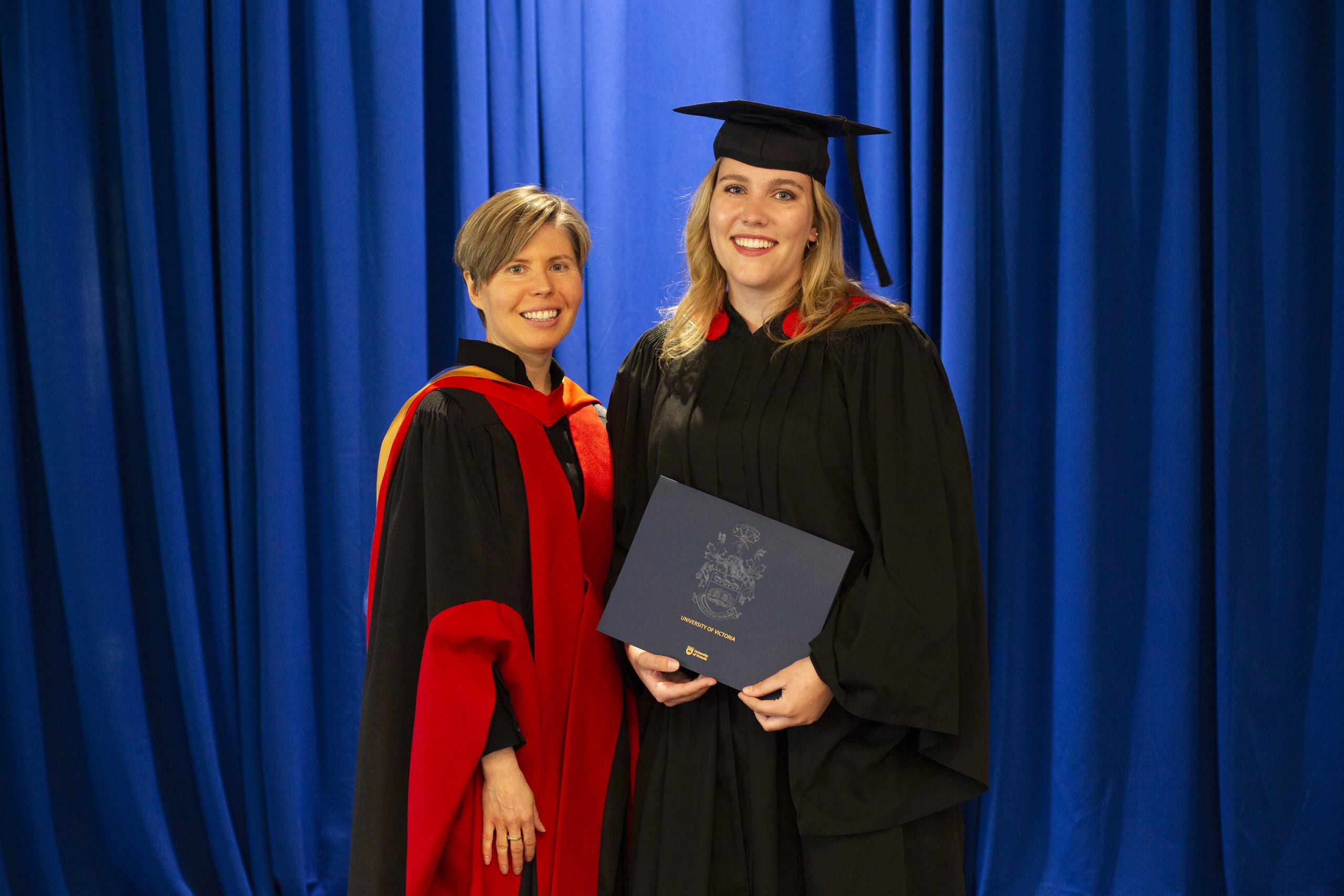 Caitlin Wareing-Oksanen with Dr Allana Lindgren, Dean of the Faculty of Fine Arts 
Students come to UVic for a variety of reasons: some because it's close (or far) from home, others because of a certain program or faculty member. For outstanding Art History & Visual Studies student Caitlin Wareing-Oksanen, UVic had a different appeal when she first heard about it from a recruiter at her Comox high school on Vancouver Island.
"UVic honestly seemed more fun than the other BC universities," she recalls. "The recruiter talked about having glow-in-the-dark dodgeball, which was a major selling point for me."
But while Wareing-Oksanen may have come for the fun, she's leaving as the best in her class: as the recipient of the undergraduate Victoria Medal, she graduates with the highest GPA in the entire Faculty of Fine Arts.
"I cried when I found out about the award," she recalls. "I got an email from the Dean saying she wanted to meet with me and I thought I was in trouble. It was very overwhelming, but incredibly touching: it felt like all my hard work was really coming together."
A vibrant intellectual curiosity
AHVS professor and Associate Dean of Fine Arts, Dr. Eva Baboula, wrote the award citation for Wareing-Oksanen that was presented at convocation on June 15.
"Some students stand out for their academic talent, potential and personal fortitude," noted Baboula. "Cate brought a vibrant intellectual curiosity to each one of her classes. An experienced traveler with a keen eye for intercultural connections, she is a model community builder and natural leader, and has become an ideal ambassador for the study of art history."
Not only was Wareing-Oksanen a top grade-earner, but she also
All of which is doubly remarkable, considering she left UVic after her first year to care for her mother, who had been diagnosed with terminal cancer. "When I came back, the faculty was so supportive," she recalls. "Professors welcomed me and remembered my name."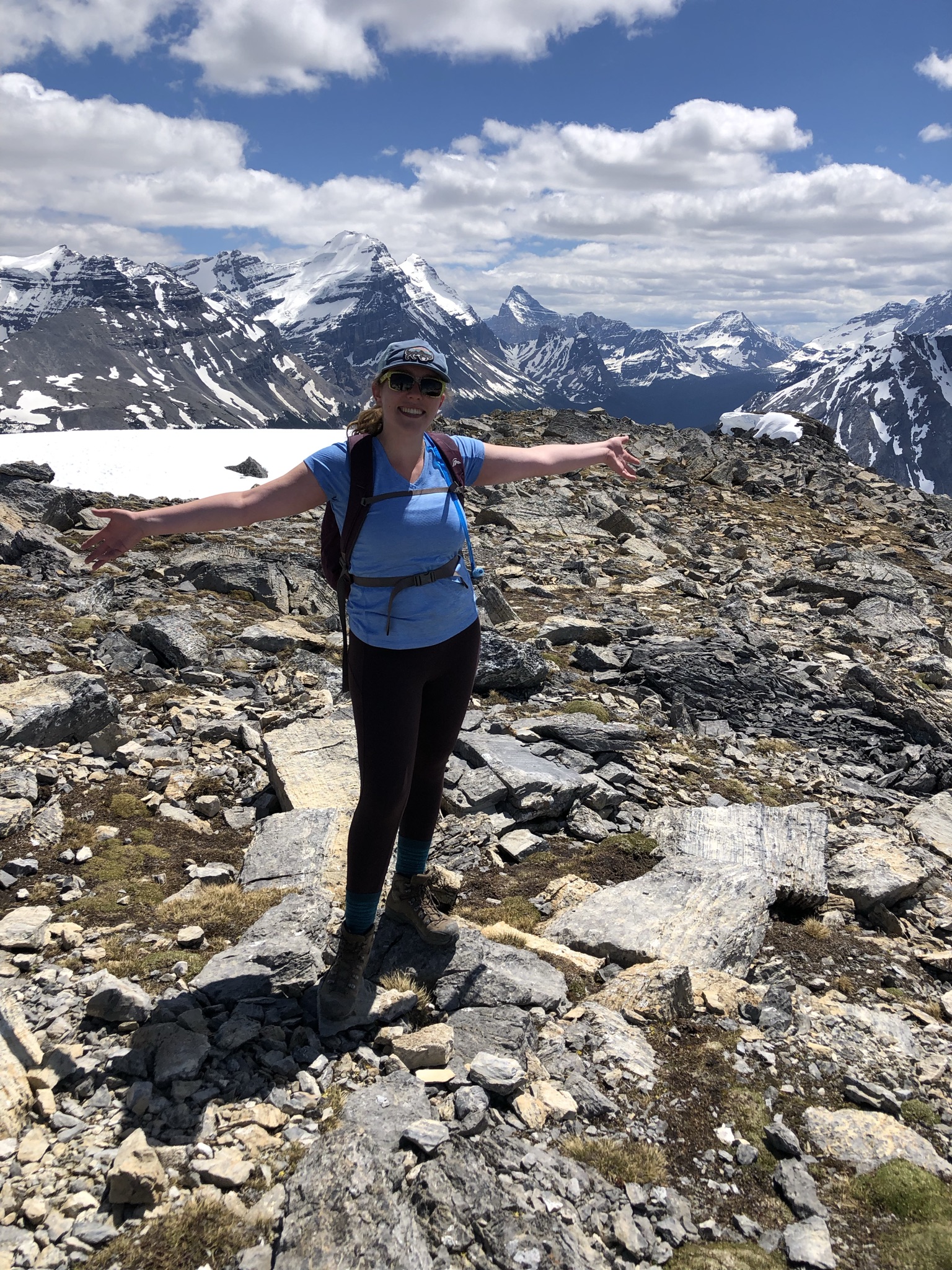 A great place for a co-op job!
One elective can change your life
While she entered UVic unsure of the specific direction her studies would take, Wareing-Oksanen quickly realized AHVS was the place for her after signing up for one art history elective in her first year of general studies—taught, in fact, by Dr. Baboula.
"I feel so lucky to have had her as my first instructor," she says. "She sold me on art history right away. She was engaging and interesting, and she really encouraged the insights of all her students . . . I realized this was a department that was encouraging of questions and was interested in helping you find the answers, wherever they may lead."
Her experiences in the department and position as an events and engagement assistant at the AGGV led her to realize the importance of breaking down the perceived barriers of museums and art galleries. "So many people say they don't understand art, but they engage with images on Instagram all the time," she says. "When you digitize art collections and make them available online, it helps people can connect on an emotional level in their own space."
The future looks bright
After being offered post-graduate placements in multiple prestigious institutions in both Canada and the UK, Wareing-Oksanen has accepted a place at the University of Edinburgh to study for a Master's in Global Premodern Art. While it was flattering to have multiple graduate offers, she feels the U of E was ultimately the right program for her.
"This is a way of pushing myself outside of the Eurocentric narrative. It's so important that we look at art history through more than just a western lens. We need to look at world art history not just as examples but as having their own canon in the context of their own cultures."
Following her Master's, Wareing-Oksanen hopes to work in the UK before embarking on a planned PhD. "I'd like to get more curatorial experience, work towards getting people more engaged with art," she says.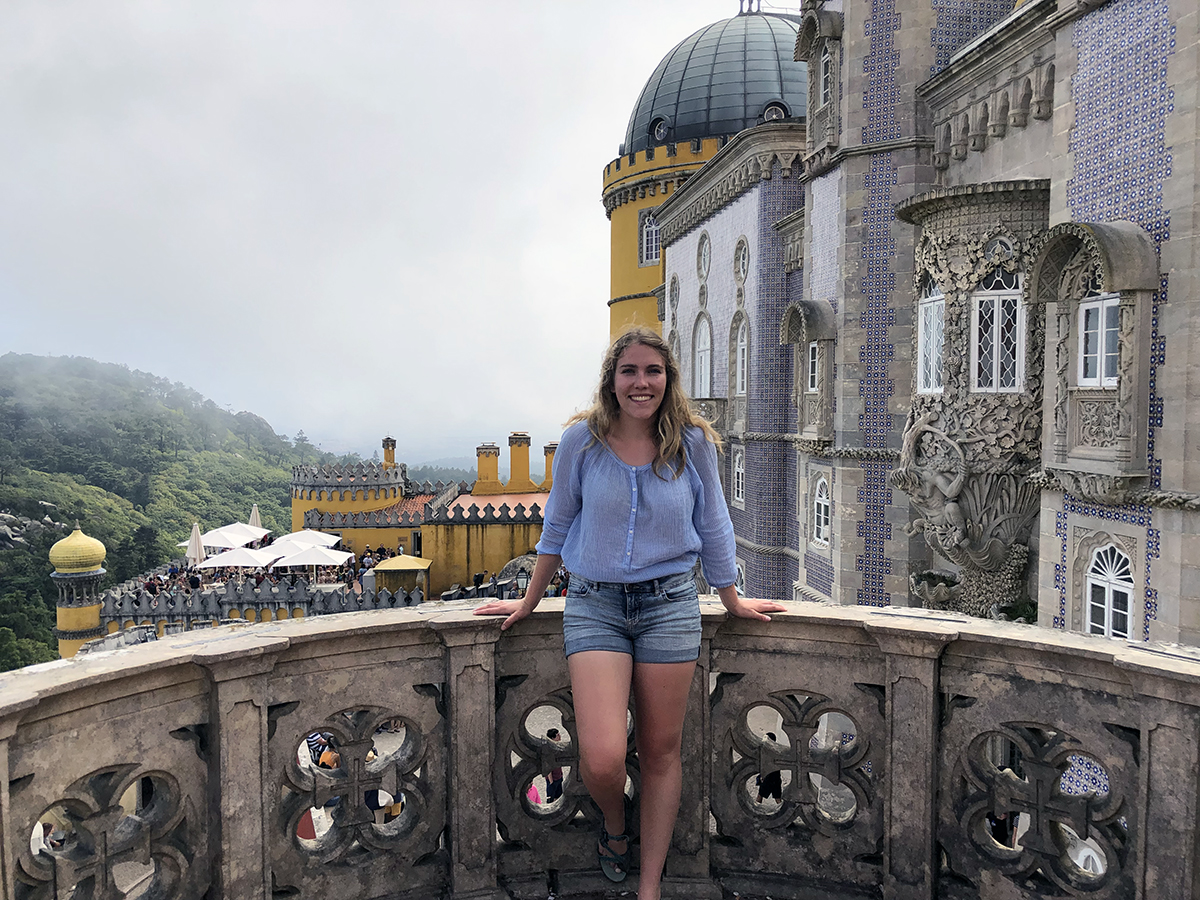 Wareing-Oksanen in Portugal
The last word
Looking back on her time at UVic, does she have any advice for future students? "Always ask your professors for help: 10 minutes at office hours can make all the difference. It's important to build a relationship with them, so they know who you are."
Finally, only one question remains: did she ever play glow-in-the-dark dodgeball?
"No," she says with a bright laugh. "I was too busy studying!"