As we wind down a(nother) year of unprecedented firsts, it is with gratitude and awe that we look back on the student accomplishments, faculty successes, new appointments and visiting scholars who made 2021 memorable. Read on to see some of the things that kept our year bright even in these often trying times.
New Impact Chair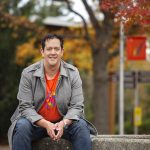 Most recently, Fine Arts was proud to announce that we are now home to one of just four new Impact Chairs positions at UVic. With a deep understanding of art's power to inspire change and a teaching style that embraces cultural learning, Carey Newman brings his passion for decolonization and Indigenous resurgence to his new appointment as Impact Chair in Indigenous Art Practices in both the departments of Visual Arts and Art History & Visual Studies.
Learning with others
"There's something quite sacred about listening and working with your hands at the sametime." Award-winning poet, memoirist and Writing professor Gregory Scofield—also a traditional Cree-Metis beadworker— connects traditional beadwork and writing through his creative practice and teaching. All of this unites in Scofield's course on Indigenous women's resistance writing and material art, which combines hands-on learning in traditional Cree-Metis beadwork with readings, films and writing practice centered on resurgence and resistance.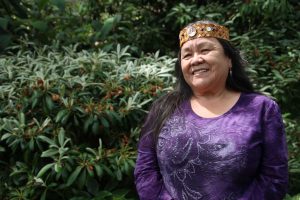 And in July, Fine Arts welcomed Karla Point as the new Indigenous Resurgence Coordinator, and we couldn't be happier. Here's what Karla had to say about it, "When I was a cultural support liaison with Law, I was 'Aunty Karla' for the Law students—so I'd love to be Aunty Karla for all the Fine Arts students."
Transformational theatre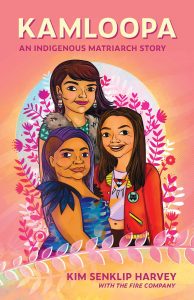 Eurocentrism in theatre continues to be one of the most pressing artistic issues of our time, whether on professional stages, community performances or academic institutions. Enter the Theatre department's new initiative, Staging Equality—which offers a vision of how theatre can address issues of race, diversity and inclusion by building relationships based on trust and respect. Created out of the Strategic Framework Impact Fund, Staging Equality is a three-year collaborative and creative research project devised by Theatre professors Yasmine Kandil and Sasha Kovacs.
Graduate achievements
On June 1, Syilx & Tsilhqot'in playwright & director Kim Senklip Harvey became the first Indigenous woman to win the Governor General's Literary Award for Drama for her play Kamloopa: An Indigenous Matriarch Story (Talon Books)—less than a week after receiving her MFA in Writing from our Writing department. The widely acclaimed play then received a staged reading at Phoenix's Chief Dan George Theatre in November.
In September, Theatre PhD candidate Dennis Gupa premiered his Gossip with Whales, a unique choral collaboration which seeks to give voice to those most affected by climate change on the oceans. It was created while Gupa was Artist in Residence with Ocean Networks Canada.
Making music matter
In November, the School of Music's AUDIO+ held its second annual event to advance the integration of women and non-gender conforming persons into the male-dominated realm of audio engineering. With exciting events including a build-your-own-synthesizer workshop and strong student participation, we hope this is the start of a new tradition here on campus.
Along similar lines, School of Music students highlighted marginalized voices during UVic's 5 Days of Action this fall, with the hopes of bringing awareness to EDI-related challenges faced by both musicians and music institutions.
Student accomplishments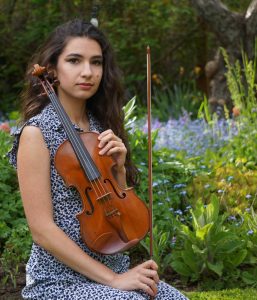 School of Music undergraduate Iryna Peleshchyshyn received the gift of a lifetime this past year when she was given the opportunity to play a treasured 18th century violin during her degree program. The French violin—crafted in 1748 and valued at nearly $35,000—was donated to UVic by well-known local violinist Trudi Prelypchan, who knows a thing or two about being a young violinist: at just 16, she began playing with the Victoria Symphony in 1964.
In other departmental news, Visual Arts was able to launch its long-awaited and newly upgraded Photography Lab this summer thanks to the help of UVic's Capital Projects and our donors.
Changing climate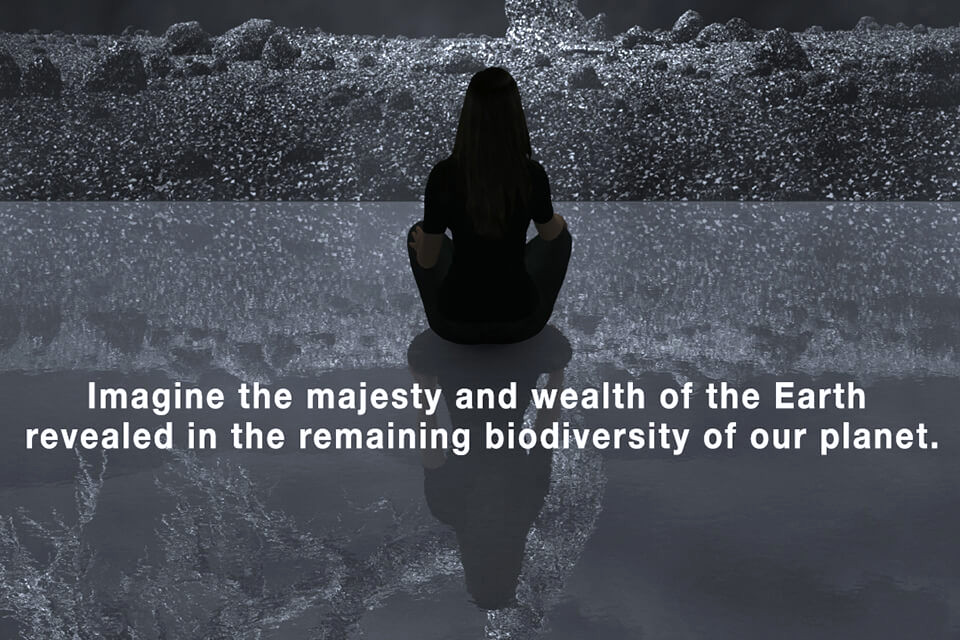 While we are all aware that there is a climate crisis and there's not enough happening to stop it, the appointment of Sean Holman as the new Wayne Crookes Professor in Environmental and Climate Journalism to help change the narrative around climate change.
And back in June, Visual Arts professor Kelly Richardson brought her environmental vision to the world when she was selected as one of six international artists by the UN Convention on Biodiversity to participate in the Instagram takeover of @withnature2020.
Guest speakers
Fine Arts was fortunate to host a remarkable range of guest speakers this past year, most hosted by our long-running Orion Lecture Series and many of which are still available for viewing on our Orion playlist. Guests range from celebrated nonfiction author JB MacKinnon, who explored society's problematic relationship with consumerism, to musical scholar Gayle Young, who offered a unique workshop on microtonality and tuning. Notable among our many other speakers were Islamic curator Fahmid Suleman, multidisciplinary painter Manuel Mathieu and Indigenous actor Gary Farmer, to name but a few.
Online exhibits
Plays and concerts weren't the only things to shift online: this year also saw the annual BFA exhibition shift into an online virtual reality walkthrough format. "Any limitations have only inspired innovation," noted supervising Visual Arts faculty member Jennifer Stillwell. The exhibit, titled The End, proved that even a pandemic can't keep art down as 30 graduating students filled much of the Visual Arts building with their creations.
Livestream and live performances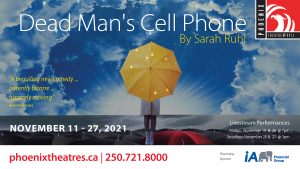 Last March, Problem Child became the sole public main stage production of the 2020/21 Phoenix Theatre season due to COVID—prompting a major technological shift as students learned to live stream their first major production. But this fall saw audiences return to the Phoenix Theatre mainstage with a production of the highly entertaining Dead Man's Cell Phone — with more to look forward to in spring 2022.