Looking for a good example of the interdisciplinary impact of Fine Arts alumni on the local arts scene? Consider the recent CRD Arts Champion Summit held in December, which included presentations by a wide range of our alumni including Mercedes Bátiz-Benét (Writing), Lindsay Katsitsakatste Delaronde (Visual Arts), Sarah Jim (Visual Arts), Regan Shrumm (AHVS) and Tiffany Tjosvold (Theatre).
But that's just one event our alumni have been involved with. Read on to discover much more alumni activity this fall.
Art History & Visual Studies
Dorian Jesse Fraser was featured as part of the Alumni Relations webinar Pop Goes The Art! on Oct 19, which was hosted by AHVS chair Marcus Milwright and featured Legacy Gallery's Caroline Riedel. The webinar was part of the current Legacy Maltwood exhibit Eric Metcalfe: Pop Anthropology, a career retrospective of 2021 honorary doctorate and Visual Arts alum Eric Metcalfe. Fraser was also interviewed in the fall issue of The Torch, UVic's alumni magazine.
Laura-Beth Keane led the creation of Giving Tuesday's "Add Sprinkles" sculptural installation in UVic's quad. The creation of this brightly coloured installation was assisted by current AHVS Masters candidate Sophie Ladd and Museum Studies minor Jade Guan, along with four other community volunteers.
There's plenty of alumni now at Open Space arts centre, where Amena Sharmin is the new operations manager, Dani Neira returns as the curatorial assistant, and India Rael Young has taken up the position of acting board president.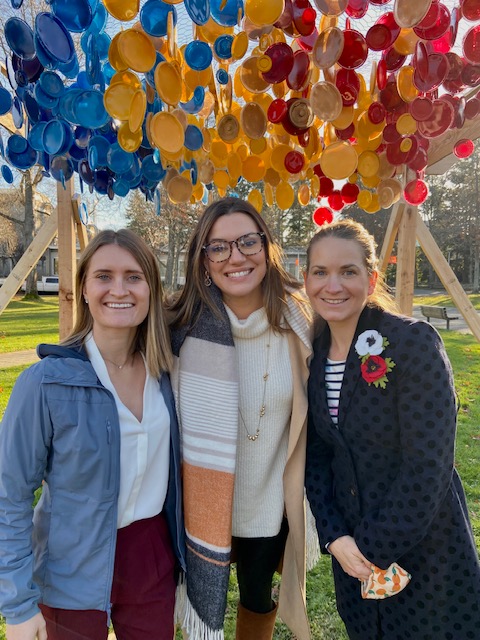 Sad news, however, in the loss of former sessional and MA/PhD alum Dr. Gillian Mackie, who recently passed away at the age of 90. A scholar of Early Christian art and iconography, Mackie's PhD thesis won her the Governor General's gold medal and her book Early Christian Chapels in the West is a standard reference. She was also an accomplished potter and some of her stoneware and porcelain pieces are in the permanent collections of the Art Gallery of Greater Victoria and the UVic Art Collection.
School of Music
Marion Newman has been named the new host of CBC Radio's venerable Saturday Afternoon at the Opera. Following the retirement of longtime host, Ben Heppner, A mezzo-sporano Newman who recently appeared in Pacific Opera Victoria's Missing. Now based in Toronto, Newman—a member of the Kwagiulth and Stó:lo First Nations—is the sister of Impact Chair Carey Newman.
Distinguished Alumna and celebrated pianist Eve Egoyan returned to campus this fall to work with students and present a guest lecture about recent piano projects involving a physical modelling synthesizer, which she also demonstrated.
UK-based composer Cassandra Miller has just been signed to an exclusive publishing agreement with Faber Music, while clarinetist Heather Roche has remained active with performances despite the pandemic, including this recent interview in The Guardian.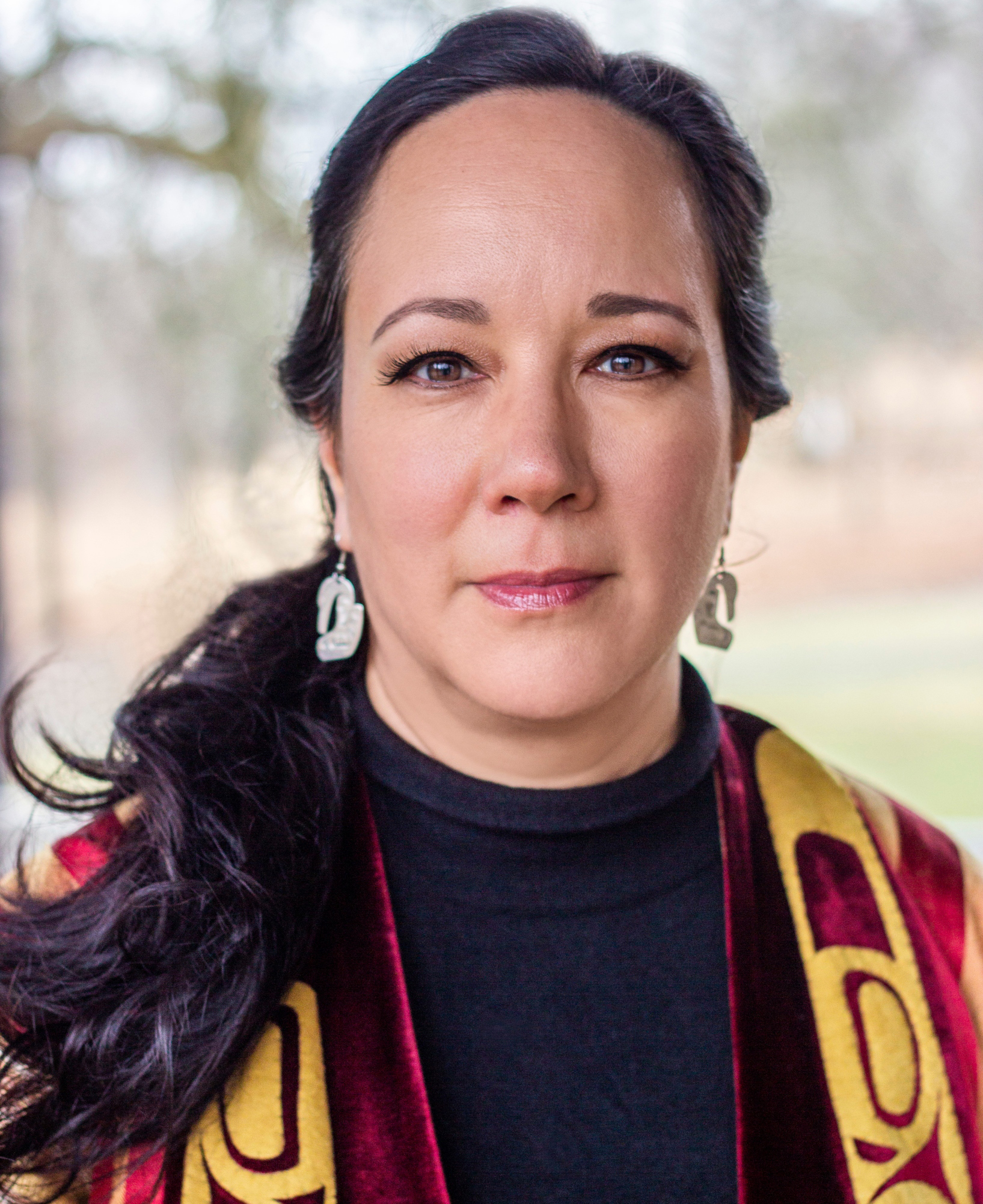 Nashville-based recording artists and Distinguished Alumni Twin Kennedy—aka Carli and Julie Kennedy—returned to Victoria for a pair of holiday fundraising concerts with the Naden Band of the Royal Canadian Navy at the Royal Theatre in December. Twin Kennedy were also featured on CBC Radio's All Points West in October, speaking about their latest EP and making a life in music; in other Twin Kennedy news, their recent production Wise Woman – The Show was shortlisted for the 2021 Canadian Country Music Awards in the "Country Music Program/Special of the Year" category.
Tenor Josh Lovell recently won the s'hertogenbosch Competiton in the Netherlands and the Belvedere Competition in Germany, and was the only Canadian to make it to the semi-finals of the Rolex Operalia competition in Moscow. Tenor Kaden Forsberg was a finalist in the 2021 Lotte Lenya Competition in New York City. Kaden also recently appeared in Victoria with Pacific Opera Victoria's summer series (and has been a regular with the company since 2014). Forsberg has also started his own group, the Volare Tenors, with fellow alum Taylor Fawcett.
Theatre
In one of those fascinating change-of-life stories, actor-turned-bread-man Markus Spodzieja has opened The Bikery, Victoria's first kosher bakery.
Morgan Gadd's new production of Dog Sees God took the stage at Theatre Inconnu this December, and was covered in this recent Martlet article—which notes how Gadd met Inconnu artistic director and longtime sessional Clayton Jevne while enrolled in Theatre. This production also features current student Tianxu Zhao in the cast.
Nicholas Guerreiro was shortlisted for the Playwrights Guild of Canada 2021 Emerging Playwright Award for his new play, Green Knight on the Frog River, which was also recently published by the PGC.  In related news, director & playwright Nicole Natrass was shortlisted for the PGC's Bras D'Or Award
Leslie Bland recently rebranded the company he shares with Indigenous cultural archeological monitor Harold Joe under the new name/ brand Orca Cove Media. The story was picked up by both Deadline (US) and Playback (Canada). Their latest documentary, A Cedar Is Life, was featured in this recent article in the Ladysmith Chemainus Chronicle.
Ian Case directed the play The Shadow in the Water by David Elendune as part of the 2021 Victoria Fringe Festival.  Other Theatre alumni who were involved with productions in this year's Victoria Fringe Festival include Zoë Wessler, Emma Newton, Arielle Permack, Kapila Rego, Rahat Saini, Nicholas Guerreiro, Cam Culham, Connie McConnell, Melissa Taylor, Andrew Fraser, Logan Swain, Nicholas Atkinson, Shayla Pready, Conor Farrell, Kevin Eastman and Jim Leard, plus Visual Arts alum Kara Flanagan.
Visual Arts
 While it's not necessarily where you'd expect a Visual Arts alum to pop up, Amy Anderson is the new film programmer for UVic's venerable movie theatre Cinecenta. She was interviewed in the fall issue of the Torch on the occasion of Cinecenta's 50th anniversary.  
Congratulations go out to Jordan Hill on being named a runner-up in the 2021 Philip B. Lind Emerging Artist Prize in September; one of 17 finalists nominated this year—including Visual Arts alumni Levi Glass and Graham Wiebe—Jordan wins $1,500 as a runner-up.
Lindsay Katsitsakatste Delaronde participated in a webinar panel discussion on the State of the Arts in Greater Victoria in October, and also presented MOTHER – An Afternoon of Ten Short Films at the Belfry Theatre. Featuring a variety of Indigenous performers and performance, all these films were inspired, enacted and created on the land and waters of the lək̓ʷəŋən and W̱SÁNEĆ territories.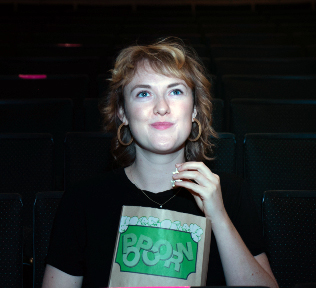 Amy Anderson (photo: Michael Kissinger)
Ireland-based Enda Burke was featured in this August article in The Guardian, which focused on his award-winning series, "Homebound With My Parents"—where he transformed his COVID lockdown into a series of "wittily deadpan" dayglo images.
Duane Ensing was featured in this August Victoria News article about his involvement with the local architecture firm Villamar Design. "I feel as an artist or a creative person, I like to leave my mind open to the possibilities of doing something, even exploring things that I don't even know whether we can do it, but saying, let's explore the possibility," he says.
Writing
Congratulations to English/Writing alum Lise Gaston on winning the 2021 CBC Poetry Prize with her heartbreaking poem, "James" —which was selected out of 3,000+ entries! She wins $6K & a residency at the Banff Centre for Arts and Creativity. (If the name rings a bell, it's because she's another of the incredibly talented children of retired Writing professor Bill Gaston & author Dede Crane.)
Congrats are also due to Sara Cassidy on winning the 2021 Sheila A. Egoff Children's Literature Prize at the recent BC Yukon Book Prizes with her latest book, Genius Jolene, and to Susan Sandford Blades on winning the 2021 ReLit Award and being shortlisted for the 2021 BC and Yukon Book Prizes Ethel Wilson Fiction Prize for her first novel, Fake It So Real; she was recently interviewed by Capital Daily, as well as being featured on their podcast.
Professor emeritus Lorna Crozier's Through the Garden: A Love Story (with Cats) was one of the finalists for the $5,000 Victoria Book Prize this fall, alongside Kyeren Regehr (Cult Life). Also among the finalists for the $5,000 Victoria Children's Book Prize was Melanie Siebert (Heads Up: Changing Minds on Mental Health).
Michael LaPointe released his debut novel The Creep, and was interviewed for The Torch. Danielle Janess appeared at Planet Earth Poetry in October for an in-person reading from her new volume, The Milk of Amnesia; she also had fall readings scheduled for Olympia and Seattle.
Arno Kopecky has a new book, The Environmentalist's Dilemma: Promise and Peril in an Age of Climate Crisis, for which he was interviewed for this Tyee article. Kopecky is a frequently contributor to The Tyee, including this new piece about UVic atmospheric scientist and former BC Green Party leader Andrew Weaver.  Jenessa Joy Klukas has been named the new Education and Child Welfare Reporter for IndigiNews, following on her fellowship at The Tyee earlier this year.
Writing the Land, a new documentary series that arrived on CBC Gem last week, combines a travelogue concept with profiles of 12 of the country's top authors—including Esi Edugyan, who features in Episode 1. You can stream the complete series right now.
Recent Writing MFA and Governor General's Award winner Kim Senklip Harvey was featured in this Sept episode of the national CBC Radio show Q (skip to the 00:52 min mark). Harvey, now working on her PhD in Indigenous Law at UVic, was speaking about her new production Break Horizons: A Concert Documentary, as well as her work as an Indigenous playwright. As part of her GG win, Harvey was also commissioned to write G'waan, a new piece for CBC Books' "Moving Forward" series, which reflects on her Tsilhqot'in land work, childhood adventures and penchant for cream soda slurpees. Theatre's new Staging Equality series featured a staged reading of her GG winning play Kamloopa in November, and Harvey also wrote a first-person essay for the fall issue of the Torch.
Writing MFA alum Ellery Lamm presented her latest play this fall with Theatre SKAM's Young Company: The Fates also involved Theatre alumni Anna Marie Anderson, Olivia Wheeler and current student Riley Schaffner.
Busy film director Jeremy Lutter has released a new music video for local singer-songwriter Justin Hewitt. You can stream the lush "The Ways to Love You" here.