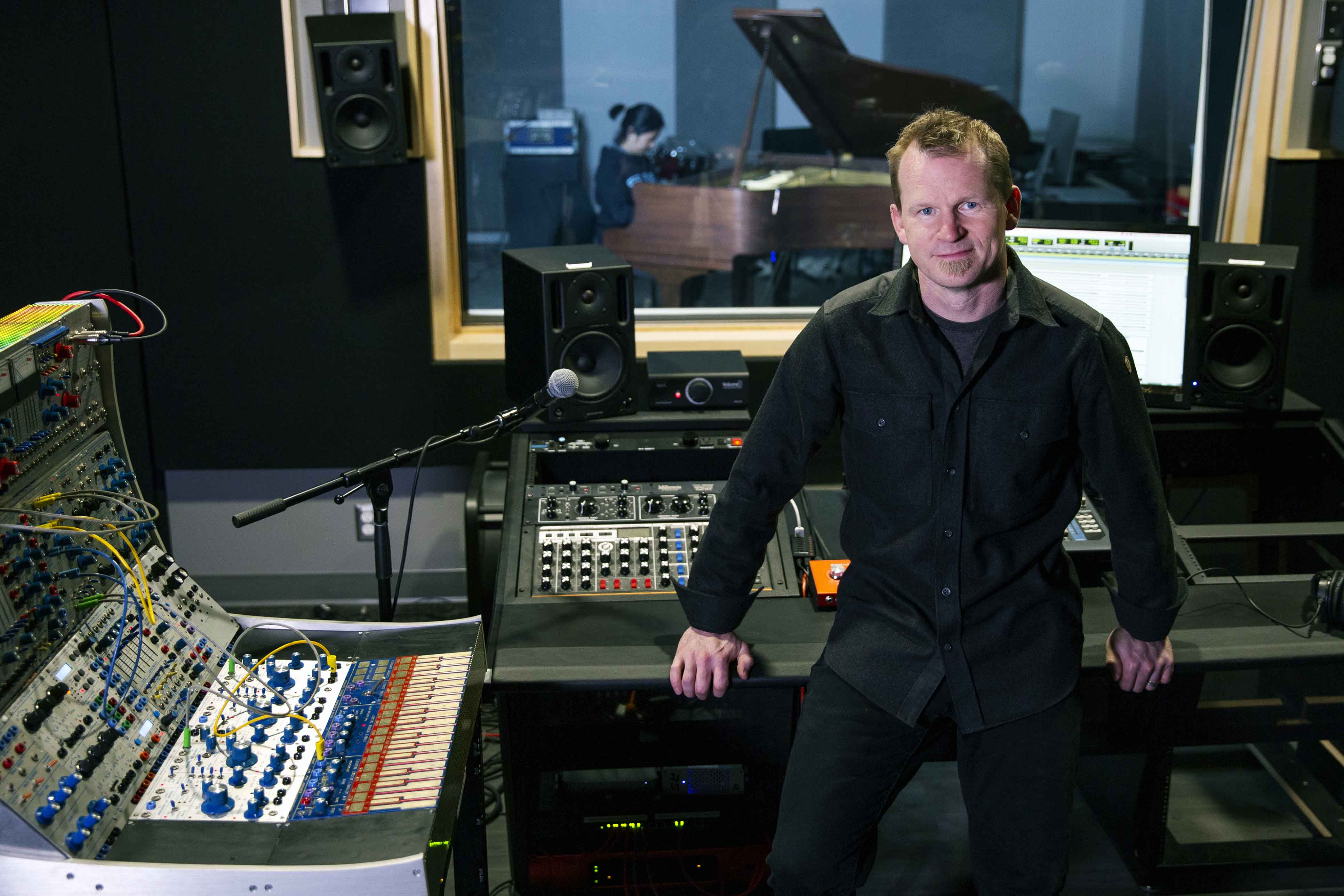 If you listen closely, you can hear the sound of change happening at the School of Music, thanks to AUDIO+ — a free, four-day workshop aimed at overcoming gender-, race- and class-based discrimination and inequalities in the field of music production and audio engineering.
"Only between two and five percent of people in the audio community are women or gender non-conforming," says UVic music technology professor and AUDIO+ co-organizer Kirk McNally.
"Those are atrocious numbers that don't exactly make this a welcoming field," he admits. "It's important to engage with people who, for whatever reason, might not otherwise connect with sound recording programs and audio research."
With that in mind, McNally and co-organizer Amandine Pras (University of York) received SSHRC funding to create AUDIO+ as a way of bringing together a mix of established audio engineer-scholars with students, artists, music producers and studio professionals.
Open & inclusive
Following up on a COVID-era online pilot project in 2020, AUDIO+ was conceived as a new, local initiative with a difference. "We wanted to start a new event that is built on a foundation of openness, inclusivity and non-hierarchical structure," he explains. "This is an opportunity to start on the ground floor and build—rather than correct—the way we program and engage with people."
In order to keep things nicely balanced, AUDIO+ is aiming for a 50/50 split between men, women and gender non-conforming guests. Presentations will be made by both early career professionals and students, with undergraduate students moderating roundtables with invited guests.
"It's really building on some of the work I've been trying to do here," McNally explains. "Formal training programs still see mainly guys in the room . . . the people getting the skills are predominantly male, so anyone else is still going to be a minority. Getting women engaged in our UVic program has been an ongoing goal."
Time's up for a gender shift
As a professional recording engineer who's worked with the likes of REM, Foo Fighters, Bryan Adams  and Sloan (to name a few), McNally clearly knows the industry—and its inherent biases—well. But he's been trying to change that through the School of Music's undergraduate music and computer science and graduate-level music technology programs.
"Interestingly, we are seeing more of a gender balance in our Masters in Music Technology program," he says. As a self-directed, research-based program' McNally hopes AUDIO+ will advance some of that research practice by bringing in women who are early career professionals. "It's a way of showing there's a pathway that isn't just about more dudes in the studio."
Consider the likes of 2019 MTECH graduate Kaitie Sly—now artist-in-residence with the 4DSound studio and a content specialist and podcast host/producer with music technology outfit Singdaptive—or recent guests faculty guests like music producer & engineer Amy King or veteran sound ecologist HIldergard Westerkamp.
"We've been trying to identify people who have made a name for themselves and build a career, and bring them here to UVic," says McNally.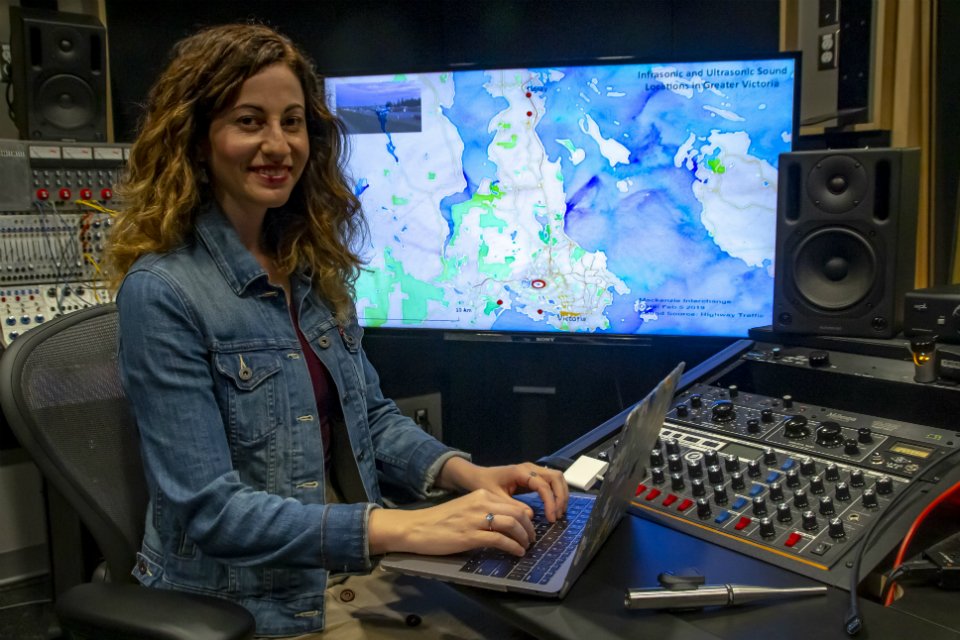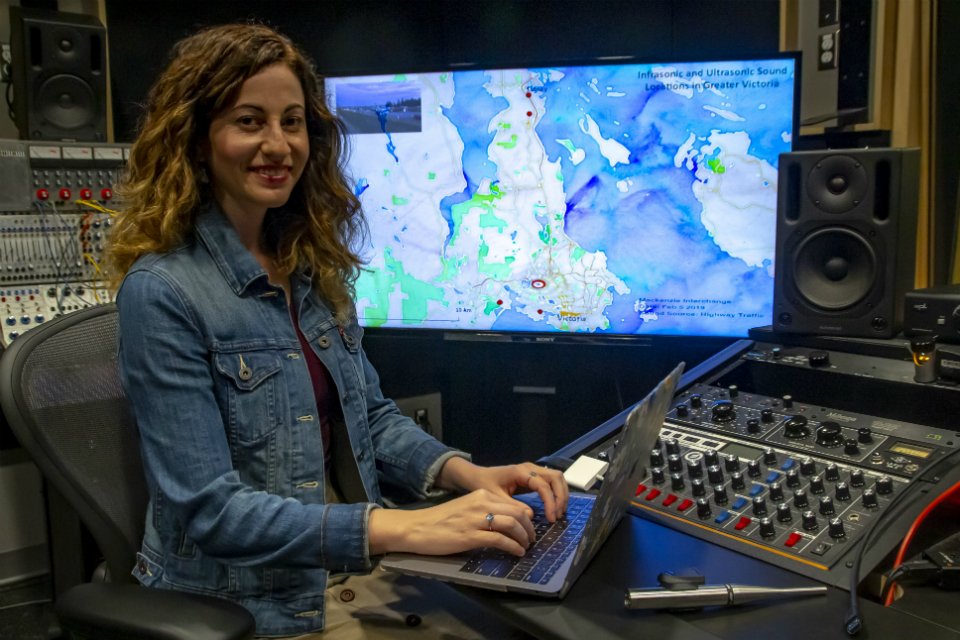 Recent music & technology grad student Kaitie Sly
The future sounds promising
With guests ranging from locals like Cordova Bay Records president Jocelyn Greenwood to producer/engineer Annelise Noronha, Senegalese scholar Abdoulaye Niang and Indigenous rapper Eekwol, AUDIO+ is definitely trying to put the spotlight on the people doing the work today.
"We're seeing more initiatives starting up—Soundgirls, Women in Audio Mission—and there are more groups out there doing good stuff," says McNally. "But AUDIO+ offers a unique blend of students and professionals: it's less of a training program and more of an integrated approach towards music, research, learning and training."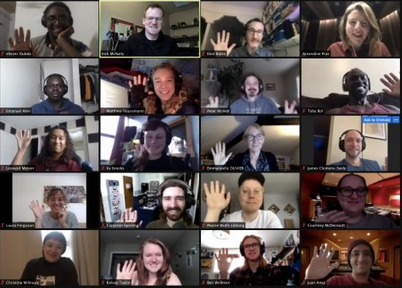 AUDIO+ will provide mentoring in audio research for undergraduate, graduate and PhD students from the University of Victoria, University of Lethbridge and the Centre for Interdisciplinary Research in Music Media and Technology.
Students will have the opportunity to present their contributions in previous research, participate in roundtable discussions, and build their own electronic device in a DIY electronic session. Students and community members will also be trained in the areas of workshop organization, video editing and digital literacies.
See the full workshop schedule or find out more about AUDIO+.