The ocean has many songs to sing! Join us for this feast of music and celebration as we launch the world premiere performances of four new choral compositions created during Dennis Gupa's artistic residency with Ocean Networks Canada.   
Together with a panel of artists, performers and scientists, Gupa originally presented his unique collaboration "Gossip with Whales: Exploring Ocean Science through Applied Theatre" on September 22 via a free online webinar — which you can watch below. 
This event was presented by UVic's Faculty of Fine Arts & Ocean Networks Canada in celebration of our shared ocean and the launch of the UN Decade of Ocean Science for Sustainable Development 2021-2030. 
Exploring the tanaga and Mangyan poetic forms
Drawing on Tanaga—a Filipino traditional lyrical art form—the four pieces that make up "Gossip With Whales" will offer artistic insights into current challenges for our oceans. One of the poems was translated into an Alangan-Mangyan poetic form of the Mangayan of Mindoro Province, Philippines.
"By looking at the experience and knowledge of local people—who have been experiencing these climatic events for so many years, but are not really given a lot of opportunities to tell their stories—we can learn from their knowledge and wisdom," says Gupa. "Our poetries and songs renew our kinship with the ocean."
Find out more about Dennis Gupa's work here.
Gupa, together with participating Filipino artists Karla Comanda, Roijin Suarez, Darren Vega, Thai Hoa Le and Jeremiah Carag, will discuss the creation and intention of these pieces with event moderators ONC scientific data specialist Megan Kot and School of Music composer Taylor Brook.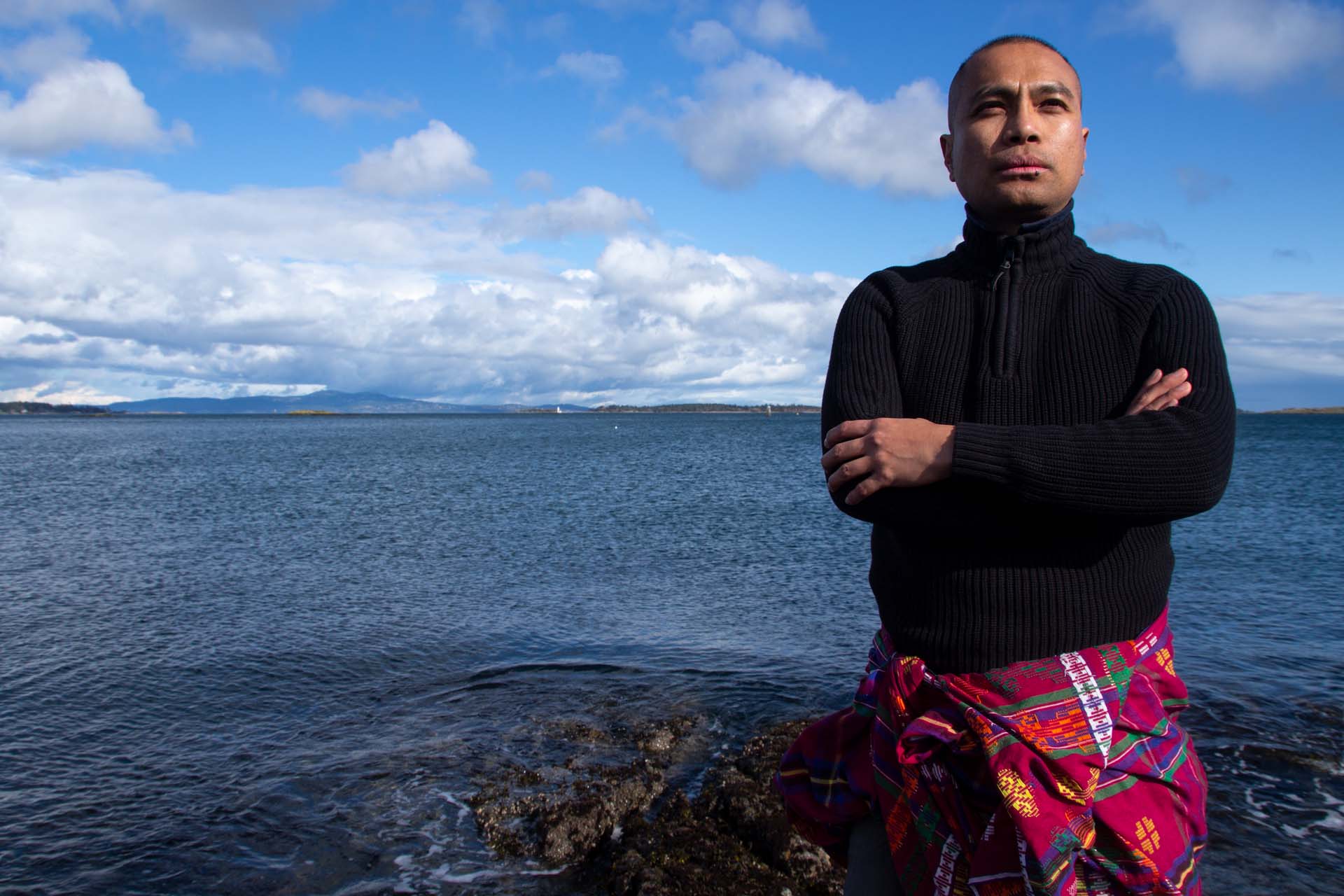 The arts & oceans together
A PhD in UVic's Theatre department, Gupa is also the most recent artist-in-residence with Ocean Networks Canada (ONC), a UVic initiative.
He sees the artistic residency—launched by the Faculty of Fine Arts and ONC two years ago—as a natural fit with his doctoral focus on Indigenous sea rituals, climate change and sustainable ecology.
"This residency program comes at a time of crisis in ocean sustainability," ONC chief scientist Kim Juniper. "Science-art collaborations such as this one bring together the insight and power of two ways of looking at the world, and will hopefully lead to new understanding and greater benefits for our ocean and our future."

An example of Ambahan, a Hanuno'o poetic form.
Source: PINAGMULAN: Enumerations from the Philippine Inventory of Intangible Cultural Heritage (ed., Dr. Jesus T. Peralta, NCCA & I). ICHCAP, 2013 // Photo by Renato Restrollo, NCCA – ICH (2013) (courtesy of National Commission for Culture and the Arts)
Watch "Gossip With Whales"
While the above webinar includes the four pieces that together make up "Gossip With Whales", we have also included them individually below.