When it comes to beadwork, a design is created bead by bead, row by row: it's much the same in writing, where poems and stories are created word by word, line by line. But for award-winning poet, memoirist and University of Victoria writing professor Gregory Scofield—also a traditional Cree-Metis beadworker—the two art forms are intimately connected through his creative practice and teaching.
As a child, Scofield recalls how he would sit with his auntie at her kitchen table while she was beading, learning Cree and listening as she shared family and traditional stories. "As I listened and learned, I became interested in beadwork and creating something—so I've always linked the act of creativity to storytelling," he explains. "There's something quite sacred about listening and working with your hands at the same time."
Current awareness of beadwork
With archaeological evidence dating back thousands of years before European contact, the practice of Indigenous beadwork has never stopped—yet is flourishing in contemporary media, and the exhibit On Beaded Ground at UVic's Legacy Gallery until September 18, 2021.
"There's definitely more awareness and appreciation of beadwork," he says. "But it's important to keep in mind that it isn't just a homogenous Indigenous expression: people work in the mediums of their own nations."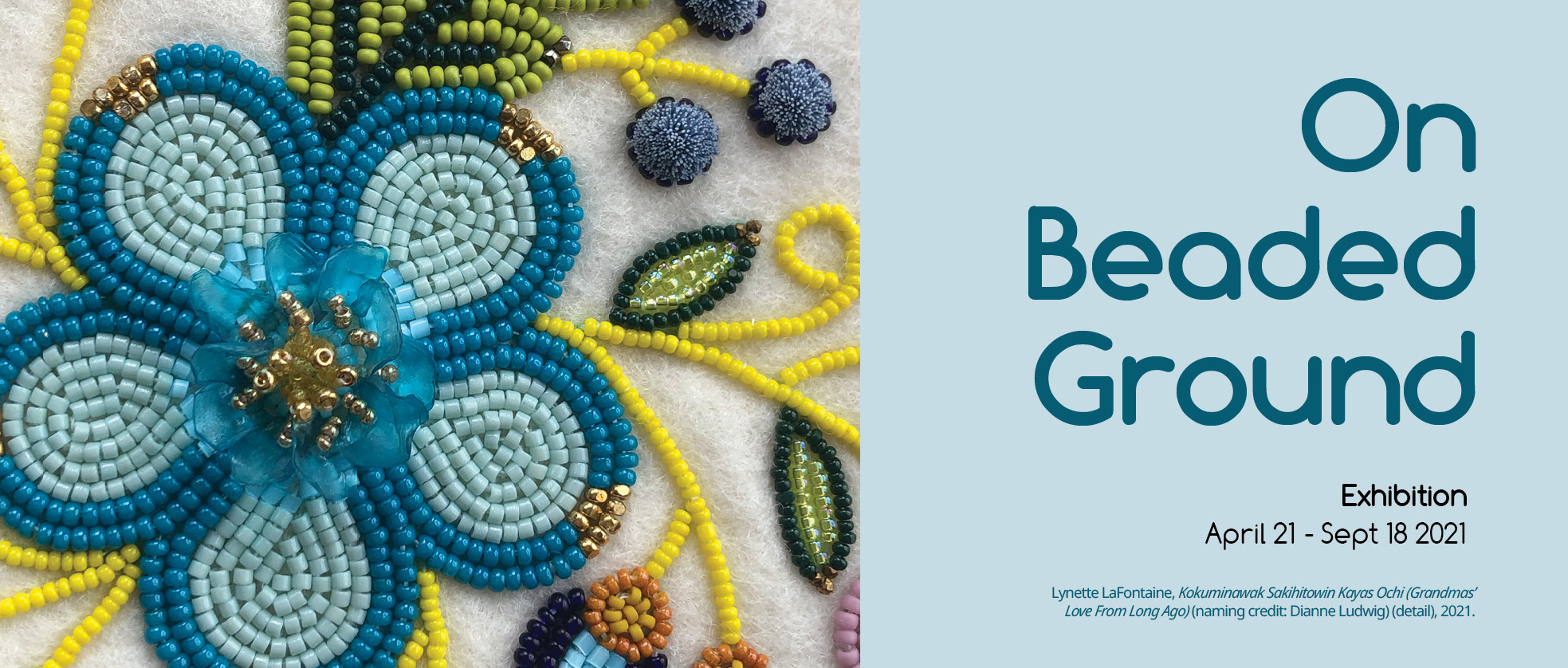 Cree-Metis floral beadwork
As a Red River Metis of Cree, Scottish and European descent, Scofield practices traditional 19th century Cree-Metis floral beadwork. An example of his own work is seen here on the right: a Cree-Métis panel/fire bag using all traditional materials. 
"Towards the end of the 19th century, there were huge changes for Indigenous and Metis people . . . there were incredible obstacles, and communities ended up completely impoverished. Women were sewing as supplemental income to support their families, and a lot of those pieces ended up in the tourist trade."
All of this unites in Scofield's course on Indigenous women's resistance writing and material art, which combines hands-on learning in traditional Cree-Metis beadwork with readings, films and writing practice centered on resurgence and resistance.
"Because everything happened for me at that kitchen table . . . I wanted to be able to bring that mental, emotional and tactile experience to students, who really have very little understanding or knowledge of Indigenous history or the impacts of colonial violence toward Indigenous women," he explains.
"I teach my students how Indigenous women used beadwork as a way to resist colonial violence, as a way of maintaining and preserving identity—but also as a way of telling stories. It's beadwork as a form of resistance."
Repatriating beadwork
Another form of resistance is Scofield's history of repatriating beadwork pieces—a practice which began years ago when he noticed a beaded pocket-watch holder in a Royal BC Museum display mislabeled as "Victoriana," when he recognized it as a piece of 19th century Cree-Metis beadwork. He holds many such pieces in his own collection (seen in photo above). 
"I often refer to myself as an 'unintentional curator' because a lot of specifically Cree-Metis pieces are folded into other First Nations or Victoriana exhibits, because curators haven't any idea about us as a people and our unique artforms," he says. "By misidentifying them, the stories and geography are stripped away, and communities are stripped of their identity too." 
Ever the poet, Scofield sees this as more than just repatriation. 
"It's about giving these pieces their stories back."
Gregory Scofield: fast facts
Scofield traces his ancestry back to the fur trade era and the Metis community of Kinosota, Manitoba. In March 2021, he was named a recipient of the Order of Gabriel Dumont, one of the Métis Nation's highest civilian honours. He has donated many pieces of repatriated beadwork to organizations like the Gabriel Dumont Institute of Native Studies and Applied Research.

One of Scofield's poems—"The Sewing Circle", from his 2011 collection

 

Louis: The Heretic Poems

—is permanently installed at the Batoche National Historic Site, where Louis Riel was defeated during the North-West Rebellion of 1885.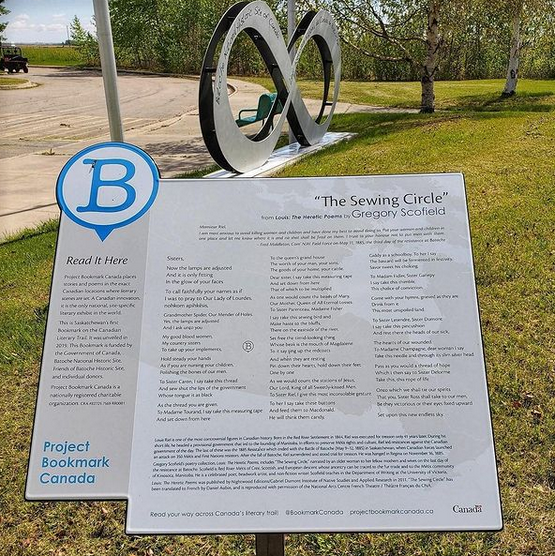 Scofield's first memoir, Thunder Through My Veins, was selected for CBC's 2021 Canada Reads longlist. The author of nine books, he is also the recipient of the Dorothy Livesay Poetry Prize and the $25,000 Latner Writers' Trust Poetry Prize, given to an accomplished mid-career poet.
Scofield has just released wapihkwanîy: A Beginner's Guide to Métis Floral Beadwork (with co-author Amy Briley) through the Gabriel Dumont Institute. "I'm so proud of this book, and to be able to share all my aunty taught me," he says.
See beautiful examples of Scofield's own beadwork via his Instagram page: @metisboi.
Earlier this month, Gregory Scofield participated in "Kitchen Table Talk: The Beauty of Beading" as part of Legacy Gallery's On Beaded Ground exhibit.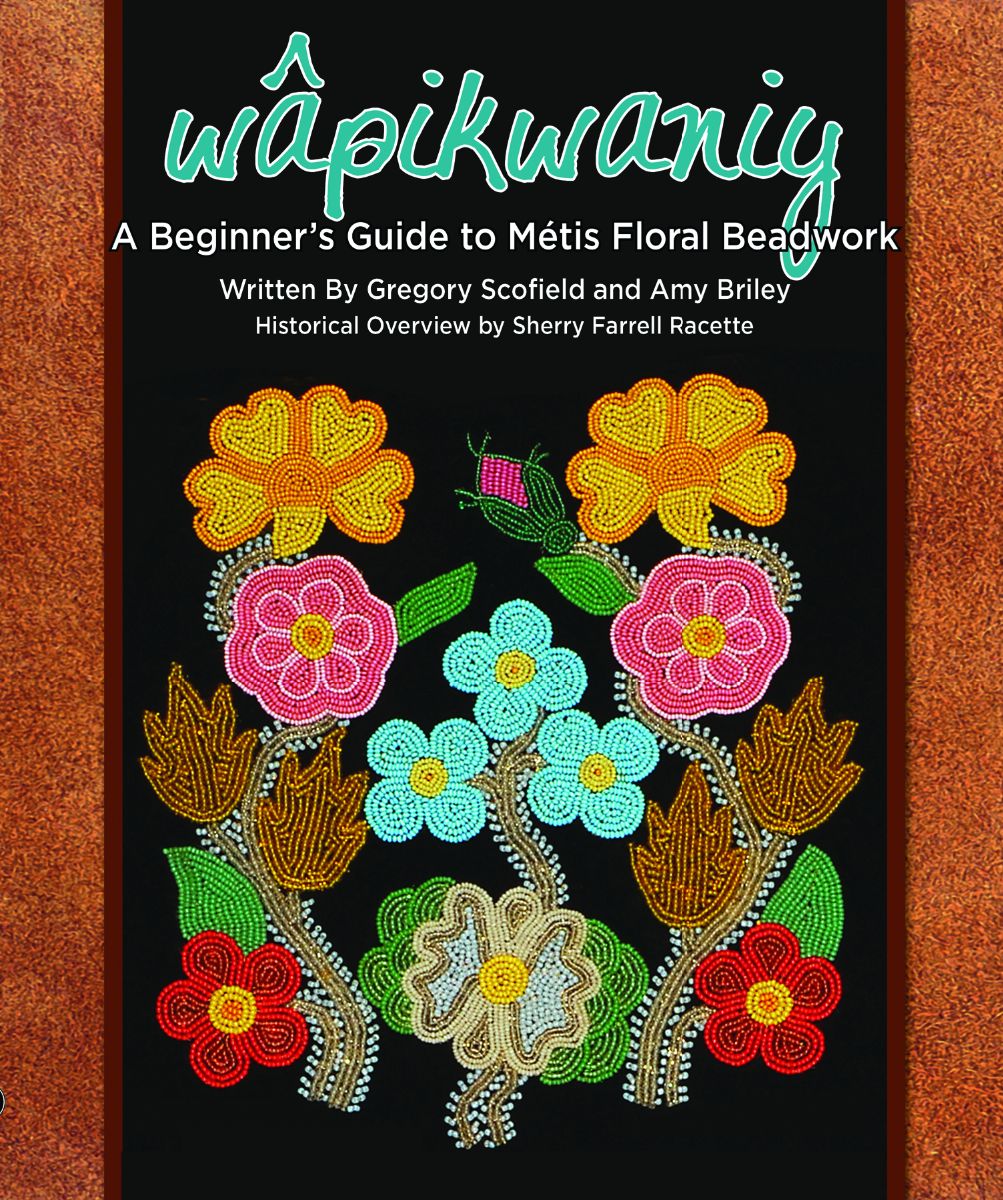 This story originally appeared as part of UVic's monthly KnowlEDGE feature in the Times Colonist newspaper on June 27, 2021. KnowlEDGE is a continuing series highlighting the research and creative practice of UVic professors and graduate students.