Fine Arts researchers and creative practitioners
Taylor Brook
and
Troy Sebastian
 are among UVic's recipients of the prestigious
Banting Postdoctoral Fellowships
and
Vanier Canada Graduate Scholars
,
"Congratulations to Taylor and Troy," says Acting Dean Allana Lindgren. "Having a Banting Postdoctoral Fellow and a Vanier Scholar in the Faculty of Fine Arts is an honour."
Taylor Brook
School of Music composer Taylor Brook is one of four UVic recipients of the Banting fellowships. The federal program is designed to build world-class research capacity by recruiting top-tier postdoctoral researchers at an internationally competitive level of funding.
The two-year Banting fellowships are worth $70,000 per year. They are open to both Canadian and international researchers who have recently completed a PhD, PhD-equivalent or health professional degree and other eligibility criteria. UVic's other three recipients are Kristina Barclay (Biology and Anthropology), Simon Blouin (Physics and Astronomy), and Gillian Kolla (Canadian Institute for Substance Use Research).
A Canadian composer who writes for the concert stage, video, theatre, dance and robotic instruments, Brook's compositions have been performed by ensembles and soloists worldwide. A 2020 Guggenheim Fellow, he has won numerous SOCAN Young Composers awards, including the 2016 grand prize, and holds a Doctor of Musical Arts from Columbia University.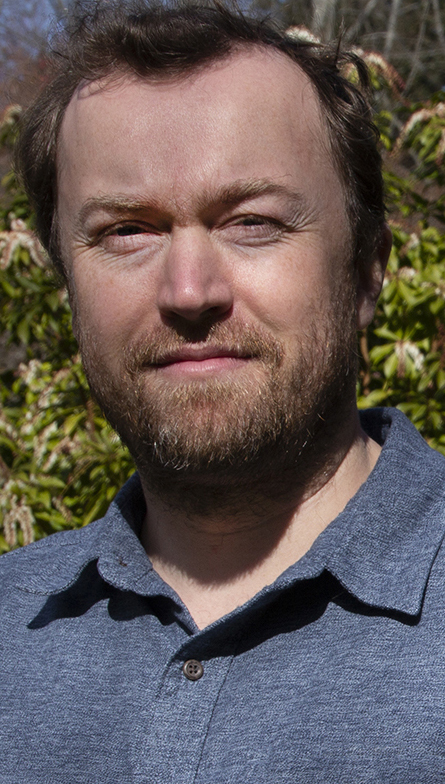 Brook's music is often concerned with finely tuned microtonal sonorities, combining his interest in exploring the perceptual qualities of sound with a unique sense of beauty and form. Current projects include a new concerto grosso for the San Francisco-based Del Sol String Quartet with the Partch Ensemble and a concert-length piece for the NYC-based TAK Ensemble.
As part of his SSHRC project, he will be writing a new composition for the Aventa Ensemble, to be performed in 2023.
"I am thrilled to begin my research at the University of Victoria as a Banting Fellow. My research will develop a novel framework for cross-cultural musical analysis that overcomes limitations engendered by Western musical notation. I hope to build a greater understanding of tuning and temperament as an expressive force in music as well as contribute to a broader effort in musicology, composition and music theory to decolonize the curriculum in higher education.​"
Troy Sebastian | nupqu ʔak·ǂam̓
Department of Writing alumnus and instructor Troy Sebastian is one of three UVic researchers named as Vanier Scholars in the annual competition by the Government of Canada.
The scholarships are earmarked for social sciences and humanities, natural sciences and/or engineering and health. Vanier scholars, who receive $50,000 funding each year for three years, demonstrate leadership skills and a high standard of scholarly achievement in graduate studies. UVic's other two recipients are Dorothea Harris (Educational Psychology and Leadership Studies) and Lucie Kotesovska (English).
A Ktunaxa writer from ʔaq̓am, Sebastian's research and creative practice focuses on memoir, Indigenous masculinities, Canadian military history, Ktunaxa nation building and Ktunaxa language revitalization. His proposed PhD program is a special arrangement between the Department of Writing and the Faculty of Graduate Studies.
"My Vanier scholarship will focus on celebrating who we and our history in our ancestral homelands by researching the life and service of a Ktunaxa veteran who was killed in action during World War II," says Sebastian.
A graduate of UVic's Writing MFA program and an instructor with the department, Sebastian was selected for the 2020 Writer's Trust Rising Star program, is a recipient Hnatyshyn Foundation's Reveal – Indigenous Arts Award and is also a graduate of the Banff Centre's Indigenous Writers program.
His writing has been longlisted for the 2019 Writers' Trust Journey Prize, both the 2020 CBC Poetry Prize and 2018 CBC Short Story Prize, and he has been published in Best Canadian Stories 2019, The Walrus, Ktuqcqakyam, The New Quarterly, Quill and Quire, Prairie Fire and The Malahat Review.
"My research and artistic practice centres on Ktunaxa language, storytelling, morality and ethics, and is dedicated to the empowerment of the Ktunaxa Nation's vision statement: 'Strong, healthy citizens and communities, speaking our languages and celebrating who we are and our history in our ancestral homelands, working together, managing our lands and resources, within a self-sufficient, self-governing Nation.'"