On June 1, Syilx & Tsilhqot'in playwright & director Kim Senklip Harvey became the first Indigenous woman to win the Governor General's Literary Award for Drama for her play Kamloopa: An Indigenous Matriarch Story (Talon Books)—less than a week after receiving her MFA in Writing from UVic.
"I am delighted and energized to learn that Kim has received the 2020 Governor General's Literary Award for Drama," says Acting Dean of Fine Arts, Allana Lindgren. "Kamloopa ​resonates—particularly at this moment—with courage and hope. I deeply admire Kim's artistic voice and look forward to following her promising career."
Amplification of power
"It's always been about the amplification, it's always been about the fact that I just want people to read a play with characters of women who are full and funny and sexy and particularly brave and courageous in figuring out what it means to be Indigenous in this era," says Harvey in her acceptance speech.
"I wrote Kamloopa to ignite the power that was within Indigenous people . . . to ignite journeys with Indigenous women that allow us to be exactly who we are in all of fullness and all of our fallibility and all of our fucking brilliance."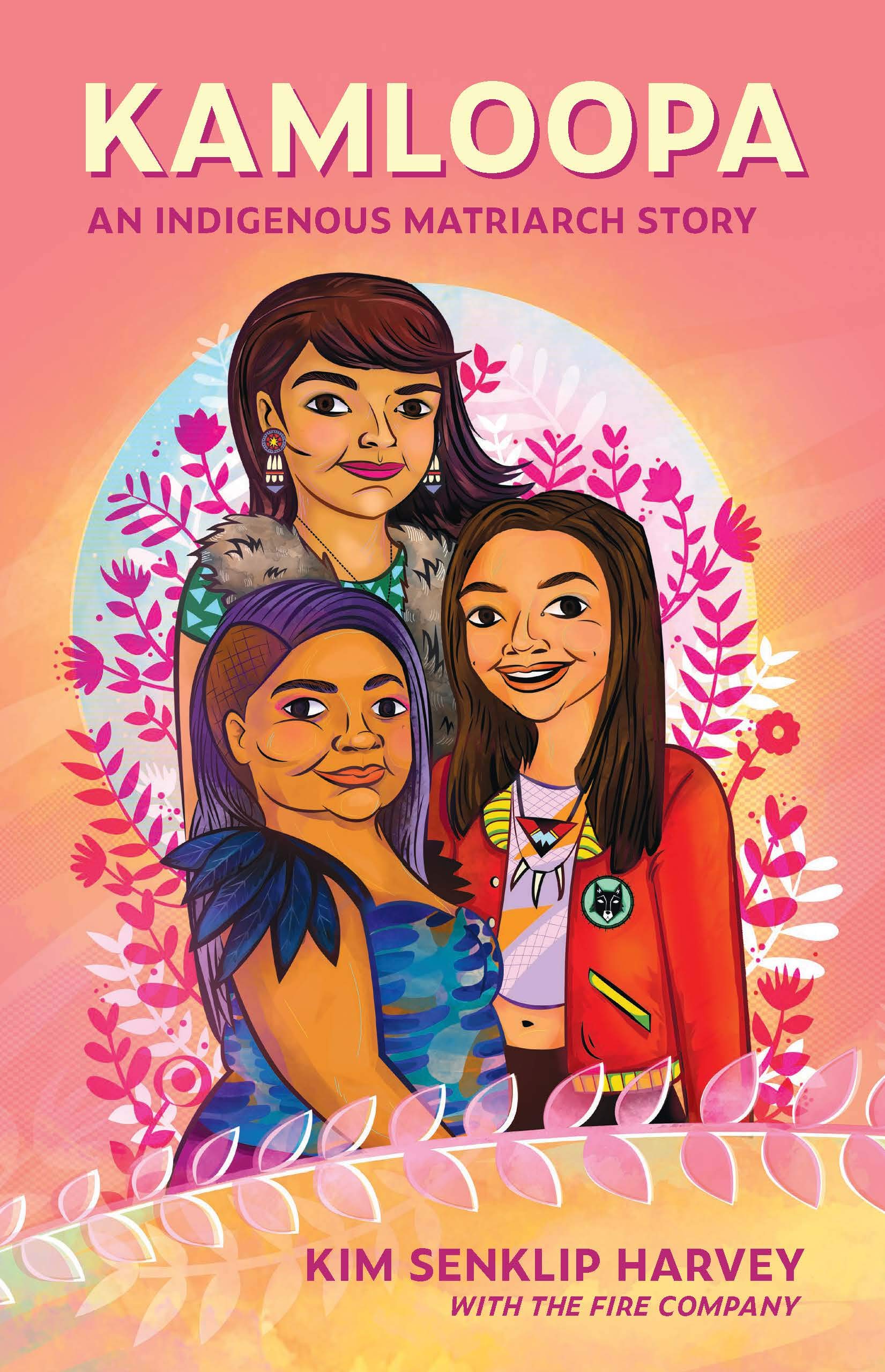 Brilliant & irreverent
"Brilliance" is also a word the Governor General's jury panel— Catherine Banks, Andrew Moodie and Kenneth T. Williams—used to describe Harvey's work in their citation.
"The brilliance, the irreverence, the fire of Kamloopa sweeps us into the world of three Indigenous women on a mind-bending quest. The audience is seduced by the love, humour and depth of these matriarchs as they embrace and celebrate who they are in the world and with each other. A play that will encourage you to re-evaluate your relationship with Canada."
Kamloopa had its world premiere in 2018 with a three-city tour under Harvey's own direction. Kamloopa was subsequently nominated for eight Jessie Richardson awards, winning the 2019 Jessie for "Significant Artistic Achievement for Decolonizing Theatre Practices and Spaces". Kamloopa was also the first Indigenous play in the history of the Jessies to win Best Production and was the 2019 recipient of the Sydney J Risk Prize for most outstanding emerging playwright. Kamloopa was published by Talonbooks in the fall of 2019.
Indigenous theorist
An Indigenous theorist, cultural evolutionist and an award-winning writer and director whose work focuses on igniting Indigenous power by creating comedic and joy-centered narratives that nourish her people's spirits, Harvey also hosts a podcast that explores these same topics: The Indigenous Cultural Evolutionist.
She has worked across Turtle Island as a performer (highlights include the national tour of Where the Blood Mixes and the world premiere of Children of God at the National Arts Centre in Ottawa) and has participated in the Banff Residency  "Writing in a Racialized Canada", which brought together Canada's most exciting emerging BIPOC writers. She was then appointed as one of two artists to take part in the National Theatre School's inaugural Artistic Leadership Program, which aims to steward in the next generation of artists to lead the major artistic institutions in this country, and participated in the Rumble Directors Lab as well as the Banff Playwrights Lab.
Harvey continues to work on innovating new methodologies for engaging and creating Indigenous stories that honours the multi-dimensionality of having our ancestors tell stories with us. She is the innovator for the Fire Creation Methodology and Salish Plateau Earthing.
Media coverage
Harvey's GG win has been attracting a fair bit of attention, with her speaking to CBC Radio's As It Happens in this June 1 interview. As she says to host Carol Off, her award-winning play Kamloopa shows "the power and perseverance and tenacity" of Indigenous Peoples.
"Our plight and pain is often what the narratives are structured around, but that's not my life," she says.
Her win was also covered in these articles by CBC Books, Vancouver Sun, Quill & Quire, Georgia Straight and others.
"I think something quite mystical is happening right now, with [fellow Governor General's Literary Award winner] Michelle Good being from Kamloops and Kamloopa winning," Harvey told the Vancouver Sun. "I believe this is the time to bring attention to Indigenous peoples' lives and our stories. And to celebrate the resistance and the continued living of Indigenous peoples."
Next steps
Harvey is currently working on the development of two television series: her Salish love story, On the Plateau, and the adaptation of her play, Kamloopa. She is also completing her first prose and poetry book, Interiors: A Collection of NDN Dirtbag Love Stories, and is in pre-production to film a musical feature of her next artistic ceremony, Break Horizons: A Rocking Indigenous Justice Ceremony.
She will also be starting her PhD at UVic Law in the fall of 2021.
"Everyone in the Faculty of Fine Arts is incredibly proud of Kim," says Acting Dean Allana Lindgren. "Watch out! I am confident that this young woman is going to shake up theatre and society with her wise words."