It all started with an empty boat floating on a lake. Screenwriter Susie Winters (BFA '16) recalls driving alongside the vast expanse of Cameron Lake just east of Port Alberni when the image first drifted into her mind, inspiring what would become the screenplay for her first feature film, All-in Madonna.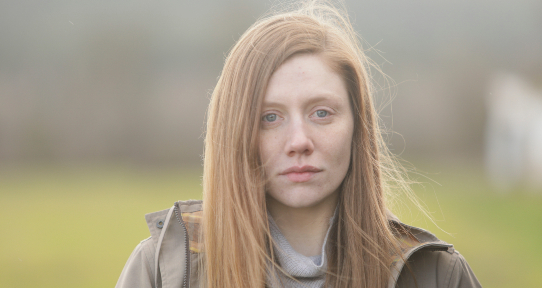 Susie Winters (BFA '16) wrote the initial screenplay for the film All-in Madonna while attending UVic's Creative Writing program
Finding inspiration
"I feel like it's a prompt you might find in one of those books 500 Writing Prompts or something. But that's what came into my head," Winters says from her home in Edmonton where that day it's a bone-chilling -25 degrees Celsius.
As is often the case with inspiration, the empty boat on the lake is nowhere to be found in the final draft of Winters' script, although there is a lake and there is a boat. But that sense of mystery and menace lurks beneath the surface of the story centring on 17-year-old Maddie. The teen attends public school for the first time, where she learns dark secrets about her father and must reconcile herself with the man she thought she knew and the things he may or may not have done.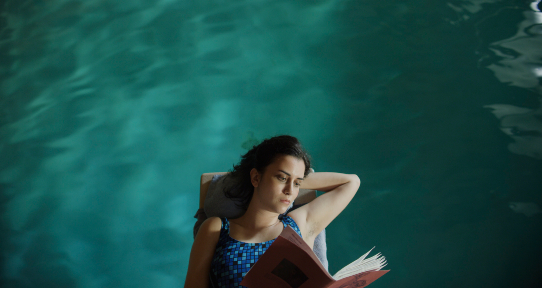 Melanie Rose Wilson plays a teenager in a small Vancouver Island town forced to reconcile with her family's dark past in the feature film All-in Madonna
Facts into fiction
Set in the fictional Vancouver Island town of Blue Lake, the film is as much about small town life as it is navigating the social dynamics of being an outsider despite everyone knowing, or thinking they know, your history.
"I moved around a lot growing up… so I drew from being a teenager going into a new place," says Winters, who grew up in northern Alberta. "I think it's so interesting the first friends you make in a new place and how that comes with no context or politics… But what if that's different when you go to a new place and everyone knows who you are, but you don't know who anyone else is."
Winters completed the initial script for her fourth-year screenwriting class at UVic as part of her Bachelor of Fine Arts in Creative Writing. From there she was introduced to director Arnold Lim and producer Ana de Lara. The team received a BravoFact grant (worth $32,500) to create a short film of All-In Madonna, which served as a calling card to secure a $125,000 Telefilm Canada Talent Fund grant and a $25,000 BC Arts Council grant for the feature.
Arnold Lim (centre) directs a scene in the feature film All-in Madonna
Local film, local filmmaking
Lim, who grew up in the small community of Blue River, BC, says he felt an instant connection to Winters' script. "She really has a strong understanding of people and personality that goes way beyond the surface," Lim says, adding, "Her understanding of human dialogue, human nature and her understanding of how the structure of a small town works—those were the things that really attracted me to the story."
The independent film, which was shot in Victoria and around Vancouver Island, has started making the festival circuit, with screenings at the Whistler Film Festival and the Victoria Film Festival. While Winters acknowledges the finished product deviates slightly from the source material—there was a magical- realism element in the original script, new characters were added and others cut—along with the empty boat floating on a lake—she enjoyed watching her script move from page to screen.    
"It's exciting to see what it gets transformed into," says Winters, who currently works in the field of public art administration. "What drew me to screenwriting was the collaborative nature. And it was a good challenge to drop the ego a bit knowing there are three different people with a major creative hold on what happens. So I was prepared to let go, and I think what Arnold did was beautiful. It's a beautiful film."