Phoenix Theatre is excited to be presenting their only public mainstage production of the 20/21 academic year: George F. Walker's
Problem Child
, running at 8pm March 24-27 via their new broadcast-quality livestream. Tickets $15 per household via
the Phoenix box office
. 
Learning livestream technology
During this time when we are not able to have audiences in our theatres, filming and livestreaming the work of our students is one of the only ways we can share our work with you. Thanks to the incredible support from UVic, a generous donor and Phoenix Theatre's long-time sponsor iA Financial Group, the Theatre department has been able to obtain professional-quality livestream equipment.
Since the arrival of the equipment late last fall, production staff have been busy instructing students in the art of filming, live camera direction, video editing, and other skills, offering our students advantages that will take them into the future of theatre. While livestreaming is a necessity today, there's no doubt that this technology will continue to be a key part of theatre outreach, even when we are able to return to our seats in the theatre.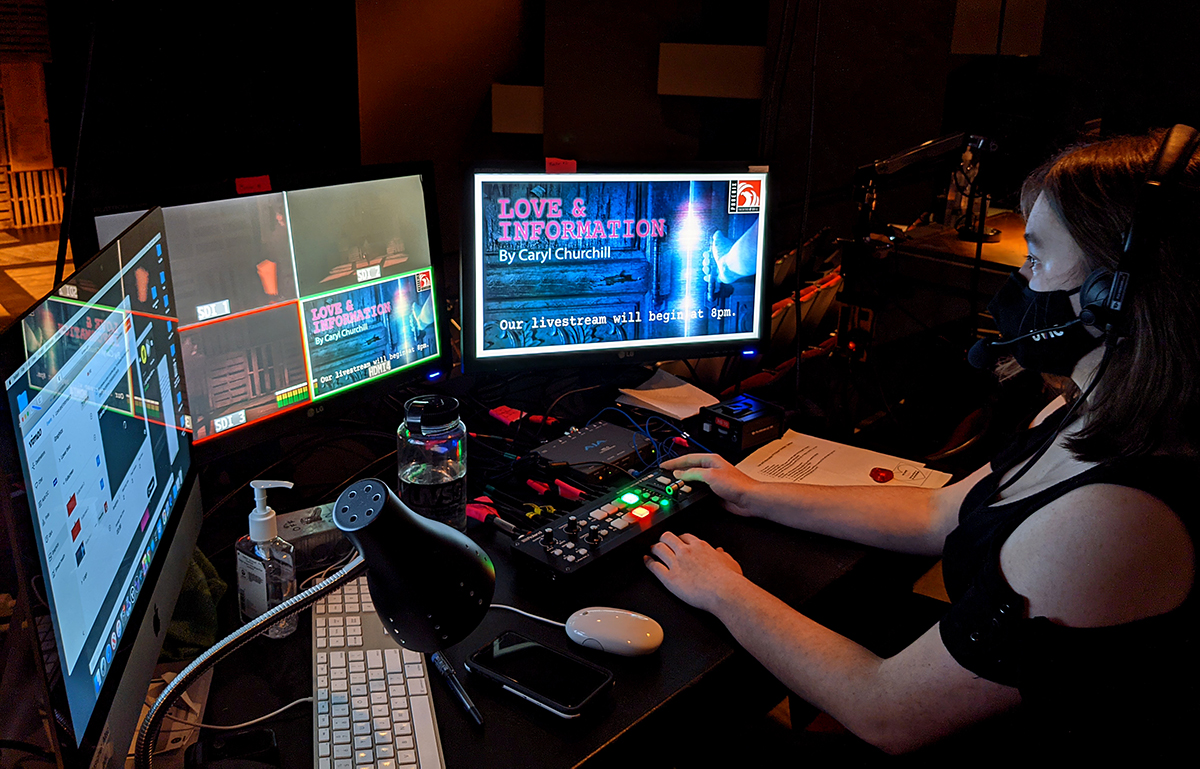 Relearning theatre
For instructor and assistant technical director Simon Farrow, this process offered an opportunity to relearn how we create theatre. "True livestreaming for theatre—where the performance is filmed live while you are watching—is challenging," he says. "We wanted to set the viewer's expectation of the video production to be as polished as every other element of our Phoenix productions." (Above, theatre student Jadyn McGregor works the livestream board.)
"A good livestream theatre experience requires all the other elements of the production to contribute as well," Farrow continues. "The set design needs to offer access for good filming angles. Costumes need to translate over the screen. The lighting needs to be adjusted for camera exposure, the sound design needs to integrate well into the livestream mix and, of course, the actors need to adjust their blocking, already distanced for COVID guidelines, for the camera. All of the students working in these areas are reframing their work to the camera lens, rather than the auditorium." (Below, Theatre student Brandon Sugden directs the livestream student team,)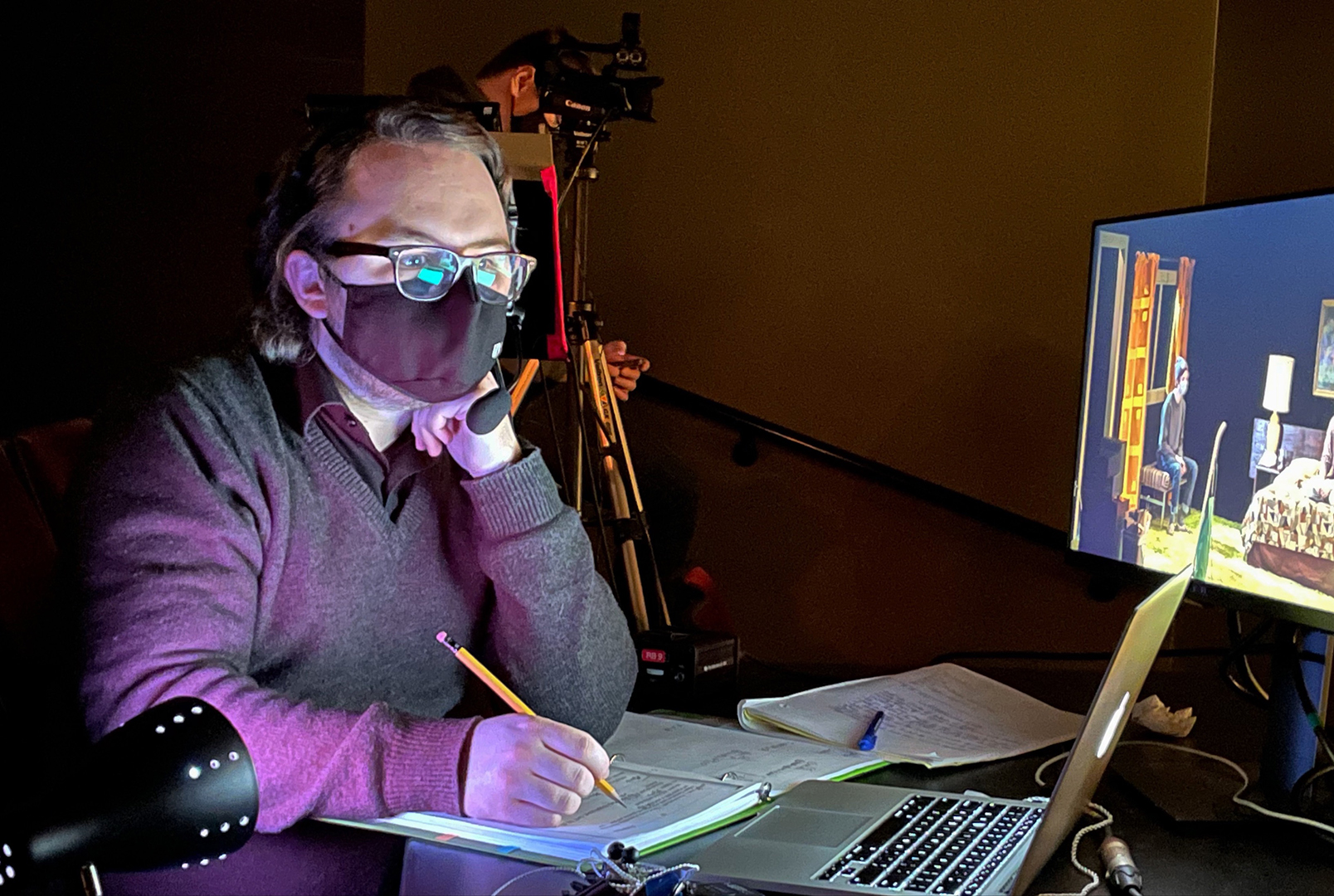 About Problem Child
Stuck in a room. Stuck in the system. A desperate mother and her hapless partner are confined to a hotel room while they try to put their delinquent pasts behind them in order to regain custody of their baby. Problem Child is a gritty social comedy by one of Canada's most prolific and popular playwrights, George F. Walker—best known for his fast-paced social comedies satirizing the woes of contemporary culture under the pressures of capitalism.
As the only public mainstage production this year, this play was chosen by director and Theatre professor Fran Gebhard to offer the fourth-year performance class challenging contemporary roles for their final required credits, all while maintaining physical distancing guidelines. As such, there will be two alternating, four-person casts featuring our fourth-year performance class for their final required credits; all performances will also maintain physical distancing guidelines. See the Problem Child website for cast schedule.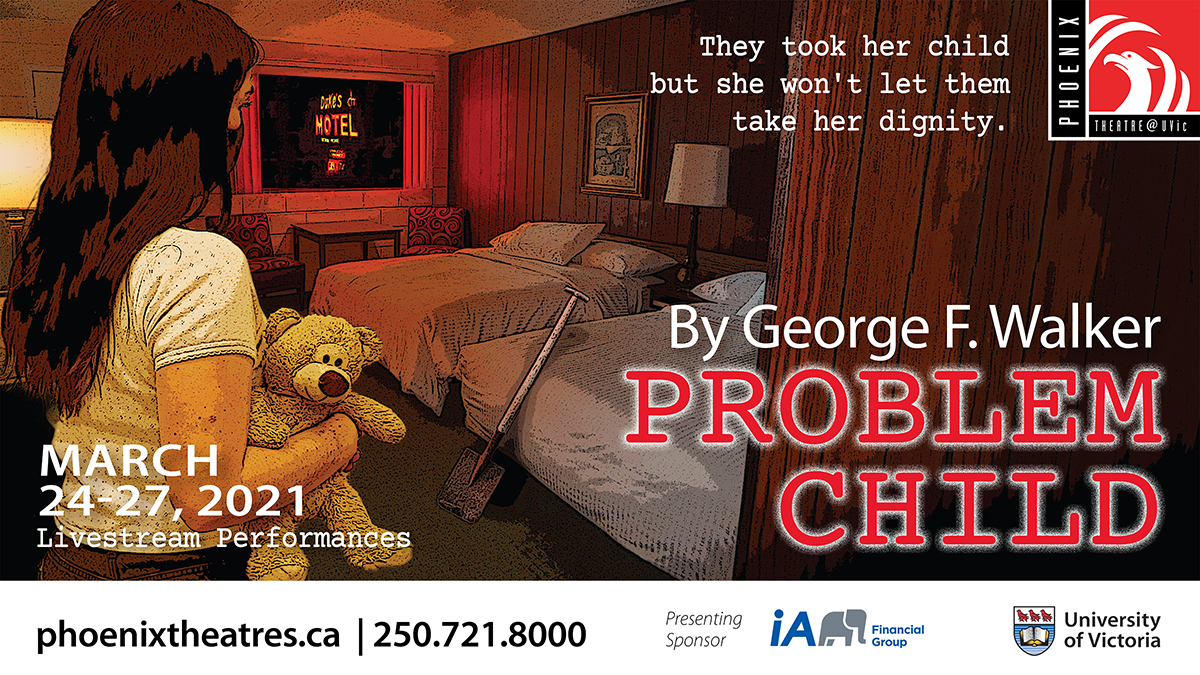 Putting it all together
Combining the new technology with the rehearsal process offered a spectacular and a positive learning experience for everyone in the Theatre department—all of which is being applied to Problem Child.
"I've been a fan of George Walker's work for years," says Gebhard. With a cast of only four, it allowed our graduating students to be featured in two alternating casts, giving everyone complex roles and allowing for distancing on stage. "We rehearsed in facemasks and practised our social distancing to the letter. Our staging and blocking had to adjust to these protocols accordingly," says Gebhard. "A daunting challenge? Yes! Different? Certainly. But we've loved every minute."
"We're natural-born theatre-makers," Gebhard concludes, "and neither hell nor high water, nor even a global pandemic, can stop us from carrying out our work with joy."
Read more in this Times Colonist article about how Fran Gebhard brought her years of experience in film and television to guide this livestream production.
George F. Walker's Problem Child 
LIVESTREAM PERFORMANCES
March 24, 25, 26 & 27, 2021
TICKETS: $15 per link/household
An easy-to-use, one-click link and password will be sent to you the day of your performance. All tickets come with a no-questions-asked, money-back guarantee (within 24 hours of performance date for a full refund).
Charge by phone at 250-721-8000 at the Phoenix Box Office (no in-person or online sales at this time.)