It is with great sadness we mark the passing of Dr. Anthony Welch, noted art historian, scholar and academic leader. Dr. Welch had a long and distinguished career at the University of Victoria, beginning in 1971 as a lecturer with the Department of History in Art (now Art History & Visual Studies) and progressing to full professor in 1980. Dr. Welch also served as Associate Dean (1982-1985) before becoming the longest-serving Dean of the Faculty of Fine Arts for a remarkable 13 years (1985-1998).
Accomplished dean
As author Ian MacPherson noted in his history of UVic, Reaching Outward and Upward, "Under the leadership of the Dean of Fine Arts, Anthony Welch, the faculty enjoyed remarkable success. Each of its schools — Visual Arts, Theatre, Music, Writing and History in Art — flourished; each possessed faculty members with international accomplishments and excellent reputations as teachers."
Indeed, a number of professors who came to be synonymous with UVic were added under Dr. Welch's leadership, including Canadian arts icon Mavor Moore, conductor János Sándor, poet Lorna Crozier and the Lafayette String Quartet.
"Tony's contribution to the university, the faculty and the department was a major one," recalls professor emeritus Martin Segger, a longtime colleague and close friend who first met Dr. Welch in 1971 when they were both young academics. "Tony was a serious and dedicated scholar but he loved teaching. His passion for the arts of Islam was infectious."
Remarkable scholar
Among his many accomplishments as Dean, Dr. Welch established the Orion Artists-in-Residence in Asia program, pioneered the establishment of what would become the Studios for Integrated Media as well as interdisciplinary programs in film studies and cultural resource management, and helmed the expansion of the Fine Arts complex with the construction of both the Visual Arts and Fine Arts buildings. He later worked as the first executive director of the Office of International Affairs, was on the board of directors for UVic's Innovation and Development Corporation, and was Vice President of the board of the McPherson Foundation.
Dr. Welch was a remarkable scholar, who was equally at home studying architecture, epigraphy and the arts of the Islamic book. His areas of specialism encompassed Iranian painting, Mughal painting in India, Islamic calligraphy and Sultanate architecture in medieval India. He was the author of several books, including Shah 'Abbas and the Arts of Isfahan, Artists for the Shah: Late Sixteenth Century Painting at the Imperial Court of Iran and, with Stuart Carey Welch, Arts of the Islamic Book: The Collection of Prince Sadruddin Aga Khan. He was also a visiting professor at the universities of Minnesota, Washington and Chicago.
Committed to teaching
Throughout his career he remained committed to teaching, particularly enjoying the supervision of graduate students—many of whom went on to have successful careers as teachers or curators of Islamic art in North America, Europe, and Asia.
"Tony took his student papers very seriously and spent hours reviewing them and in the individual conversations that resulted," recalls Segger. "He earned the admiration and respect of several generations of students whom he mentored through both undergraduate and graduate studies."
Dr. Welch's generosity, kindness and gentle humour will be deeply missed by all of those who worked with him during his long and illustrious career.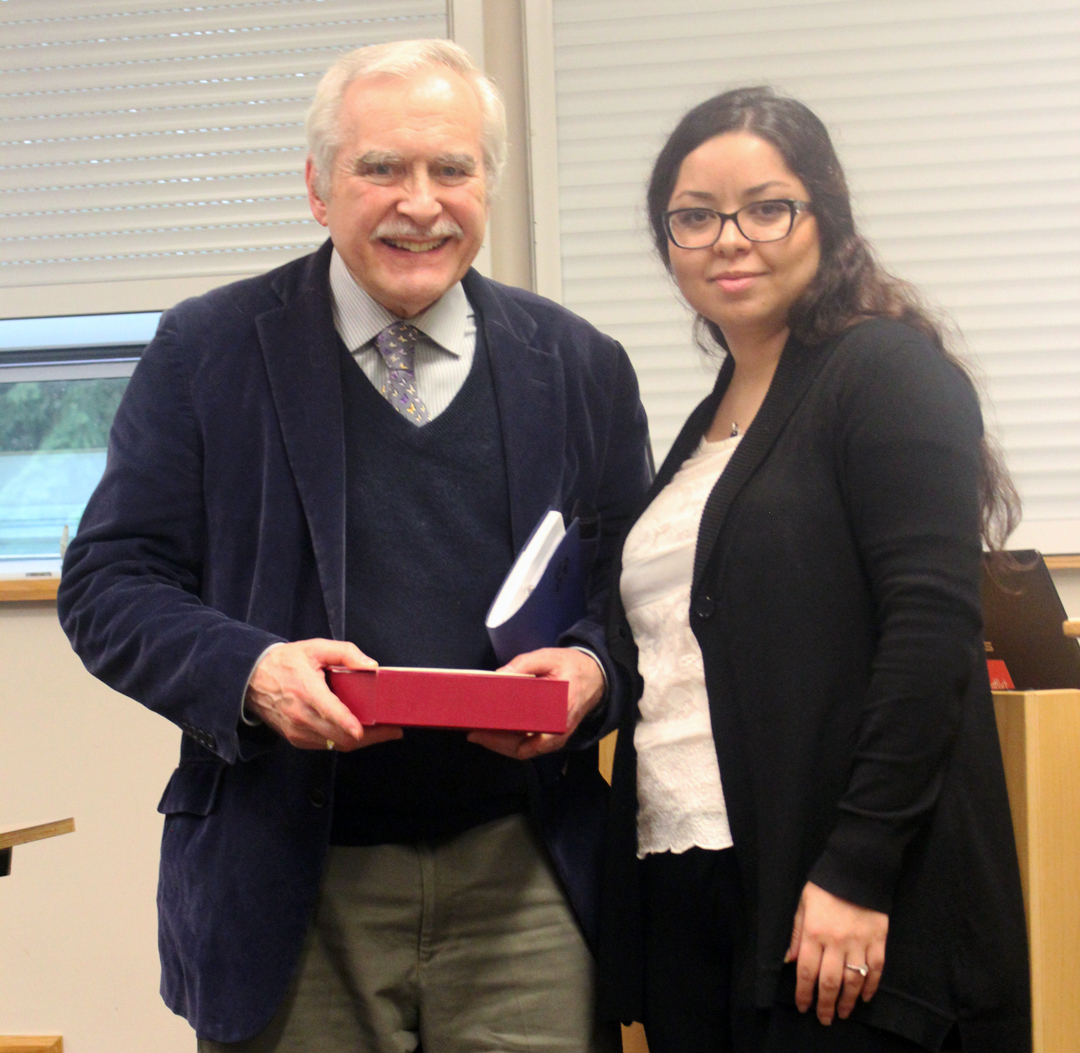 Tony Welch with AHVS graduate student Fahime Ghorbani in 2015