Along with the start of classes, September also sees the start of the annual book awards season—and so far, we're looking at a bumper crop of nominations for Fine Arts alumni and instructors.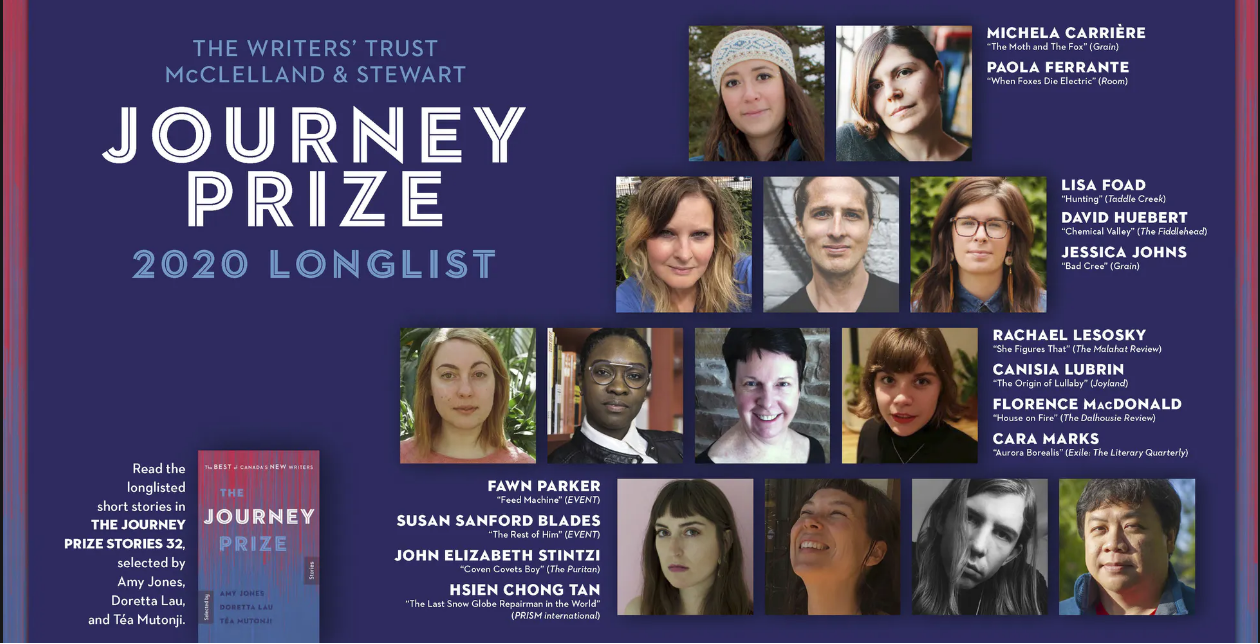 Journey Prize
Kicking off the awards season is the $10,000 Writers' Trust McClelland & Stewart Journey Prize, which annually celebrates the top short stories by Canada's brightest emerging talents.
We're proud to announce that among the 13 finalists for the 2020 awards are three Department of Writing alumni: MFA Susan Sanford Blades for her story "The Rest of Him" which appeared in EVENT magazine; BFA Cara Marks for her story "Aurora Borealis" in Exile magazine and BFA Rachael Lesosky for her story "She Figures That" in The Malahat Review.
The selected stories by all 13 nominees also appear in the annual anthology, The Journey Prize Stories 32. Winners will be announced October 21.
Writing students, faculty and alumni are no stranger to the Journey Prize, either: past winners include the likes of alumni Eliza Robertson and Yasuko Thanh, as well as current professor Lee Henderson, while previous nominees include the likes of Kai Conradi (while still an undergraduate student), Samantha Jude Macpherson and Angelique Lalonde.
Victoria Book Prizes nominated authors Kirstie Hudson, Carey Newman, Mark Leiren-Young Young and Sara Cassidy, with Visual Arts alumnus Gareth Gaudin, seen at an Orca Book launch event in November 2019 (photo: Leon Fei)
Victoria Book Prizes
Wow! Of the eight new books nominated for the annual $10,000 Victoria Book Prizes, only one wasn't created by a member of our Fine Arts community. Much like Victoria itself, the nominated books represent a wide range of interests and genres: from non-fiction about floral design, the history (and mystery) of orcas and the creation of a travelling residential school memorial sculpture to more traditional forms of memoir, poetry and novels, the nominees once again offer a remarkable breadth of material.
Nominees for the $5,000 City of Victoria Butler Book Prize include:
Nominees for the $5,000 City of Victoria Children's Book Prize include:
Winners of the 2020 Victoria Book Prizes will be announced at a free virtual gala hosted by CBC Radio's Gregor Craigie on October 4, where you can also hear the nominated writers read from their books.
Canadian Children's Book Centre Awards
Carey Newman and Kirstie Hudson's Picking Up the Pieces is also a finalist in the $10,000 Norma Fleck Award for Canadian Children's Non-Fiction, part of the Canadian Children's Book Centre Awards—which annually awards $175,000 in prizes in eight different categories.
"A book for bookshelves everywhere, this thoughtful and beautiful book takes a look at the dark history of residential schools through the making of the Witness Blanket," notes the prize jury. "The book itself is a rich artefact to treasure the memories, narratives and images of the Witness Blanket . . . artist Carey Newman takes the reader on his journey from the first idea to completion."
Winners of the CCBC awards will be announced this fall.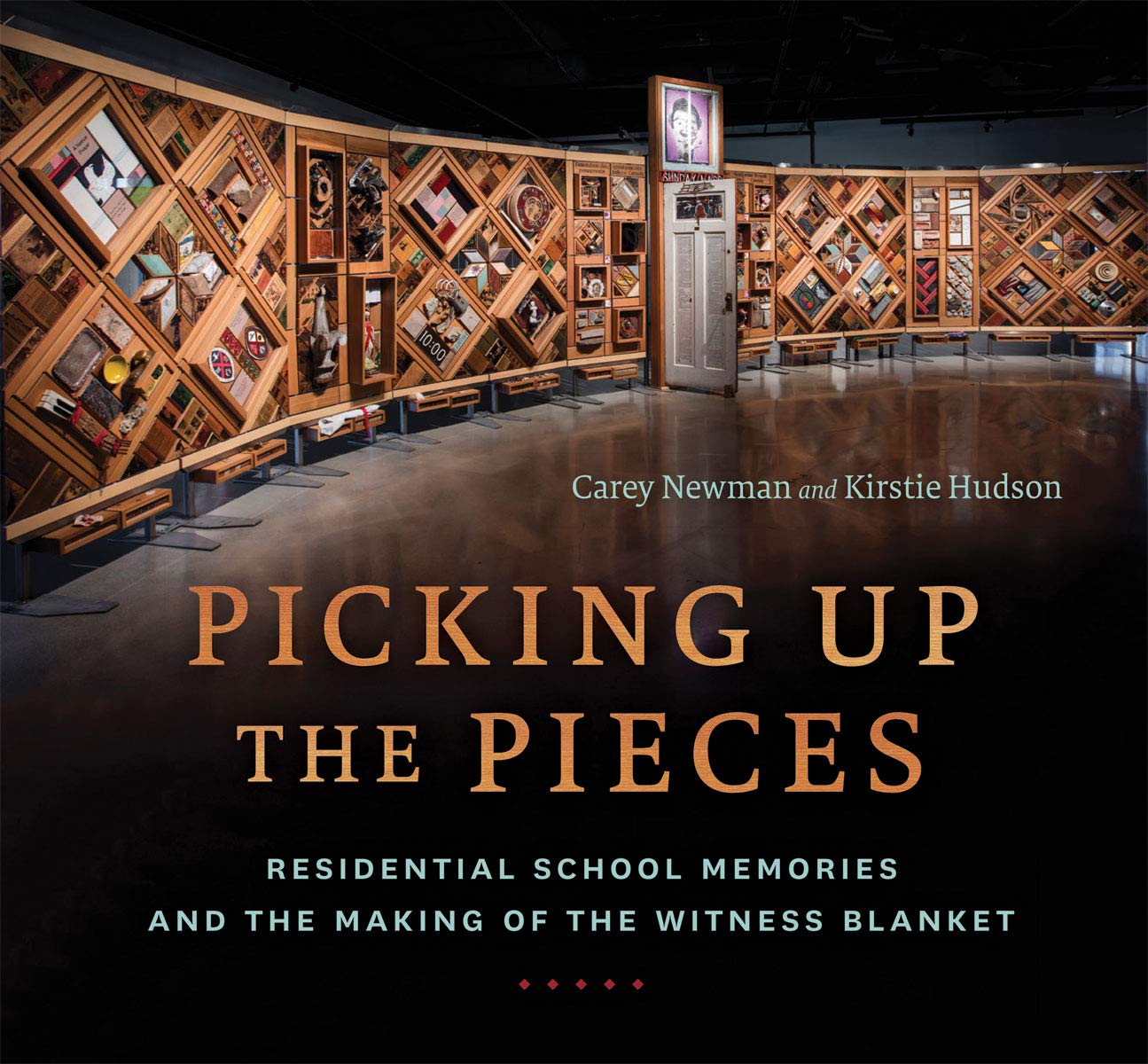 BC & Yukon Book Prizes
Alumni nominees in the various categories of the previously announced BC and Yukon Book Prizes include Yasuko Thanh (Mistakes to Run With), Steven Price (Lampedusa), Ali Blythe (Hymnswitch), Kayla Czaga (Dunk Tank) and Sara Cassidy (Revers).
And, at the online awards presentation on September 19, Steven Price was announced as the winner of the Ethel Wilson Fiction Prize, awarded to the author of the best original work of literary fiction. Congratulations!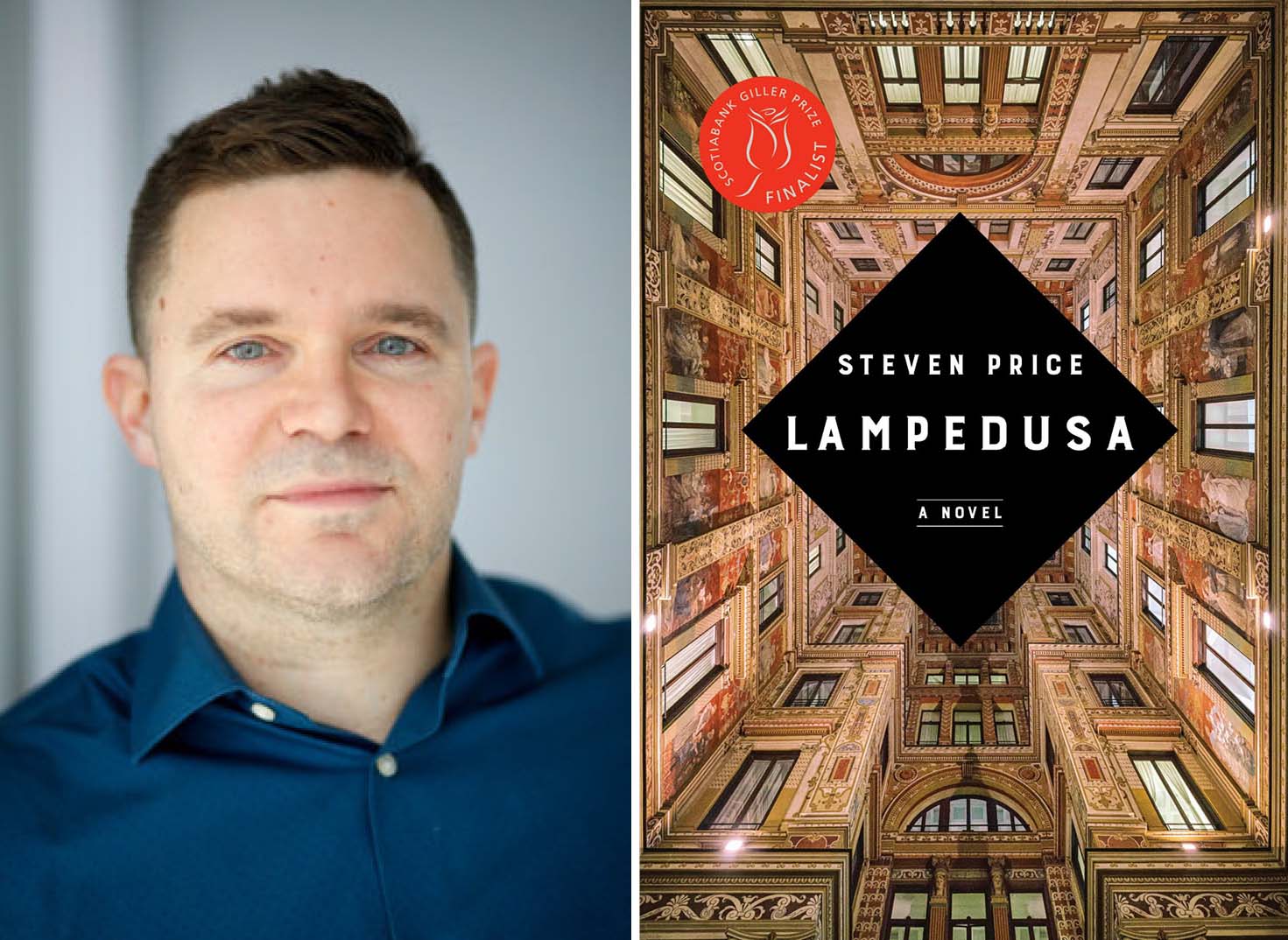 CBC Books Poetry Prize
Five Writing alumni are on the longlist for the 2020 CBC Books Poetry Prize—congratulations go out to Yvonne Blomer,
Leah Callen
, 
Troy Sebastian
,
Amanda Merritt
,
Patricia Young
and
Anna Moore
! These five are among the 32 poets who made the longest out of nearly 3,000 submissions. The 
shortlist will be announced on November 5, with the winner announced on November 12.
The winner will receive $6,000 from the Canada Council for the Arts, have their work published on CBC Books & attend a two-week writing residency at the Banff Centre for Arts and Creativity; four finalists will each receive $1,000 from the Canada Council for the Arts & have their work published on CBC Books.
And while we have no nominees for the 2020 Scotia Bank Giller Prize, it is worth noting that this year's Giller jury includes acclaimed novelist and Writing alumna
Eden Robinson
. Robinson is having a great fall, thanks to a
feature film adaptation
of her debut novel, 
Monkey Beach
(screening
Sept 24 at UVic's Cinecenta
), and the new CBC TV series
Trickster
, based on her recent novel
Son of a Trickster
.
Congratulations to all nominees!
Victoria Festival of Authors
Finally, UVic Writing alumni are well-represented at the upcoming Victoria Festival of Authors—Vancouver Island's largest literary festival, which this year is being held online for free.
Running September 30 to October 4, the fifth annual VFA will host 28 authors from across Canada, taking part in 11 different events featuring poetry, prose, music, panels, readings and a poetry walk, all culminating with the presentation of the Victoria Book Prizes.
Featured alumni writers include current City of Victoria Poet Laureate John Barton (Lost Family), Carla Funk (Every Little Scrap and Wonder), Kyeren Regehr (Cult Life), Mallory Tater (Pushcart Prize nominee), Amanda Leduc (The Miracles of Ordinary Men), Serena Lukas Bandhar (Pushcart Prize nominee), Arleen Paré (Earle Street ), Yvonne Blomer (Sugar Ride) and former student K.P Dennis (former Victoria Youth Poet Laureate), plus Lorna Crozier (Through the Garden), and Carey Newman in conversation with Leanne Betasamosake Simpson.
You'll find the full schedule and find registration info here.