A giant achievement
The work of Department of Theatre design professor Patrick DuWors was featured in the 2020 edition of the Critical Costume Conference and Exhibition, hosted by the Costume Agency Artistic Research Project.
Originally intended to be a live event in August, the international exhibition was moved online due to COVID. With a focus on the agency of costume in performance and how costume can generate or be a centre of gravitation in performance, Critical Costume 2020 is supported by the Norwegian Artistic Research Program, Oslo National Academy of the Arts and Norwegian Arts Council.
DuWors, an alumnus of the Theatre department himself, was featured for his costume designs—alongside Robert Leveroos' puppet designs—for Ghost River Theatre's award-winning production of GIANT. As part of the exhibition, DuWors moderated two of the conference's working group sessions.
GIANT tells the story of wrestler Andre the Giant. As a way of exploring the hyper-masculine, yet incredibly flamboyant, world of professional wrestling, five female actors played all parts—including Andre.
The Critical Costume Exhibition presents artworks that treat costume as their main medium—often as a starting point for a performance, and always as a crucial aspect of a performance. This exhibition aims to emphasize the immediacy and intrinsic nature of costumes to everyday human life and a person's sense of self: connection to body, movement, identity, expression, sensuality, emotionality. The costume is a bridge between the body and the world.
Built on two main strands of costume performances—communication and exploration—eight further categories then unfold under these two central ideas, including "Identity Agency", in which DuWors' work is featured.
"The puppet design explored the dramaturgical role of scale, while the idea of masculinity-as-character was expressed through the costume design," notes DuWors in the Critical Costume description of the production.
"Skins and shells formed the foundation of our approach. Shapes and textures meant to augment and distort the bodies of the five women inhabiting a very masculine profession were inspired by action figure versions of Andre once sold as toys. In each scene, the performers would attempt to put a different piece of Andre 'on' – to wear him as a way to understand him."
Be sure to explore the remarkable range of work on display at Critical Costume 2020.
Singing for life
When graduating School of Music soprano Chelsea Kutyn decided to film a rehearsal for her graduation recital this spring, she had no idea that it would soon lead to national press coverage as a result of a life-threatening health risk.
When the campus started to shut down in March, Kutyn thought it would be a good safety measure to film herself singing.
"When we heard that countries were going into lockdown, my accompanist and I decided to film something just in case—we thought the building might be closed, but we never expected one of us to get sick," she says.
Yet shortly thereafter, Kutyn fell ill. "They weren't testing for COVID yet, but the doctors and nurses all said it was 'suspected COVID' due to my symptoms and the timeline of how it progressed."
And while the School of Music did indeed close, Kutyn suddenly found herself unable to perform her grad recital due to illness—yet her performance video not only saved the day ("Luckily I passed with flying colours!") but also helped her win the Victoria Medal, awarded annually to the Fine Arts student with the highest GPA in the faculty.
But the story of the young singer who contracted COVID but still graduated top of her class caught the attention of the media, with interviews appearing in the Times Colonist, CHEK TV, CBC News, Global TV, CBC Radio and even Newsweek magazine.
While she's wary of being branded a cautionary tale, Kutyn does see the value in sharing her story. "I just hope it brings awareness to others who feel it's not as much of an issue as it really is," she says.
"If you don't personally know someone who has been affected, people seem to assume it can't happen to them. I would never wish that situation on anyone; it was a really terrifying situation."
Read the full version of this story here.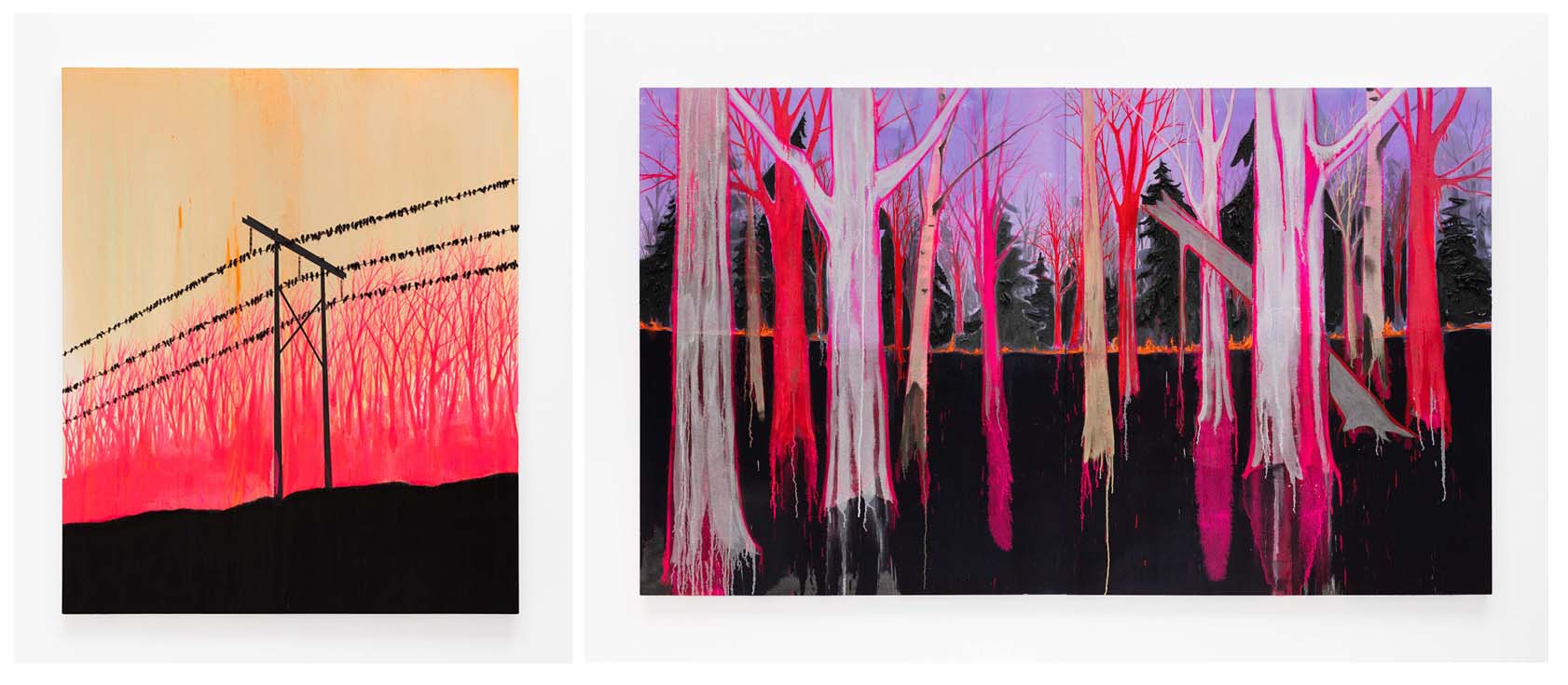 Rande Cook's Culturally Modified

Work by Gruben, Hash and Jim on view at the Legacy Gallery
Two of Paul Walde's prompts from Weeks Feel Like Days, Months Feel Like Years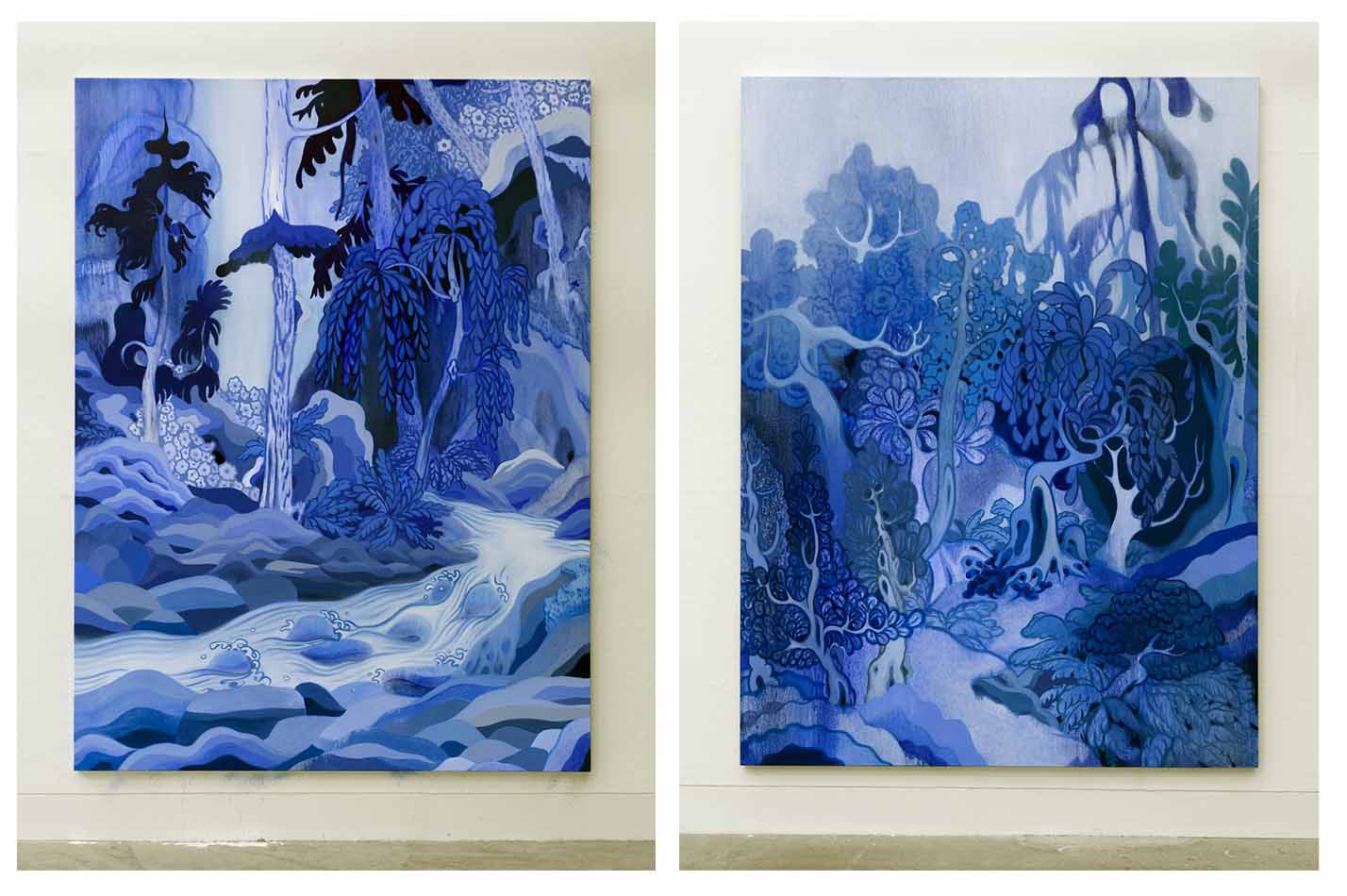 Rick Leong's "Goldstream" and "Wild Willows" on view in Montreal

Kelly Richardson's Mariner 9. Photos by Ruth Clark (left) & PaolaBernardelli.
New book for chair
The latest book by Art History & Visual Studies chair Marcus Milwright is now out: Middle Eastern Encounters: Collected Essays on Visual, Material, and Textual Interactions between the Eighth and the Twenty-first Centuries was recently released by Georgia Press.
A wide-ranging volume, Middle Eastern Encounters focuses on interactions between the Islamic world and other regions. Topics explored are as varied as relief-moulded pottery production in Raqqa, the construction of palaces in Samarra, portraiture in Arabic manuscript painting, images of Muslim rulers in early Modern printed books and the broadcast of the medical examination of Saddam Hussein.
Milwright, a professor of Islamic art and archaeology, also focuses on the challenges involved in the study of cultural interactions between Islamic and non-Islamic regions. The volume also includes a previously unpublished study of recently discovered photographs, drawings and writings relating to the Middle East made by soldiers during and after World War I.
You can keep up on Milwright's varied interests and influences via his frequent (and fascinating) posts on the Fine Arts Gateway to Art website.
Award noms for alumni & instructors
Along with the start of classes, September also sees the start of the annual book awards season—and so far, we're looking at a bumper crop of nominations for Fine Arts alumni and instructors.
Kicking off the awards season is the $10,000 Writers' Trust McClelland & Stewart Journey Prize, which annually celebrates the top short stories by Canada's brightest emerging talents.
Among the 13 finalists for the 2020 awards are three Department of Writing alumni—Susan Sanford Blades, Cara Marks and Rachael Lesosky—all of whom will also see their work appear in the annual anthology, The Journey Prize Stories 32. (Winners announced October 21.)
Of the eight new books nominated for the annual $10,000 Victoria Book Prizes, only one wasn't created by a member of our Fine Arts community. Nominees for the $5,000 City of Victoria Butler Book Prize include Writing alumni Carla Funk (Every Little Scrap and Wonder: A Small-Town Childhood) and Steven Price (Lampedusa), former Writing faculty Lorna Crozier (The House The Spirit Builds) and Christin Geall (Cultivated: The Elements of Floral Style), and Audain Professor Carey Newman and former Writing instructor Kirstie Hudson (Picking Up The Pieces: Residential School Memories and the Making of The Witness Blanket). Nominees for the $5,000 City of Victoria Children's Book Prize include Writing/Theatre alumnus and current Writing instructor Mark Leiren-Young (Orcas Everywhere: The Mystery and History of Killer Whales) and Writing alumna Sara Cassidy (Nevers). (Winners announced October 4.)
Newman and Hudson's Picking Up the Pieces is also a finalist in the $10,000 Norma Fleck Award for Canadian Children's Non-Fiction, part of the Canadian Children's Book Centre Awards.
Victoria Festival of Authors
Writing alumni are well-represented at the upcoming Victoria Festival of Authors—Vancouver Island's largest literary festival, which this year is being held online for free from September 30 to October 4.
Featured alumni writers include current City of Victoria Poet Laureate John Barton (Lost Family), Carla Funk (Every Little Scrap and Wonder), Kyeren Regehr (Cult Life), Mallory Tater (Pushcart Prize nominee), Amanda Leduc (The Miracles of Ordinary Men), Serena Lukas Bandhar (Pushcart Prize nominee), Arleen Paré (Earle Street ), Yvonne Blomer (Sugar Ride) and former student K.P. Dennis (former Victoria Youth Poet Laureate), plus Lorna Crozier (Through the Garden), and Carey Newman in conversation with Leanne Betasamosake Simpson.
You'll find the full schedule and find registration info here.
Alumni film debut
Finally, acclaimed novelist and Writing alumna Eden Robinson is having a great fall, thanks to a feature film adaptation of her debut novel, Monkey Beach (screening Sept 24 at UVic's Cinecenta—with will also hopefully include an afterword conversation piece between Robinson and director Loretta Todd). Robinson is also seeing her recent novel, Son of a Trickster, transformed into the new CBC TV series Trickster.