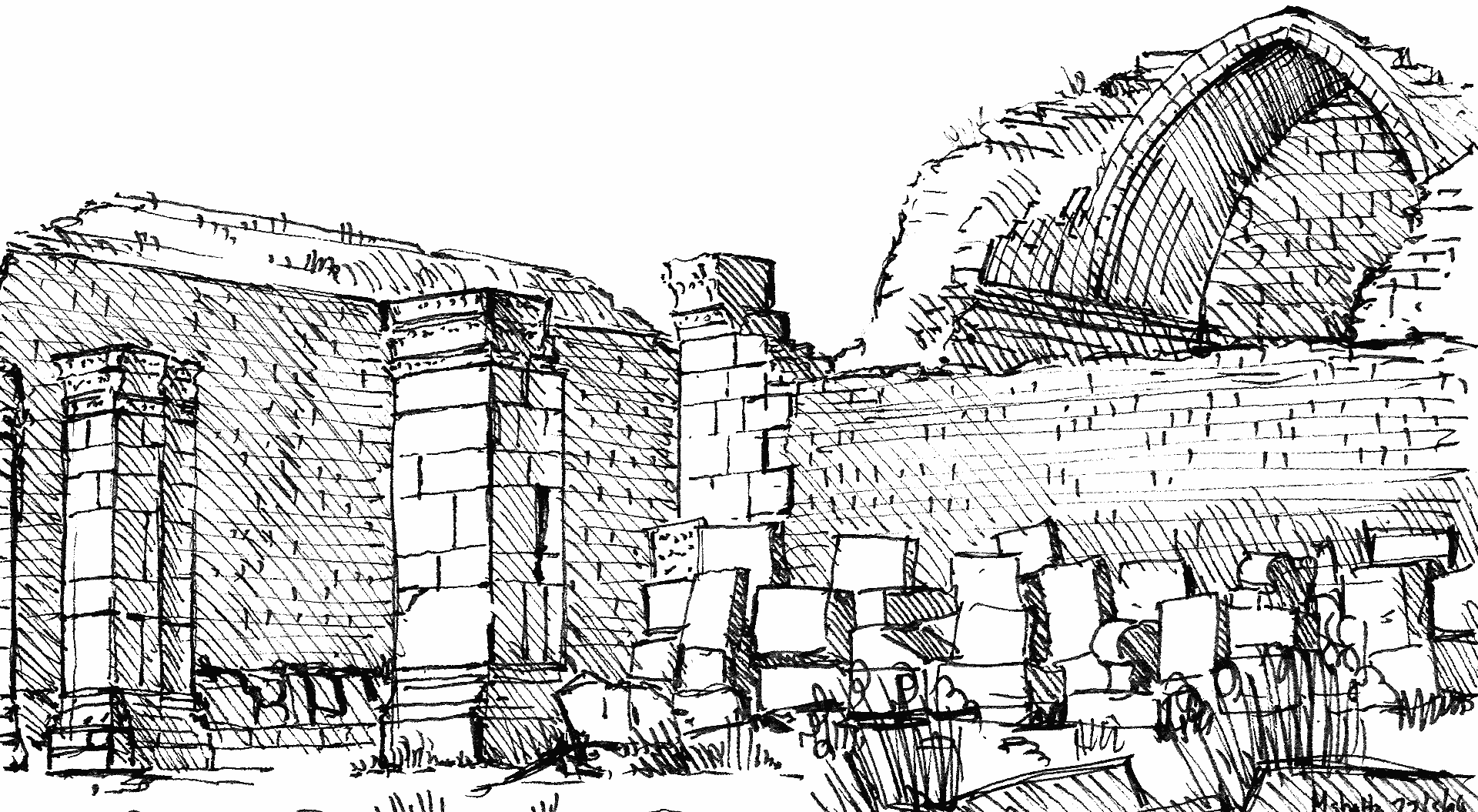 Inside an art historian's sketchbook
What inspires people to follow the path they've chosen? If you're Art History & Visual Studies chair Marcus Milwright, you fuse a passion for Islamic art and archaeology with an artistic frame of mind. Milwright recently cracked open some of his old sketchbooks on the AHVS Instagram channel to offer a visual example of how his professional interest developed. His sketches, dating back to 1994, captures and records the events and everyday experiences of people and places he has visited.
Explaining that he first got interested in Islamic art via an "inspirational teacher" at the University of Edinburgh, Milwright feels it's being able to visit the actual locations that makes a difference.
"I've been very lucky to have traveled very extensively in those areas . . . but for many people, it's the chance to visit places that really stimulates those interests that will last a lifetime," he says. "One thing I try to do is make drawings while I travel as a way of trying to remember not just the things I've seen but the way I felt about them at the time. I feel these things are better captured in drawings than in photographs."
Given that his research ranges from the archaeology of the Islamic period and the art and architecture of the Islamic Middle East to traditional craft practices, the architecture and civil engineering of southern Greece during the Ottoman sultanate and cross-cultural interaction in the Medieval and early Modern Mediterranean, Milwright's early sketches of his journey to Jordan and Syria bring those interests to vivid life. 
"It's about recording events and experiences," he explains of his drawings of Amman, the capital of Jordan. "It's mostly a modern city, so I tried to capture some of the everyday scenes of modern architecture."
Consider his sketches of the historic Souq marketplace in Aleppo, which capture some of the architecture that has been sadly since destroyed during Syria's civil war.
"It's not just the individual bits of architecture but also the idea of the city itself I'm trying to capture through research and the drawings as well."
More than just a visual record, Milwright sees in these sketches and paintings the roots of his current profession.  
"I was doing doctoral research there and the drawings were trying to get across my everyday experiences—a teahouse where people play backgammon with a mosque in the background—but during that trip, I made another journey by taxi to the old city of Damascus, which has captured my attention ever since," he explains. "It's somewhere I've continued to work throughout my entire career."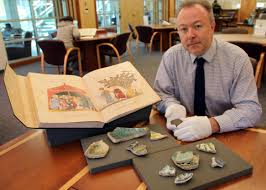 Singing into the silence
Prior to the COVID-19 outbreak, 3.5 million Canadians were singing in over 28,000 choirs nation-wide—including more than 50 professional, community, church & school choirs in Greater Victoria alone. But with choral singing officially considered a no-no for the near future, choirs across Canada and around the world have been left with the sound of silence.
No one knows this better than School of Music choral professor Adam Con. As the leader of the 150-member UVic Chorus, a respected teacher of choral conducting and a national leader in the advocacy for music education, he's also partnering with the BC Choral Federation to provide guidance on safe singing and is part of Choral Canada (representing university and colleges), which is creating a series of webinars with medical experts developing ways to move forward with group singing in the face of COVID-19.
"No matter how much the rest of society is coming back together, it's not going to be the same for many choirs," says Con. "But can it exist in other ways? Absolutely. Most choir leaders are currently discussing, exploring and innovating new options for their groups."
For now, performances by all of UVic's vocal groups are on hold, so until things get back to a sense of normalcy, we offer this January 2020 concert of the UVic Voice Ensemble performing Monteverdi Madrigals for your enjoyment. Featuring program direction and musical preparation by Music's Benjamin Butterfield and Kinza Tyrrell, with guest artist Marco Vitale directing and on harpsichord.
If you'd like a taste of a performance by Butterfield and Tyrrell themselves, be sure to listen to their recent "Lunchbox Opera" performance with Pacific Opera Victoria.
And be sure to read this Martlet article about how our Music students and recent alumni are participating in POV's new pop-up opera showcases in public spaces around Victoria
First-year flashback
While the start of the 20/21 academic year is set to be anything but normal, flash back to a slice of pre-COVID student life with the charming and award-winning web series Freshman's Wharf.
Originally created as a class project in 2009, Freshman's Wharf evolved into a for-credit directed studies Writing course with 10 episodes being created, performed and shot by a mix of UVic students and alumni. Written by Rachel Warden, and mentored by Writing associate professor Maureen Bradley and digital media staffer Daniel Hogg, Freshman's Wharf offered a light-hearted look at first-year student life at UVic. It went on to win "Best Web Series" at the 2011 Leo Awards, the annual BC filmmaking event.
When an administrative error boots first-year Shame (that's not a typo) Herbison from residence, he relocates to a boat. If his name wasn't enough, he must survive the freshman traumas of weird parents, arch-nemeses and eccentric professors, while somehow winning the heart of the would-have-been girl next door.
Written by then-student Rachel Warden, the series was directed by the likes of Writing professor Maureen Bradley, instructor Daniel Hogg and alumni Jeremy Lutter, and stars Eliza Roberston—now one of Canada's rising literary stars—plus Theatre professor Peter McGuire, alum and Greater Victoria Shakespeare Festival artistic director Karen Lee Pickett, Phoenix alum Simon Basch and others.
"In some ways, producing Freshman's Wharf was painstakingly challenging," said co-producer Julia Dillon-Davis at the time. "We were a group of students trying to film a web series that required a sailboat, an airplane, a tandem bike and half-naked professors dancing around a bonfire. The success of the series is really just indicative of our collective desire to create art."
Bradley felt it was the "perfect fusion of research and teaching" and, in many ways, it inspired the Writing 420 filmmaking class that continues to this day and has since produced a number of     short films that have appeared at film festivals across North America. "Our goal is to create innovative new media that's Vancouver Island-based, and to engage students in our research creation, so it really was perfect."
Watch the complete series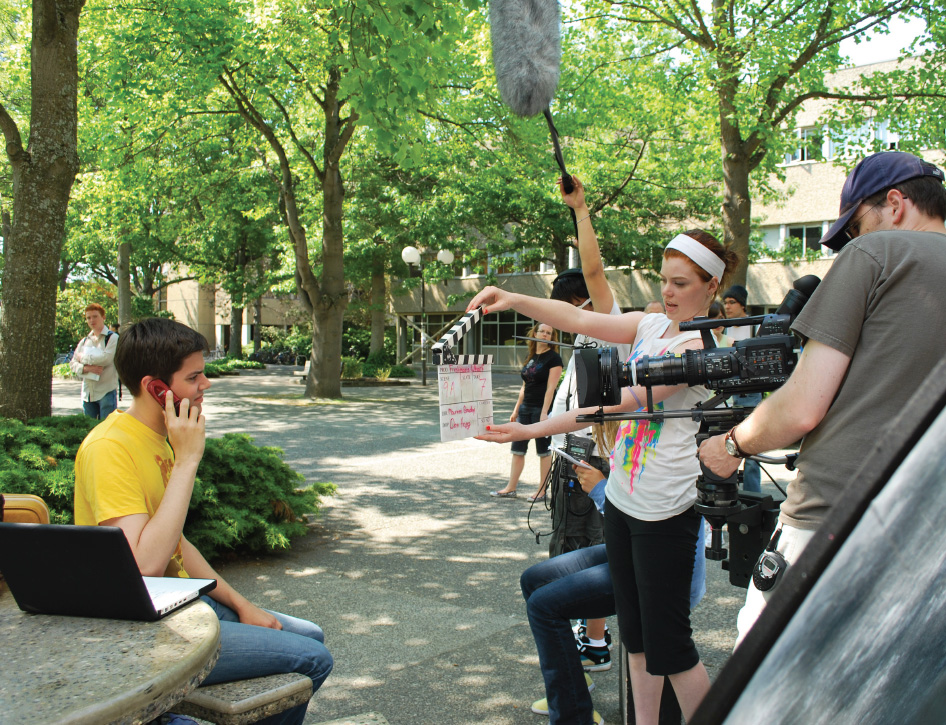 Shooting Freshman's Wharf on campus
Feeling nostalgic
Back in November 2019, the Phoenix Theatre mounted one of the most successful shows in their 50-plus year history: The Drowsy Chaperone.
Winner of five Tony Awards, this original Canadian play is a fun-loving send-up of the Jazz Age musical. It gently pokes fun at a myriad of musical theatre tropes—brought to us through the droll narration of a theatre fan who spends the evening alone, curled up in a chair in a one-bedroom apartment, playing the original cast recording of a fictional 1928 musical, The Drowsy Chaperone.
But before it was an award-winning Broadway musical, The Drowsy Chaperone was first performed at a stag party. Toronto theatre mainstays Don McKellar, Lisa Lambert and Greg Morrison initially developed the script in 1998 as a wedding gift for their friends Janet Van De Graff and Bob Martin—something still reflected in the names of the soon-to-be-betrothed couple in the musical-within-the-play.
Martin enjoyed the performance so much that he joined the trio as a writer; after becoming a smash hit at the Toronto Fringe, it then garnered further acclaim at Theatre Passe Muraille before shifting to the Winter Garden Theatre. From there, The Drowsy Chaperone began the transition to Broadway, where it opened in 2006 and ran for 674 performances, earning two Tony Awards and four Drama Desk Awards.
The show's spirit of success seems to have been passed to the Phoenix production where, under guest direction of Jacques Lemay, it was held over to meet audience demand.
Learn more about the role of Broadway nostalgia as parodied in The Drowsy Chaperone in this lively pre-show discussion with Broadway theatre historian and Theatre chair Dr. Anthony Vickery.
All photos by Dean Kalyan.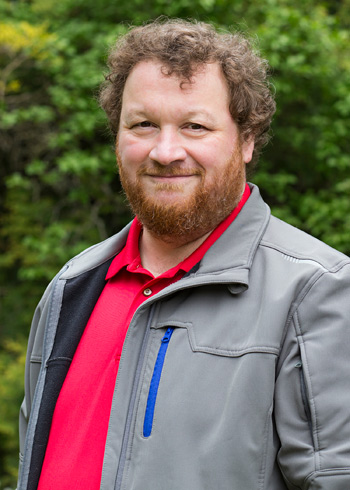 Creatively rooted in our climate
Recent Visual Arts alum Colton Hash has to be one of the busiest emerging artist to have come out of the department in a number of years.
His creative—and challenging—environmentally themed work has caught the attention of both the on- and off-campus communities. Inspired by the wild and anthropogenic landscapes surrounding him, Hash's artistic practice fuses his academic backgrounds in computer science, environmental studies and visual arts, all of which he studied at UVic. He integrates his multidisciplinary foundations to create multimedia artworks that foster engagement with contemporary environmental and political issues.
Hash was a finalist for the 2019 Emerging Digital Artist Award (EQ Bank) and was the inaugural artist-in-residence at Ocean Networks Canada. His politically oriented practice has received regional recognition with the Witness Legacy Award for Social Purpose and Responsibility Through Art (ProArt Alliance).
His work is currently on display at UVic's Legacy Gallery downtown, as part of the current exhibit To Fish As Formerly: A Story of Straits Salish Resurgence.
Enjoy this recent talk about his practice that he presented as part of the Creative Mornings series in February 2020.
More to come
We'll be posting more content from our faculty, students and alumni each month—be sure to check back!