If you're looking for cultural casualties of the spring pandemic, Fine Arts has plenty of examples: from cancelled concerts in the School of Music to the Visual Arts BFA grad exhibit and the final Phoenix Theatre production of the year, there was no shortage of on-campus disappointments.
Two more would include both Gendered Threads of Globalization: 20th Century Textile Crossings in Asia Pacific, an international symposium organized by Art History & Visual Studies professor Melia Belli Bose, and the accompanying Legacy Maltwood exhibit, Woven, Embroidered and Stitched in Tradition: Women's Textile Labour in 20th Century Asia, curated by graduating AHVS undergraduate Claire Aitken.
"Claire did a phenomenal job," says Belli Bose, who supervised the project. "This was a beautifully curated exhibition that struck the perfect balance between showcasing the sumptuous garments and providing the right amount of information."
Crafting an exhibit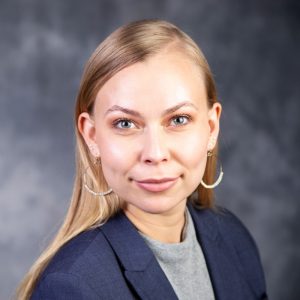 Carefully selected from UVic's art collection and pieces loaned from private collections, Woven, Embroidered and Stitched featured a dazzling array of luxury textiles from China, Japan, Indonesia, Malaysia, India and Bangladesh. But the exhibit also shed light on women's roles as makers, consumers and connoisseurs between the late 19th and early 21st centuries.
Alas, however, the exhibit had barely opened at UVic's Legacy Maltwood at the McPherson Library – Mearns Centre before the pandemic closed the campus. But while obviously disappointed, Aitken still sees it as an invaluable experience.
"It was a very valuable experience for me," says Aitken. "This was more about public engagement from an educational perspective, which is where I see myself going in the future. I've always had an interest in fashion in general . . . but my focus has shifted to textiles and the women's realm of art, how textiles can basically be moving symbols of culture, status and class."
Guided by Belli Bose's supervision as a directed studies course, Aitken also credits the invaluable participation of Legacy Gallery staff Caroline Riedel and Roger Huffman, and the collaboration of local kimono and Japanese culture expert Hitomi Harama, as well as fellow AHVS undergrad Yorika Terada.
"Our collaboration with the Legacy, UVic's Special Collections and private lenders afforded Claire a rare and valuable experiential opportunity to experience firsthand all the steps that go into an exhibition Claire did everything from carefully selecting garments from the Legacy's rich collection to writing the labels, making computer mock-ups of the layout, installing the pieces and working with the Legacy staff on the lighting," says Belli-Bose.
"I had a lot of freedom to work with the Legacy collection and Special Collections to pull out some incredible pieces," Aitken says, while noting her surprise at the amount of Indonesian and Malaysian textiles she found in the collection. "We were all really excited to showcase them, which was wonderful. It came together in a way that nobody anticipated."
Showing and telling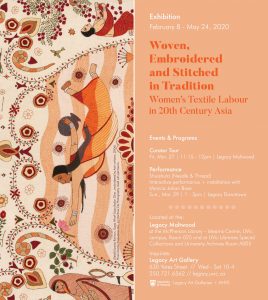 Course work aside, Aitken feels curating this exhibition was an enriching experience for her as well. "Learning about the matriarchy behind these works was another great aspect of the exhibit. We talked about the women who made these beautiful works of art and the people who collect them, including [UVic donors] Katharine Maltwood and Jane Chapman. If it wasn't for the cultural matronage of those two women, we wouldn't have these pieces in the collection today."
Aitken—who also has a BFA from UVic's Visual Arts department, a diploma from UVic's Cultural Resources Management Program plus curatorial experience from both the Art Gallery of Greater Victoria (where she ran their Art Rental & Sales program) and The Avenue Gallery in Oak Bay—is already focused on entering the AHVS Master's program this fall.
"I have a plan to get a very well-rounded arts education," she says with a laugh. "Much of the Visual Arts program is creation-based, so I wanted to come back and strengthen my academic writing. That built a passion for museum studies, curatorial experience and more academic-based art work than my creation-based work as a photographer."
What's next
While Woven, Embroidered and Stitched is still in place behind the Library's closed doors, Aitken says they're currently discussing what will happen with it.
"Some of the hanging pieces will have to come down, because they're quite fragile," she says. "One of my assignments actually talked about having an online platform for the exhibition—which would have been excellent going into this COVID situation, as it would have still been accessible. That's something I'll consider in the future for any curatorial work: not only in case of a global pandemic, but simply to make the space open to people who physically can't be there."
And while Belli Bose's Global Threads symposium is being rescheduled, she's also holding out hope that the exhibition can be seen in the fall—if physical distancing restrictions relax enough. Whatever happens, however, she singles out Aitken's efforts as being responsible for the exhibition's success.
"Claire is a natural curator and I can absolutely see her joining the field after she completes her MA with us," she says. "We are lucky to have her!"
Photos by Fine Arts student photographer Leon Fei