A gifted artist and inspiring mentor
While the prestigious $50,000 Molson Prize may not ring any immediate bells, a quick glance through the list of previous winners reveals a who's-who of Canadian culture: Margaret Atwood, Glenn Gould, Richard Wagamese, Alice Munro, Robertson Davies, Bill Reid, Mary Pratt, Jack Shadbolt, MG Vassanji, Margaret Laurence, Denys Arcand, Arthur Erickson . . . with over 100 luminaries representing Canada's intellectual and cultural heritage, it's like the ultimate CBC guest list.
One category missing from this list of prestigious artists, writers, composers, architects, choreographers and academics, however, is theatrical designers.
But that has now changed forever, as theatre professor and legendary production designer Mary Kerr becomes the first designer to be named a Molson Prize Laureate in the prize's 56-year history. 
"Einstein said, 'creativity is intelligence having fun'—that captures my life practice," says Kerr. "I'm not that interested in realism; I'm interested in exploration, illusion, what's going on in someone's mind . . . that's what I love about theatre, the ability to bring some kind of transformation and healing to the audience."
From the iconic likes of Expo 67, Expo 86 and the 1994 Commonwealth Games to nearly every professional stage in the country—including the National Arts Centre production of Copper Thunderbird (above)—Mary Kerr's visionary theatrical designs have transformed Canadian culture over the past five decades.
"We are so fortunate to have Mary's talents here at the University of Victoria," says Vice-President Academic and Provost Valerie Kuehne. "Not only is she an exceptionally gifted artist, she's also an inspired teacher and mentor. Her work elevates UVic's position as a national leader in fine arts and brings positive attention to the cultural strengths of Canadian art and production design on the global stage."
Pausing for the music
School of Music alum and baroque violinist Chloe Kim is organizing a new series, Music for the Pause, in solidarity with, and in support of, Victoria-based classical musicians negatively impacted by COVID-19. The series—which runs through to September 11—will also include performances by fellow Music alumni Tyson Doknjas and Mieka Michaux.
Normally busy with concerts and performances, the 23-year-old Kim created the new series as a way to reinvigorate the classical music community. Music for the Pause offers an 11-week concert series, featuring mostly Victoria-based musicians performing baroque chamber works on period instruments.
"Music for the Pause is a way of keeping myself and my colleagues, who are like family to me, creatively engaged as well as for staying connected to audiences during a very difficult and strange time," explains Kim in this CBC interview.
"As someone who thrives on the intensity of a full performing schedule and the togetherness and sharing that comes with that, the concept of a summer without music was inconceivable to me. I like the challenge of having to work within certain parameters, whether it be social distancing regulations or personnel limitations, and I choose to see this period of time as an opportunity to be creative, rather than one of waiting or inactivity." 
Kim's series was also covered by both the Times Colonist and CHEK News. "It's become about what attracted us to it in the first place, which was really the pleasure and the joy that we get out of it from just playing together in a room," she told CHEK TV.
A round-up of writers
Current Department of Writing professor Danielle Geller has a new piece in the prestigious Paris Review. "The Origin of My Laugh" offers a reflection on her life, her late mother and her relationship with laughter . . . which is not always a laughing matter. 

In other Writing news, current undergraduate, UVic varsity athlete and senior staff writer for The Martlet Josh Kozelj has won the U SPORTS Correspondent of the Year award. Kozelj, who has had a number of pieces published in the likes of the Globe and Mail and Tyee, was chosen based on the overall quantity and quality of his work, the diversity of his written portfolio, his punctuality, ability to find and pitch interesting stories, and regular involvement in contributing to U SPORTS Weekend Watch, a weekly Friday column previewing key games and events taking place each week of the season. 
Kozelj's piece on Calgary Dinos cross country runner Eric Lutz, and his battle to return from a devastating back injury was one of the highlights of his written portfolio during the 2019-20 campaign and a finalist for the Story of the Year.
Finally, while the second-annual reading Pride Week poetry celebration "Wilde About Sappho", originally scheduled for July 7, was cancelled due to you-know-what, current City of Victoria Poet Laureate John Barton instead invited the five 2SLGBTQIA+ readers to share their work online.
Wilde About Sappho: A Pride Reading of Local Queer Writers offers 30 minutes of readings by Writing alumni John Barton plus Kai Conradi, Serena Lukas Bhandar and current professor Gregory Scofield, as well as other readings by Robin Stevenson and Wendy Donawa.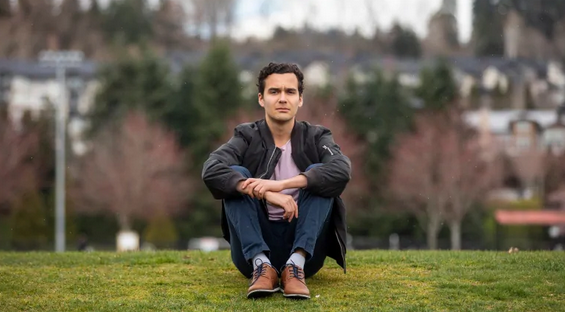 Two awards for AHVS graduates
Congratulations go out this month to two Art History & Visual Studies graduate students. Holly Cecil has been named the recipient of UVic's 2019 Lieutenant Governor's Silver Medal, while recent alum Atri Hatef has been awarded the 2020 Leonard Boyle dissertation prize from the Canadian Society of Medievalists.
 Awarded annually to a student with an outstanding graduate project or research paper other than thesis, Cecil received the Lieutenant Governor's Silver Medal for her work on "The Role of Filmmaking in Communicating Research".
"It's a privilege to be recognized with this award for my research, and I want to share appreciation with my supervisor and committee, AHVS professors Lianne McLarty and Victoria Wyatt," says Cecil. "In my research I investigate the ways that the documentary genre presents global issues to local audiences, specifically around themes of human-animal relationships."
Recent PhD alum Atri Hatef, who received a prestigious postdoc at MIT's Aga Khan Program for Islamic Architecture, has now earned the Leonard Boyle prize for her thesis, "A Dialogue between Friends and Foes: Transcultural Interactions in Ilkhanid Capital Cities (1256-1335 AD)" — which is described as "an outstanding thesis that broadens notions of what the discipline of medieval studies can be."
"This work is truly interdisciplinary, combining fields as diverse as history, art history, archaeology, religious studies and comparative literature," notes the prize committee.  
"Congratulations to both on their achievements," says AHVS chair Marcus Milwright.
Holly Cecil (right) with the Legacy Gallery's Caroline Riedel (left) & AHVS professor Erin Campbell
Atri Hatef curating an exhibit at UVic's Legacy Maltwood Gallery in 2017
Artistic voices
For most people, a visit to the yoga studio simply adds a bit of metaphysicality to their workout: a chance to breathe, stretch and realign their chakras with a few oms and namastes. But for graduating Visual Arts Honours BFA Rudra Manani, it's an example of the widespread spiritual whitewashing that not only drives her art practice but also her identity as a first-generation Indo-Canadian.
"There's a fascination with Hindu practices, but it's gotten so disconnected that people don't often realize where it all began," says Manani, who was born in India but raised in Calgary before coming to UVic to train as an artist. "Think about yoga and how commercialized it's become: not just Lululemon but all the retreats and studios with statues of deities . . . it's more associated with hippie culture than Hindu culture, especially on the Island."
Read more about Manani's practice and future plans in this feature story on the UVic News site. 
And if you missed the recent Zoom artist talk with Visual Arts instructor and MFA alum Todd Lambeth around his exhibit at Winchester Galleries, you're in luck: the talk has now been archived, so you can hear Lambeth discuss both his body of work and his process of art-making, as well as respond to a Q&A session with viewers.  
Watch his artist talk here.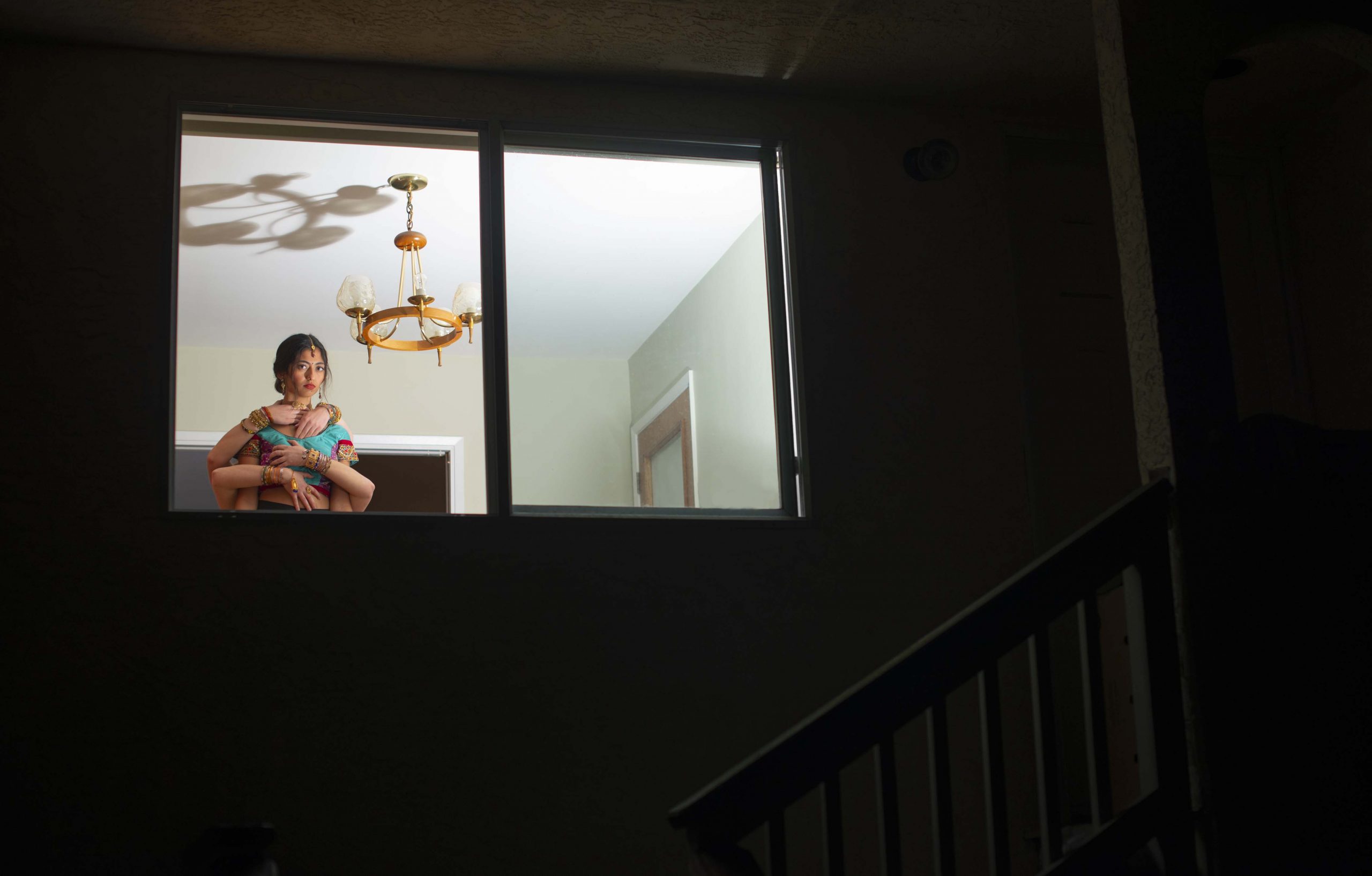 Rudra Manani's "Get Your Om On" (digital photograph, 2020)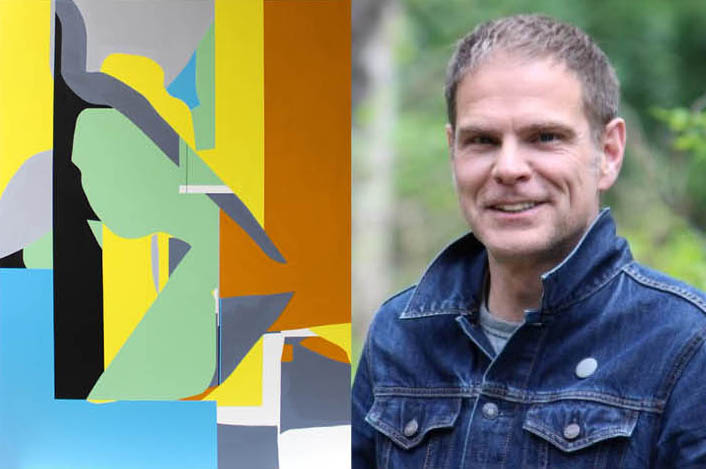 Todd Lambeth discusses his art practice
More to come 
We'll be posting more content from our faculty, students and alumni next month—be sure to check back!