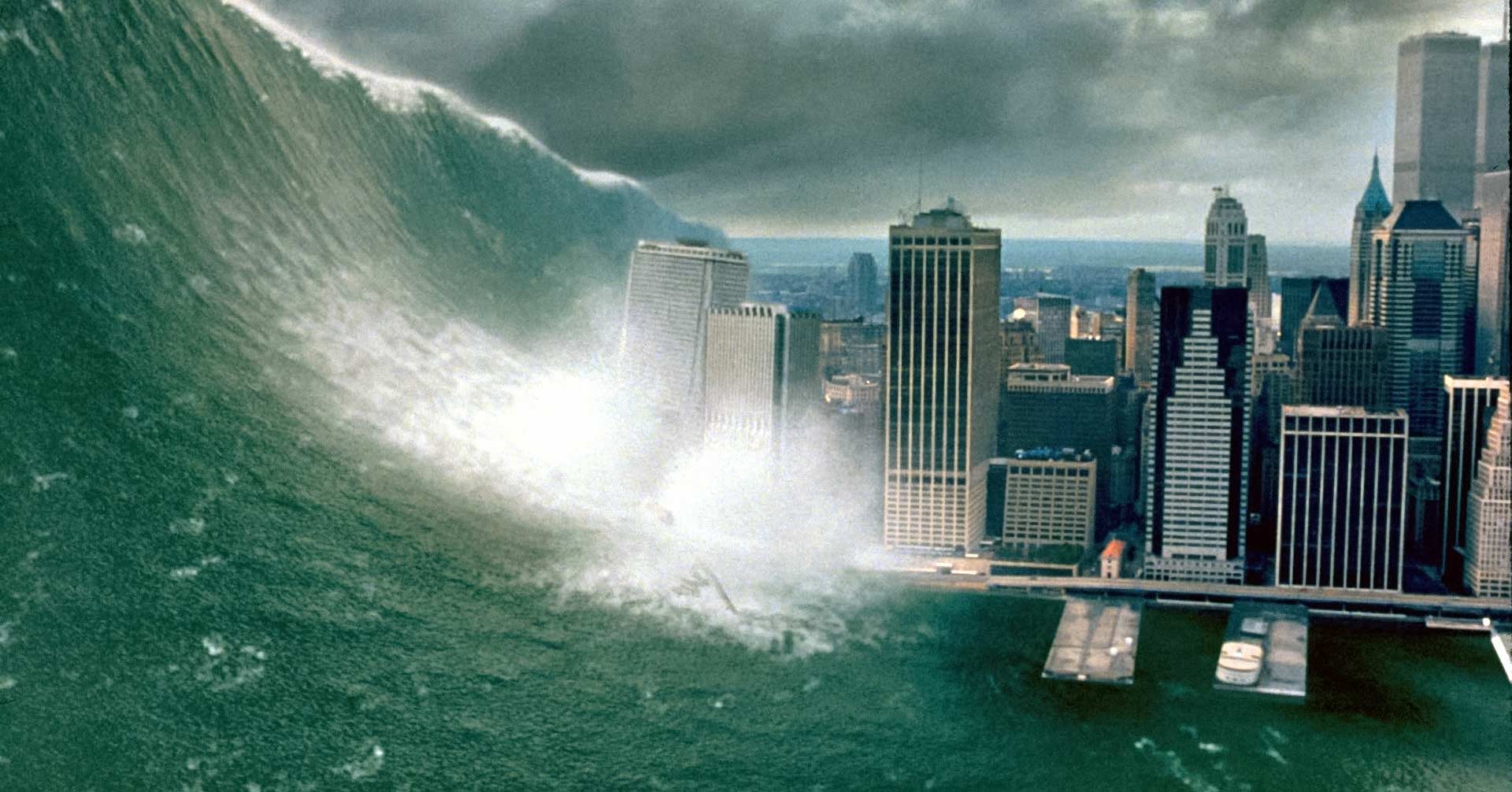 The end is . . . near?
Sometimes longstanding courses have an uncanny way of colliding with reality. Case in point? The current Art History & Visual Studies film studies elective "The End: Apocalyptic Themes in Film" (AHVS 392).
While longstanding AHVS instructor Mitch Parry has been teaching it each summer since 2010, this is the first time he's taught it in such dire circumstances—or online instead of in a classroom. But even though the COVID-19 outbreak doesn't represent "the end" per se, it has impacted society more than any other event in recent memory.
Yet despite all we've been collectively going through, Parry's course still filled quickly and has a waitlist nearly as large as the maximum enrollment. Why the popularity of the apocalypse?
'There's kind of a satisfaction in watching the world end without having to experience it," says Parry. "But as film is a photographic and narrative medium, audiences just love seeing something apocalyptic . . . that doesn't actually involve anyone dying."
As a subject, the apocalypse actually goes back to the early days of cinema ("There's a Danish movie called The End of the World from 1916, which has beautiful lighting and good performances," he says), which affords him a plethora of end-of-the-world scenarios from which to choose. This year, he's limited it to nine films ranging from horror (Zombieland), comedy (Last Night) and science fiction (I Am Legend) to bleak futurism (The Road) and personal drama (These Final Hours).
All explore different ways in which the world can end: meteor (Deep Impact), excessive consumption (Cloudy With A Chance of Meatballs), nuclear war (Dr Strangelove), economic collapse (Take Shelter), or simply experience an apocalypse without knowing what's happening or why, as in the Canadian film Last Night.
"The fun part of Last Night is that the world ends at midnight Toronto time," he chuckles, "which seems to imply that Toronto really is the centre of the universe."
Yet despite a decade of popularity, Parry admits he was quite reluctant to teach the course at all this summer.
"I usually start the class by asking how many people think the world is going to end in their lifetime," he says. "Back in 2010, pretty much everybody put up their hand, but it has dropped quite significantly in the intervening years—but now, it seems like a really rude question to ask. It feels like the elephant in the room."
Describing the popularity of the apocalypse like "the myth of Cassandra: the prophet who isn't listened to", Parry admits he'll be making some changes in his approach to the course this year. "It's much easier to talk about the end of the world as an abstract thing than when it's hinted at by current events. I think you have to tread lightly at times like this."
Finally, as a veteran film professor, if the world was ending and he could only watch one more apocalyptic film, what would it be?
"Melancholia," he says, citing Lars Von Trier's 135-minute, 2011 Danish epic. "It offers no hope, which means no equivocation. The world ends at the beginning of the film, then we see how the end of the world affects these two sisters. Plus, it's the single best representation of how I've experienced depression—the slow-motion opening, the dragging, monotonous endlessness of it."
Now that sounds like an apocalypse.
Blowing her own horn
Almost as busy off-campus as she is while teaching in the School of Music, trumpet professor and virtuoso Merrie Klazek always seems to hit the right note.
Just days before we all went into isolation back in mid-March, Klazek took a quick trip to Elkhart, Indiana, where the Vincent Bach trumpet factory. As a Bach Artist, she was participating in their "Artist Select" program, which supports their artists coming to personally try a lot of instruments at the factory—and to choose several to be sold in the local music store of their city, with a tag explaining that theyhave been hand selected by this artist, so that students in particular know what they are buying.
While she was there, Back produced a series of six fascinating videos, in which Klazek shares her journey as both a teacher/educator and performer, her exploration of different instruments, her musical influences and how she ended up knowing—after her first brass class—that the trumpet was her "voice". Now having been playing professionally for over 30 years, Klazek's journey as a professional musician and now Bach Artist is nicely encapsulated in this insightful video series.
You can also check out her first album, Songs to the Moon, which was recently added to Spotify (and YouTube as well), or watch her perform alongside her husband, fiddler Pierre Schryer, in the April 2020 COncert-VIDeo, a fun COVID project featuring a series of performances by Schryer and local musicians. (Klazek performs the Berber tune "A Ya Zain" 11:00 to 13:50). 
Finally, please enjoy this performance by Klazek and seven trumpet colleagues across Canada as they perform Morten Lauridsen's "O Magnum Mysterium", arranged by Matt Byrne.
The Canadian Pro Trumpet Ensemble includes Merrie Klazek (top centre)
Part 1: "The Artist Select Experience"
Part 4: "A Dedication to Bach Trumpets From Early On"
Part 2: "Staying Active in Musical Pursuits"
Part 5: "The Importance of a Professional Level Horn"
Part 3: "Choosing the Trumpet"
Part 6: "Finding Your Influences"
Two 4 One for free
Just in time for Pride month, you can now stream the award-winning feature film Two 4 One—described as the first transgender rom-com—for free through to June 15. Just use this link.
Written, directed and edited by Department of Writing chair Maureen Bradley in 2014 and produced by Writing's digital media specialist Daniel Hogg, the locally shot Two 4 One is a bittersweet comedic drama that sees a transgender hero fall into an unimaginable predicament.
When transgendered Adam helps his baby-crazy ex-girlfriend Miriam artificially inseminate, they wind up in bed together—and they both get pregnant. Now Adam must reconcile his identity and gender with his biological reality, grapple with his feelings for Miriam and try to figure out what it means to be a man.
Described as a "sweet gender-bender of a light comedy . . . sensitive, subtle and truly sure-handed" (Globe and Mail) and "genuinely funny and sensitive [with] clever and hilarious twists" (Calgary Sun), it stars Gavin Crawford (This Hour Has 22 Minutes, Baroness Von Sketch Show), Naomi Snieckus (Mr. D, Carter), Andrea Menard (Moccasin Flats, Blackstone), Matt Baram (Seed, Carter), and Gabrielle Rose (The Sweet Hereafter, The Man in the High Castle).
The winner of eight international film awards—including Best Canadian Film (Victoria Film Festival), Audience Award: Best Feature Film (The Seattle Transgender Film Festival) and a Special Jury Prize (Chicago International LGBTQ+ Film Festival)—Bradley's debut feature film was ahead of its time in its portrayal of a transgender character.
"I've had tons of films at film festivals but I want to reach a broader audience," she said at the time. "Living life as a transgendered man is not something most people know anything about."
Reaching that wider audience is why she chose to write Two 4 One as a romantic comedy. "I'm a lapsed activist, and storytelling is a way of reaching people that's easier than activism," she explained. "When people laugh, they're open and might take in new ideas, and understand 'the other' . . . . Humour is very subversive."
Two 4 One is normally available for rental on the NFB website ($5.99) and iTunes ($4.99), among other platforms, but this free screening is a special event only available to The Connector's readership until June 15. Enjoy!
Reengaging with art
When last we heard from current Art History & Visual Studies graduate student Ashley Riddett in April, she was working with Oak Bay's Gage Gallery Arts Collective to create an online art-sharing platform and blog series called Challenge Crisis with Creativity, which has continued to post art in response to weekly themes.
Now, Riddett and a team of AHVS grad students are working with Gage Gallery to mount both a physical and virtual exhibit featuring the art contributed by the community during the COVID-19 outbreak. Challenge Crisis with Creativity: Our Community Coping with COVID Through Art will run June 23-27 at the Gage Gallery, 2031 Oak Bay Avenue.
The exhibit will feature 50 pieces in a variety of disciplines selected from the 100-plus artists who contributed nearly 300 pieces to the online series, with a separate room featuring projections of the remaining work.
"The physical exhibit is not only a celebration of the leniency on social distancing, but also a celebration of how successful the project has been so far," says Riddett. "And I'm a huge fan of inclusion and community-building, so the projector room will be a great way to include everyone."
The pieces in the exhibit have been selected by both Riddett and fellow AHVS grad students Maria Buhne, Anahita Ranjbar and Amena Sharmin, as well as the Gage Gallery's Gabriela Hirt and Tanya Bub. "We picked the ones we felt were really strong and resonated with the weekly themes," she explains.
The exhibit itself will be physically distanced, given Gage Gallery's long narrow space, with only two viewers at a time allowed into the space. "It will be challenging, but I think it'll be worth it," Riddett says. "And I'm sure people will appreciate feeling confident and safe within the space. We're all coming out more but there is still that anxiety."
For those not able—or ready—to visit the actual gallery, Riddett is drawing on her course experience to create a 3D digital exhibition for people who are unable to visit the Oak Bay gallery. "I did a lot of virtual exhibition walkthroughs as part of my AHVS undergraduate and graduate courses, so I have a lot of experience in it," she says.
Riddett feels the Challenge Crisis with Creativity project—with its focus on artist and crafter recognition and community engagement—dovetails nicely with her own graduate research focusing on collecting oral histories of textile crafters in Nova Scotia (specifically rug hookers).
"The art we create today is going to be the art we admire and study tomorrow," she says. "Art history is more relevant than people give it credit for . . . while this is an unfortunate time, it's a great time to understand why visuals are so important. It's important to look for new avenues to help and support people in the art world, and to get people reengaging again."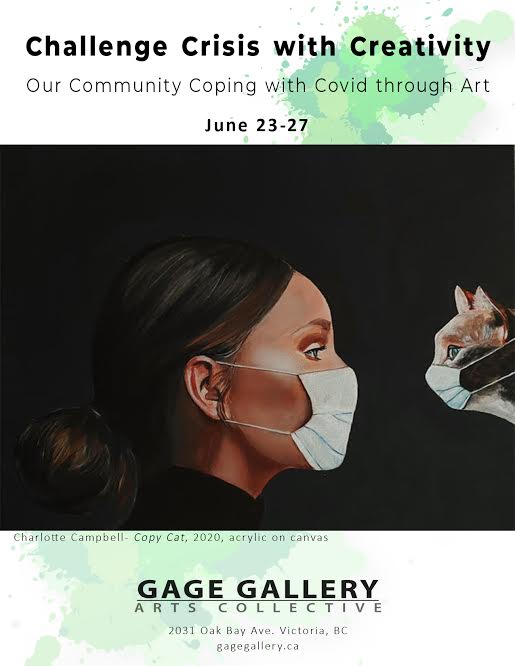 AHVS grad student Ashley Riddett at her Gage Gallery exhibit
To be or not to be . . . solo
Long before there was the One-Man Star Wars, Theatre Inconnu artistic director and Department of Theatre alum and instructor Clayton Jevne created his One-Man Hamlet. Described by various reviewers over the years as "Amazing", "Ingenious" and "Mind boggling", Jevne performed this remarkable show for over 20 years and it truly is a wonder to behold. But this "thrift-store classic" certainly didn't start out that way.
"In 1991, after three seasons of trying to make a go of establishing ourselves as a going concern in Victoria, Theatre Inconnu decided to close shop after a final—and, at the time, considered 'audacious'—farewell production," recalls Jevne. "Down to one member, the 'company' decided to create a one-actor production of Shakespeare's Hamlet, furnished with props and costume bits from local thrift shops. If the company was to go under, then let it go under in a truly bizarre fashion."
But rather than scuttle the ship, Jevne's One-Man Hamlet actually had the complete opposite effect. "The production sold out and became the spark that ignited the company's love affair with the Bard," he says.
Theatre Inconnu was able to leverage the success of the show and launch the first annual mini-Shakespeare summer festival in 1991, which soon morphed into a major annual event and continues to this day as the Greater Victoria Shakespeare Festival—led by artistic director and Writing MFA alum Karen Lee Pickett—on the grounds of Camosun College. (In fact, 2020 would have been the Shakespeare Fest's 30th anniversary, had COVID-19 not put it temporarily on hold.)
Between 1991 and 2008, Jevne's One-Man Hamlet then went on to tour through four countries (UK, Mexico, US, Canada) and over 600 performances. Not bad for what was supposed to be the last kick at the cat!
In addition to having been the artistic director of Theatre Inconnu since 1978—where he has served as actor, director or designer on close to 100 productions—Jevne has logged close to 1,000 performances of solo shows across North America and Europe. Located right across the street from the Belfry on Fernwood Road, Theatre Inconnu is rightly described as "Victoria's longest-running independent theatre" and has achieved legendary status locally, thanks to Jevne's indefatigable leadership.
While his widely acclaimed One-Man Hamlet is available in book form by Ekstasis Editions, we're presenting it here as a recording of the 20th anniversary performance back in 2011.
Even if you don't know Rosencrantz from Guildenstern, you're bound to enjoy it.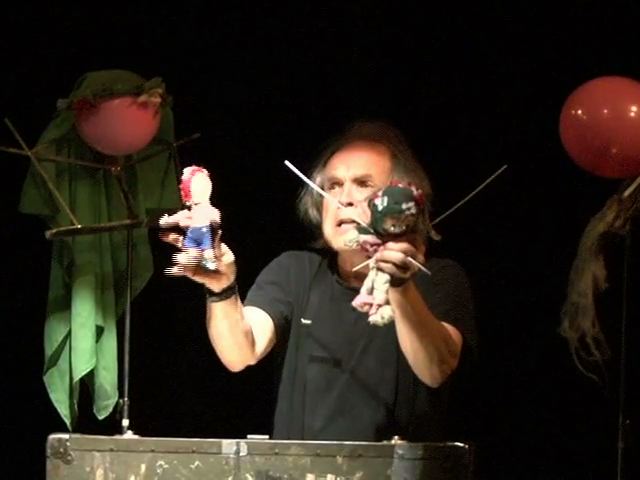 Clayton Jevne performing his "thrift store classic" One-Man Hamlet
More to come weekly
We'll be posting more content from our faculty, students and alumni each week—be sure to check back!