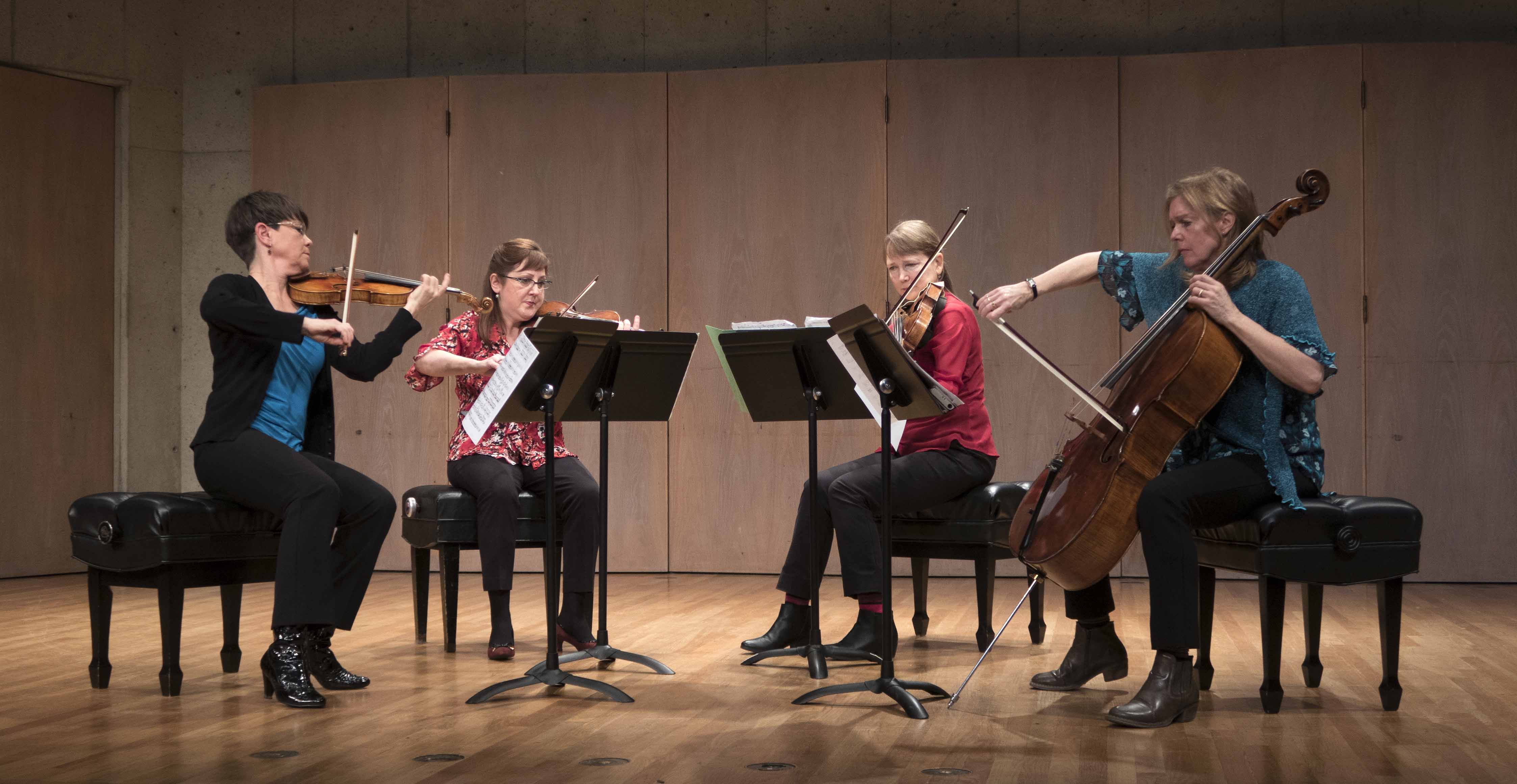 Four of a kind
For over 30 years, the Lafayette String Quartet has been making an indelible mark on the School of Music, first as Artists-in-Residence and now as faculty members who teach violin, viola, cello and coach chamber music with some of Canada's finest young string players.
The Lafayette String Quartet—Ann Elliott Goldschmid (violin), Sharon Stanis (violin), Joanna Hood (viola) and Pamela Highbaugh-Aloni (cello)— is the only all-female ensemble in the world to comprise the four original members: a distinct rarity, regardless of gender or profession.
Not only are the LSQ active on campus with teaching, performing and organizing their annual Lafayette Health Awareness Series, but they're also committed to Victoria's greater music scene. You'll frequently find them working with the Greater Victoria Youth Orchestra, connecting with the string programs in public schools, performing with Pacific Baroque, hosting Quartet Fest West . . . oh, and maintaining an active touring schedule with concerts around North American and Europe. 
Among their various quartet projects are the Complete Beethoven Cycle, the Second Viennese School, Bartók's Legacy and the Complete Cycle of Shostakovich String Quartets.
In addition to their work with undergraduate and graduate students, the LSQ also offer a Master's in Music Performance (MMus): Emphasis in String Quartet, a program specifically designed for a pre-existing string quartet interested in embarking on a career in chamber music. "You hone your skills to be the best you can possibly be on your instrument, then bring those skills into the ensemble, matching the timing, harmony, vibrato, bow speeds and articulation of the others," explains Elliot-Goldschmid. "It's a magical process but it takes an enormous amount of work."
They also perform in the School of Music's Faculty Concert Series, of course, which brings us to this issue's musical break: a recording of the LSQ's February 2020 concert, featuring Haydn's "Quartet in C Major, Op. 54, No. 2″, Ruth Crawford Seeger's "String Quartet 1931″ and Beethoven's "Quartet in F Major, Op. 59, No. 1".
Enjoy!
A desire for connection
As part of the ongoing Field Trip: Art Across Canada digital arts initiative, recent Visual Arts alum Laura Gildner was invited to offer insight into her art practice and the ways she is adapting her work to the new conditions playing out in the landscape of physical distancing.
"Since the lockdown began, I have been grappling with the potential consequences a long-term lack of human interaction might have on my well-being as well as on my work," Gildner explains in the short video (below) that debuted in May 2020.
"My practice, for the most part, involves casting or collaborating with large groups of people to create participatory experiences in response to my research. This desire for connection will be the jumping off point for my field trip—part artist talk and part performance, I'll be looking at how art that is rooted in human contact might be reimagined in the age of physical distancing."
Earlier this spring, Gildner was named the winner of the 2020 Lind Prize in Photography, Film and Video Art (for which she was twice nominated), and her work Informer was a selected exhibition for this year's Capture Photography Festival in Vancouver. Most recently, she has exhibited at the Polygon Gallery in  North Vancouver.
Field Trip: Art Across Canada delivers arts experiences with some of Canada's most celebrated artists in a national partnership with leading arts organizations. Recently, it featured a conversation with Visual Arts professors Cedric Bomford and Rick Leong, as well as alumni Hollis Roberts and Mike McLean.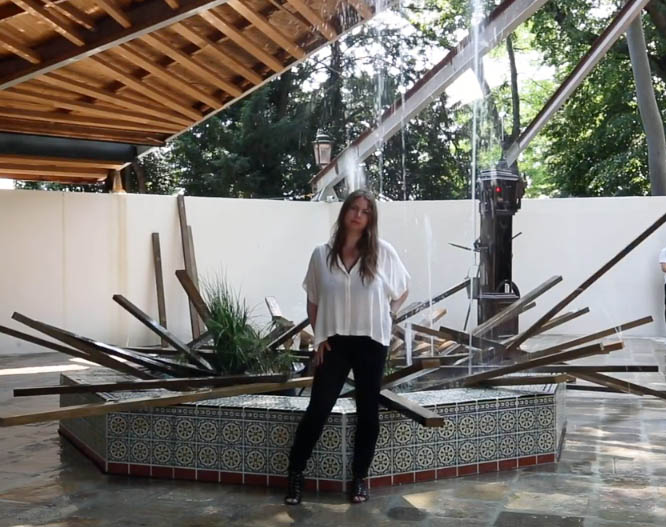 Eden Robinson inspires students
When it comes to celebrated alumni, UVic's Writing department has an embarrassment of riches—think Esi Edugyan, WP Kinsella, Aislinn Hunter, Billeh Nickerson and Richard Van Camp, among many, many others. Celebrated Haisla novelist Eden Robinson is another who is consistently burning up the bestseller charts since her debut novel Monkey Beach back in 2001.
With a fistful of awards and nominations—including winning the Writers Trust Engel/Findley Award, a Writers Trust Fellowship, the Ethel Wilson Fiction Prize in the BC Book Prizes, a Copper Cylinder Adult Award and being shortlisted for a Scotiabank Giller Prize, as well as being selected for CBC's Canada Reads series—her new Trickster series is now being developed into a television series by Sienna Films, producers of Cardinal and New Waterford Girl.
As a recipient of one of the Faculty of Fine Arts Distinguished Alumni Awards, Robinson has been no stranger to campus since graduating in 1992; most recently, the Kitamaat-based writer offered an inspiring (and often hilarious) talk to a class of first-year Writing students in October 2018, while back in town for the Victoria Writer's Festival.
"The writers coming up now give me a lot of hope because they're very comfortable speaking their minds—politically, socially and personally—and a lot of the things they're talking about are longstanding issues," she said at the time.
Back in the fall of 2018, she had just released Trickster Drift, the second book in her planned trilogy (including 2017's Son of a Trickster and the forthcoming Return of the Trickster). You can read more about Robinson and her accomplishments (including finding out which fabled Writing prof once gave her a "0" out of 10 on an assignment) in this 2018 interview from UVic's Torch alumni magazine.
But for now, you can watch her in action as she talks about being an Indigenous author, life after university, writing a bestseller, Trickster Drift and much more in this Orion Lecture in Fine Arts from October 2018.
It was a packed Writing class for Eden Robinson's talk 
Woven, embroidered and stitched
If you're looking for cultural casualties of the spring pandemic, Fine Arts has plenty of examples: from cancelled concerts in the School of Music to the Visual Arts BFA grad exhibit and the final Phoenix Theatre production of the year, there was no shortage of on-campus disappointments.
Two more would include both Gendered Threads of Globalization: 20th Century Textile Crossings in Asia Pacific, an international symposium organized by Art History & Visual Studies professor Melia Belli Bose, and the accompanying Legacy Maltwood exhibit, Woven, Embroidered and Stitched in Tradition: Women's Textile Labour in 20th Century Asia, curated by graduating AHVS undergraduate Claire Aitken.
"Claire did a phenomenal job," says Belli Bose, who supervised the project. "This was a beautifully curated exhibition that struck the perfect balance between showcasing the sumptuous garments and providing the right amount of information."
Carefully selected from UVic's art collection and pieces loaned from private collections, Woven, Embroidered and Stitched featured a dazzling array of luxury textiles from China, Japan, Indonesia, Malaysia, India and Bangladesh. But the exhibit also shed light on women's roles as makers, consumers and connoisseurs between the late 19th and early 21st centuries.
"It was a very valuable experience for me," says Aitken. "This was more about public engagement from an educational perspective, which is where I see myself going in the future. I've always had an interest in fashion in general . . . but my focus has shifted to textiles and the women's realm of art, how textiles can basically be moving symbols of culture, status and class."
Aitken—who also has a BFA from UVic's Visual Arts department, a diploma from UVic's Cultural Resources Management Program plus curatorial experience from both the Art Gallery of Greater Victoria (where she ran their Art Rental & Sales program) and The Avenue Gallery in Oak Bay—is already focused on entering the AHVS Master's program this fall.
"I have a plan to get a very well-rounded arts education," she says with a laugh. "Much of the Visual Arts program is creation-based, so I wanted to come back and strengthen my academic writing. That built a passion for museum studies, curatorial experience and more academic-based art work than my creation-based work as a photographer."
While Woven, Embroidered and Stitched is still in place behind the Library's closed doors, Aitken says they're currently discussing what will happen with it.
"Some of the hanging pieces will have to come down, because they're quite fragile," she says. "One of my assignments actually talked about having an online platform for the exhibition—which would have been excellent going into this COVID situation, as it would have still been accessible. That's something I'll consider in the future for any curatorial work: not only in case of a global pandemic, but simply to make the space open to people who physically can't be there."
And while Belli Bose's Global Threads symposium is being rescheduled, she's also holding out hope that the exhibition can be seen in the fall—if physical distancing restrictions relax enough. Whatever happens, however, she singles out Aitken's efforts as being responsible for the exhibition's success.
"Claire is a natural curator and I can absolutely see her joining the field after she completes her MA with us," she says. "We are lucky to have her!"
Photos by Fine Arts student photographer Leon Fei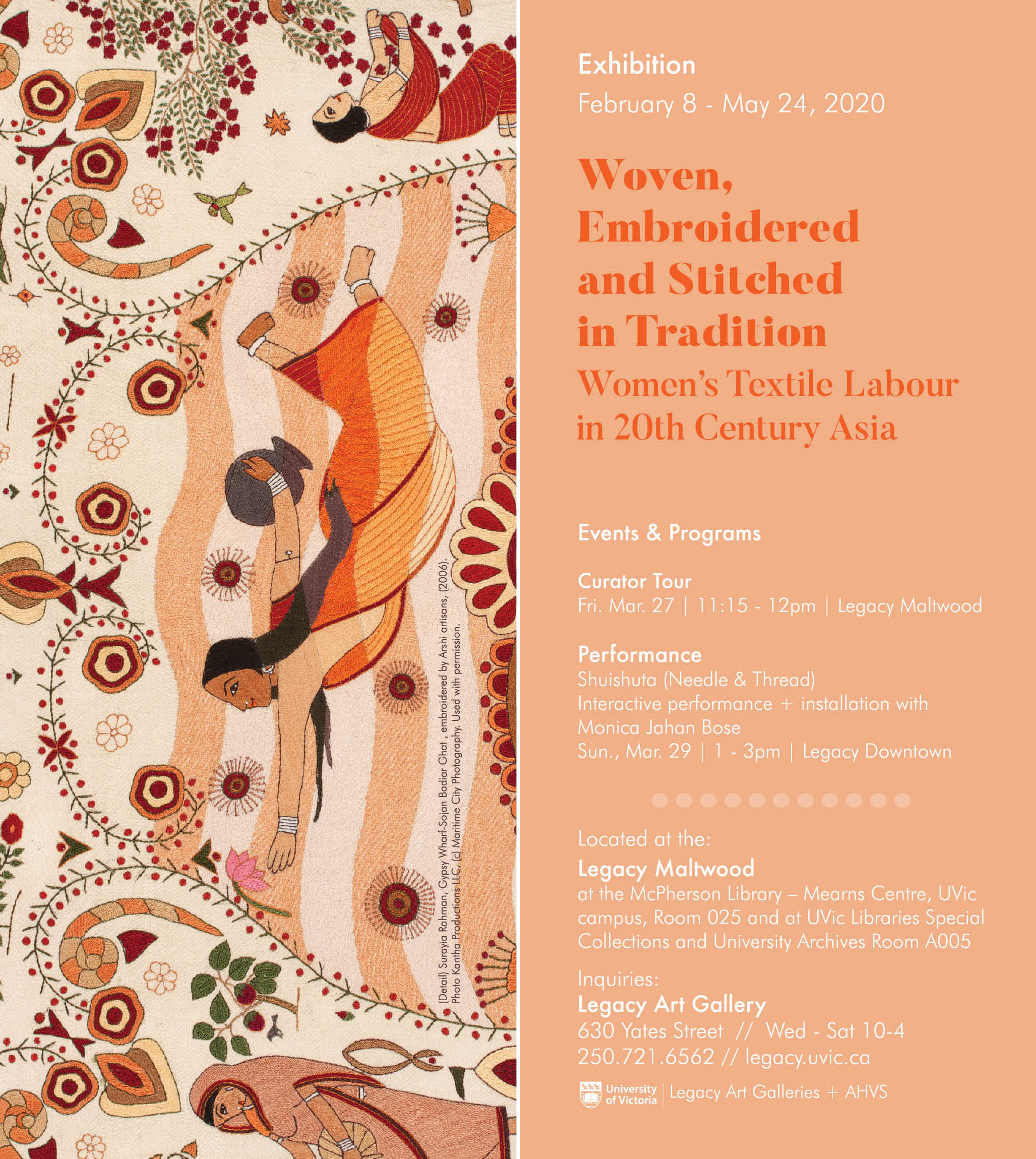 Rapping about curry
When last we spoke to Theatre alum Jasleen Powar back in 2016, she was just about to graduate and was already making a name for herself as Vancouver-based rapper Horsepowar. Four years later, Powar is now based in New York City and breaking new waves as the spicy host of the online food show Curry Shop.
But more than just another food show, Curry Shop offers one woman's journey to better understand her own culture through the lens of food. And, with over 128,000 views, it seems to have caught on.
Part of the First We Feast food TV network on YouTube, Horsepowar's Curry Shop dropped in 2018 and offers an insider's look at one of the world's most ubiquitous—if misunderstood—comfort foods. With six episodes already wrapped and a second season in the works, Curry Shop examines how South Asia's most famous culinary export changes shape from Japan to Jamaica to Thailand to the Philippines.
Horsepowar is joined on each episode by celebrity guests like Aasif Mandvi, Sean Paul, Chi Ching Ching and Rina Sawayama, who explore the connections between hip-hop, spice and global cuisine while sampling some of NYC's finest bowls of curry.
It's a nice match for Powar. Her  unflinching rhymes and powerhouse Sikh-Canadian "Desi girl" persona (a term for girls born outside of South Asia but still upholding traditional values) had already earned the attention of the likes of CBC, Nylon, Vice, Rolling Stone India, GQ India and Canadian newspapers from Vancouver to Montreal . . . all before she even graduated. (You can read more in this 2016 graduation interview with Powar on the Fine Arts blog.)
Grab a cool drink and prepare for things to get hot as you watch Horsepowar in action in the Curry Shop.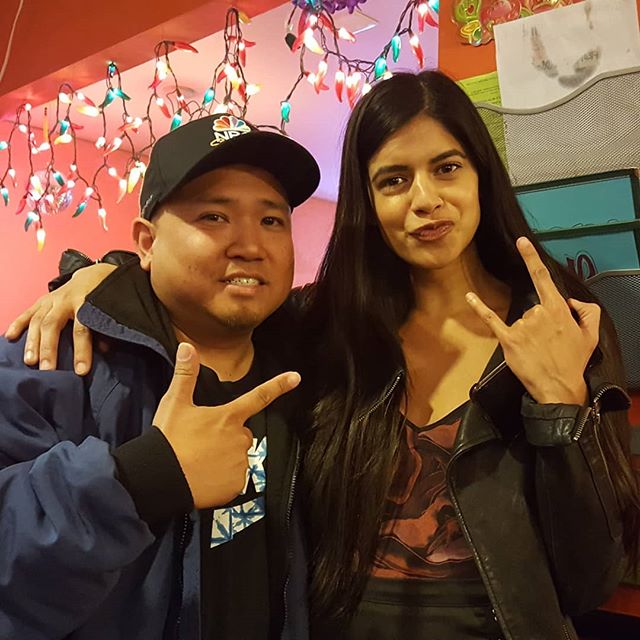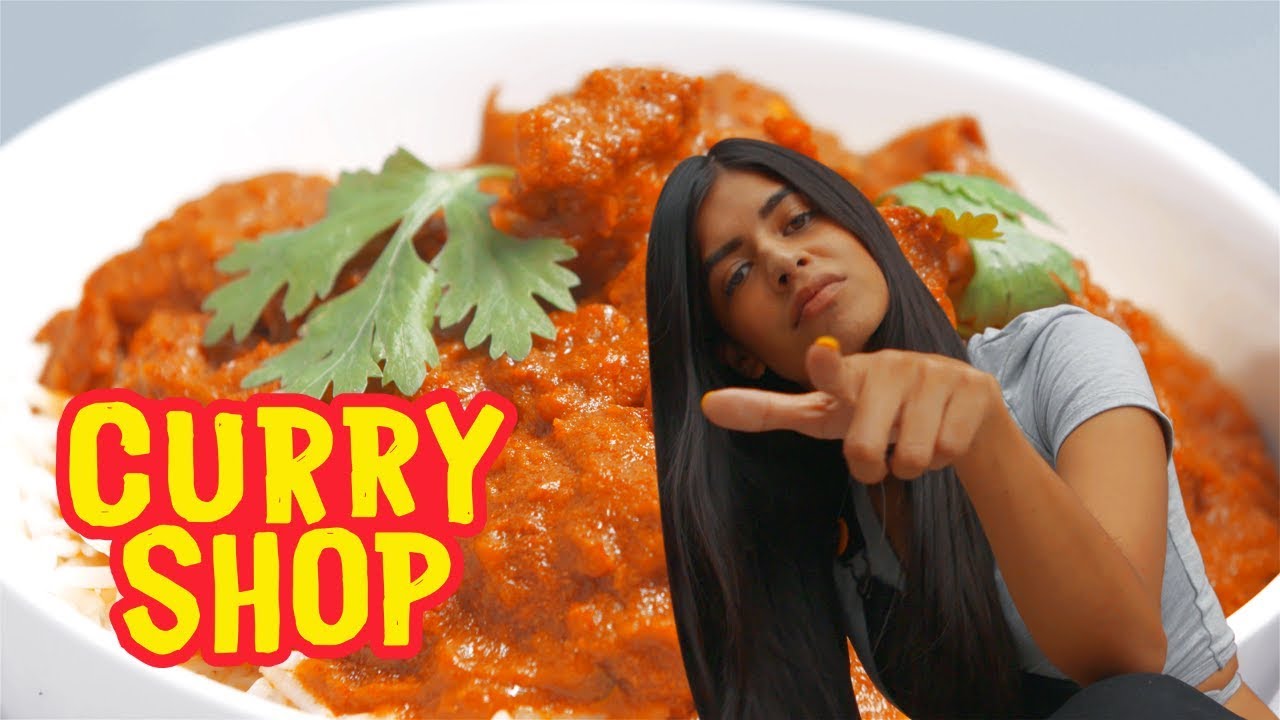 Distinguished Alumni Award recipient Nathan Medd
More to come 
We'll be posting more content from our faculty, students and alumni each week—be sure to check back!